Updated: October 9, 2022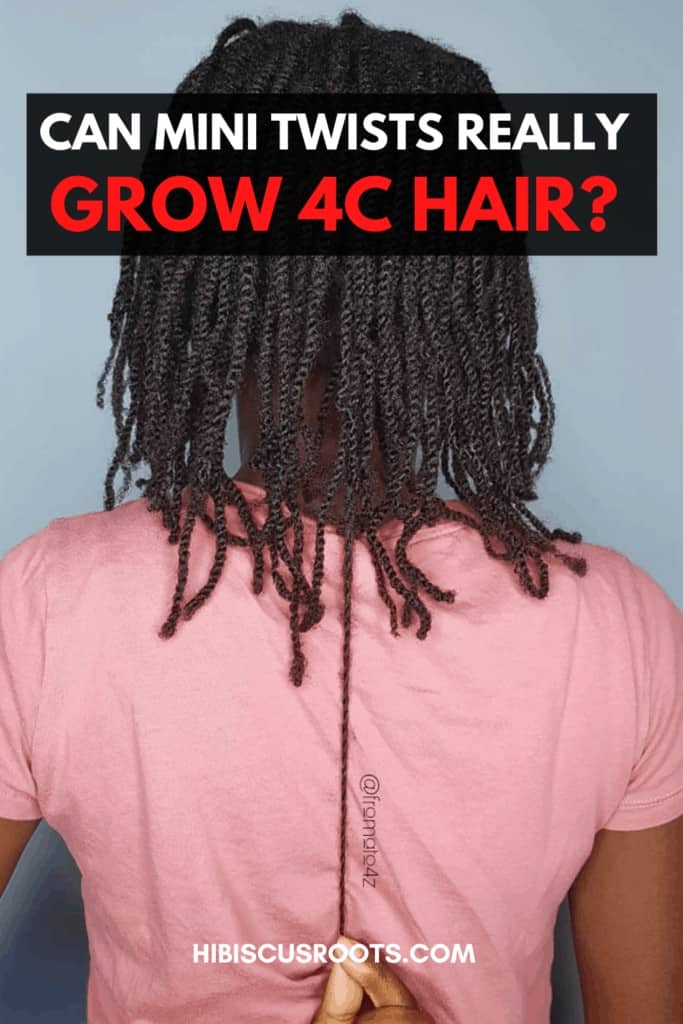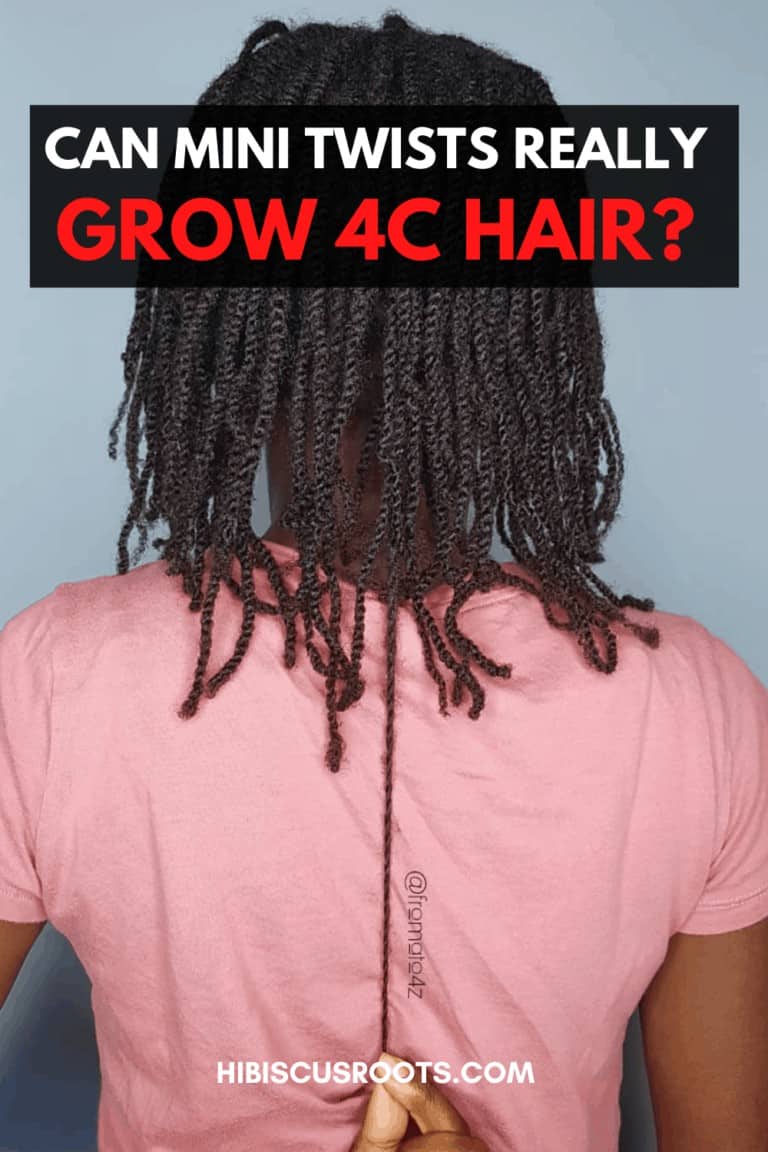 If you've ever thought growing long 4c hair was impossible, or that long hair is just not in your genes, then I have news for you. 
4C hair CAN, and often grows to great lengths. It just needs the proper care, handling, and attention (TLC) to get there! 
We don't even mean in terms of time, effort, or money. One simple, cheap, and time-saving way to grow 4C natural hair is by using mini-twists. 
What are Mini-Twists?
Mini twists make a simple, low-manipulation, natural hairstyle which involves putting all your hair in small to medium-sized twists.

They can be done on any length of hair. You would simply install more sections on shorter hair to prevent unraveling.

We encourage doing this style with only your natural hair for the best results. This is because we want you to be able to wash and moisturize your hair as often as you need to without fear of messing up the style.

This is the best protective and low-manipulation style I've found. And as a result, my hair is in mini twists 90% of the time now. 
How do Mini-Twists Grow 4c Natural Hair Long?
If you're wondering how mini-twists can possibly make your 4c natural hair long, here are a few reasons why:
1. They keep the hair moisturized:
The fact that your hair strands are bundled and twisted together makes it literally harder for moisture (water) to evaporate from them. This is great because as this post shows us, moisture is the key to healthy hair. And as we know, healthy hair is the key to long hair!
2. They reduce manipulation:
Mini twists reduce the amount of stress you put on your individual strands of hair. They keep your hair organized and prevent you from having to manipulate each strand too much. Especially when worn in ponytails or buns, it just keeps your hair out of harm's way.
3. Mini twists reduce tangles:
Mini twists keep your hair strands organized. The strands have less opportunity to move around and tangle with each other. As a result, the fewer tangles you have in your hair, the easier it is to detangle your hair without breaking. This alone will help you retain so much length over time!
4. They prevent single strand knots:
Single strand knots (SSKs) are the enemy of anyone trying to grow long kinky hair. This is because the only way to get rid of them is to cut them off. SSKs show up when your hair moves around so much that it curls up on itself and forms knots. This is more likely to happen if you frequently do styles like wash-n-gos and other loose styles. In a well-formed mini-twist, your hair has less of a chance to form a single strand knot! 
---
Related Post: 14 Gorgeous Natural Hairstyles You Can Do At Home!
---
5. They prevent breakage:
Mini twists help prevent all the major causes of breakage on 4c hair. They reduce manipulation, tangling, single strand knots, and friction. Mini twists also increase the resistance and strength of the hair because one strand of hair is easier to break than 30 strands twisted together.
6. They are practical:
Mini twists are easy to wear and style. They do take a lot of upfront time to install. However, they are well worth the effort. This is because they can last up to 4 weeks without matting or locking! This is great for our girl bosses who don't have too much time to baby their hair all the time. They're a great set-it-and-forget-it style! Mini twists are a great fit both for work and play!
7. Mini twists are great for working out:
They are also a great style to have if you have an active lifestyle! This style keeps your hair is tucked away during your workout. And if you sweat a lot, mini-twists make wash day super easy! You can wash your hair as often as you need to, condition it, and moisturize it — without having to take out and redo your twists.
8. They are easy to style:
Mini-twists can be styled up or down, in buns or ponytails, and any other up-do style you want. So if there's a style out there that you would want to rock with your natural hair, you can do it with mini-twists. And if not, they make a great base for wigs instead of cornrows!
9. They keep the hair and scalp accessible:
Mini twists make it easy to care for the scalp. This is also why we recommend washing 4c hair in twists rather than loosely. Of course, in addition to all the reasons above. You can easily apply oil to your scalp, clean your scalp, condition, moisturize, and seal your hair in this style!
10. You don't have to install them all at once:
One great thing about mini-twists is that you don't have to install them or take them down all at once. I know the most intimidating part of mini-twists is the install process. However, you can decide to only redo certain parts of your hair when you visibly need to. This way you can skip the whole hours-long massive takedown and install process if you want to!
11. You will learn your hair:
The first step to growing long 4c hair is actually getting to know YOUR hair in and out. As you section your hair out and twist it from root to tip, you will learn so much about your hair. You will notice which parts of your hair are drier than others. You will also notice if one part of your hair is experiencing damage and stop the cause sooner. Installing the twists will give you a great idea of whether or not your products are working for you. And feeling the ends of your hair every time you twist it will let you know when things change and you need a trim. 
How to Maintain Mini-Twists on Natural Hair
1. Wash your hair in sections:
To reduce the chances of your mini-twists frizzing, try to wash them in sections one after the other. You should also always gently scrub your scalp with the pads of your fingers and let the soapy water run down the strands. You can gently squeeze your strands as the water runs down to make sure you get all the dirt out of your twists.
2. Keep your hair together:
For the most part, you should try to keep your twists in buns, ponytails, or other up-do styles in order to minimize frizz. Not only is this great to keep the ends of your hair tucked away, but it also prevents friction that causes frizz.
3. Sleep with a satin scarf
You should always go to bed in a satin scarf or bonnet. You will be doing extra good for your hair and skin if you choose to use a satin pillowcase in addition to this. Using satin or silk instead of cotton reduces the amount of friction on your hair. This also keeps your twists looking fresher for longer. 
4. Moisturize and seal often:
Even though your hair is in mini-twists you should strive to keep it moisturized. In this style, the moisture should stay locked in for longer in your hair. However, you should still try to apply moisture to your hair a few times a week and seal it using either the LOC or the LCO method.

You can also seal your hair with flaxseed gel, sea moss gel, ambunu gel, or this Taliah Waajid Green Apple & Aloe Curl Definer that you can get on Amazon to make sure it stays smoother for longer!  
featured image: source