Updated: January 22, 2021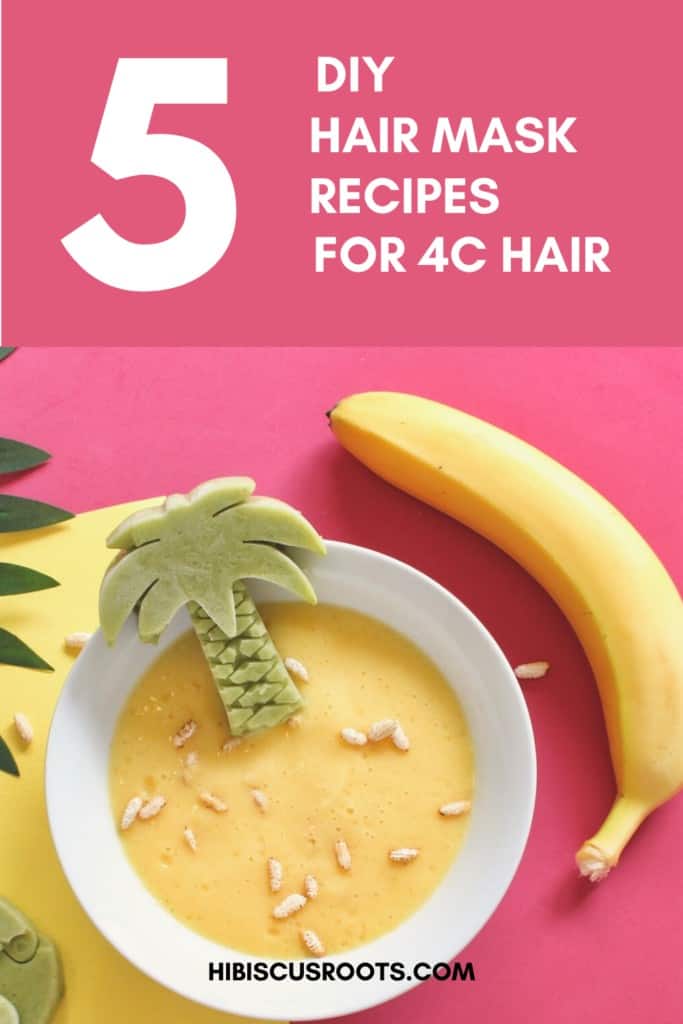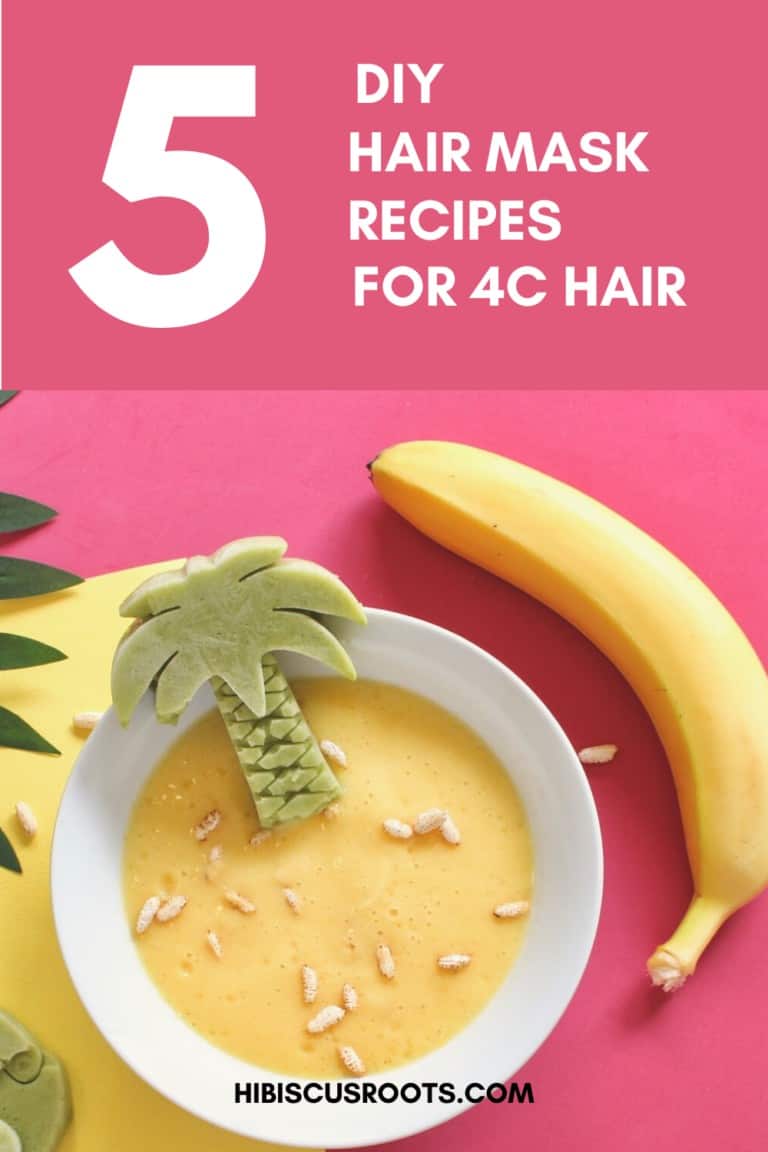 If you are looking for more organic, chemical-free ways to care for your natural hair, we have the answer! You should really consider making a DIY hair mask for your curly hair – made entirely of fruits. Especially if your hair is type 4!

These DIY hair masks can be used as your curly hair deep conditioner on washday, in lieu of a store-bought deep conditioner.

This article will detail the benefits of fruit for hair, as well as 5 easy DIY recipes for hair masks you can use today!

We are focusing on fruits today because of how rich they are in vitamins, nutrients, and antioxidants that can be super beneficial to the hair. Both when consumed internally in your diet, and when applied to the surface of the hair. 

The added benefit of doing this is that you will be 100% sure of the exact ingredients that go into your hair. You will also be 100% sure that nothing chemical is unknowingly damaging your hair. 

Though I personally prefer DIY for most parts of my natural hair care, I acknowledge that there are certain ingredients that are essential for hair, which may not be found in fruit alone.

For this reason, I recommend combining the fruit with Ayurvedic oils and ingredients which provide some of these added benefits, when making your DIY hair mask! 

I also recommend keeping balance in mind even when doing DIY. Yes, the ingredients are all naturally-sourced. However, they can still do damage if care is not taken to maintain balance in the hair strands.

In other words, too much moisture or too much protein is still bad for the hair – even if that moisture and protein were sourced organically 🙂
Benefits of Fruit in a DIY Hair Mask
Here are some of the overall benefits of fruit for natural hair
Fruits are rich in essential nutrients like potassium, folate, magnesium, copper, zinc, iron, and phosphorus. It also contains vitamins like K, B, E, and C. These vitamins and nutrients are all important for cell growth and cell repair. In other words – scalp healing and hair growth.

They are rich in antioxidants. These serve to rid the hair of toxins that can cause damage to the scalp, or clog the follicles. Clogged follicles and damaged scalp = reduced chance of healthy hair growth.

Most fruits have high water content. Because of this, fruits are great for hair hydration and can impart a lot of moisture on the strands.

They have anti-inflammatory properties. As a result, they prevent hair follicle inflammation and promote scalp health.

Some fruits like avocados are rich in omega-3 fatty acids which promotes circulation to the scalp, and ultimately hair growth.  
---
Related Post: Cardi B's Recipe for Long Natural Hair & Why it Works!
---
The Right Way to Use Fruit in 4C Hair 
A word of caution when using fruit in 4C hair is to make sure that the fruit is blended finely. It should then be strained through a fine mesh. This is to ensure that there are no large chunks that could get stuck in the hair.

This is is because fruit particles like this are really difficult to rinse out of kinky coily hair. 

Sure, you want the benefits of fruit in your hair on washday. But I'm sure you don't want to be walking around with visible fruit particles in your hair for the rest of the week!
How to Deep Condition Natural Hair with Fruit
The best fruits for nourishing 4c hair are bananas and avocados. This is is because these fruits are rich in nutrients, and thick in consistency when blended.

Avocados are especially great because they rich in fats.

This thick consistency of blended avocados and bananas is the best for 4C hair. This is because of how easily it can coat and nourish the strands from the inside out. 

To make and use your DIY hair mask for deep conditioning, take the following steps:
Peel and cut the fruit 


Blend the fruit with water until it forms a paste — not too runny or too thick


Strain the paste through a cheesecloth or a strainer to ensure the chunky particles do not make it into the final mixture 


Mix the fruit in with any other ingredients you like such as your favorite Ayurvedic oils, honey, yogurt, or aloe vera juice 


Separate your hair into 5-6 sections 


Apply the mixture to each section of your hair from root to tip until your strands are coated


Cover your hair with a plastic bag or shower cap


Optional: If you have low porosity hair, we recommend applying heat while deep conditioning using a heating cap like this


Let the conditioner sit in your hair for at least 30 minutes, but up to 2 hours


Rinse it out with warm water, and follow with a shot of cold water to the hair strands to seal the cuticle


Moisturize, seal and style as usual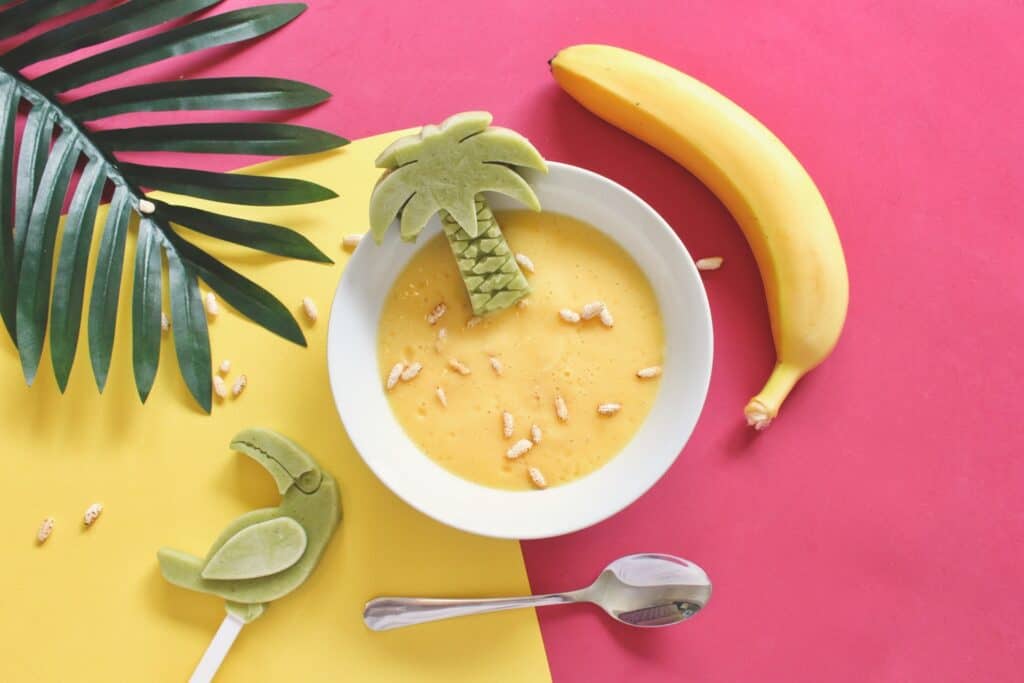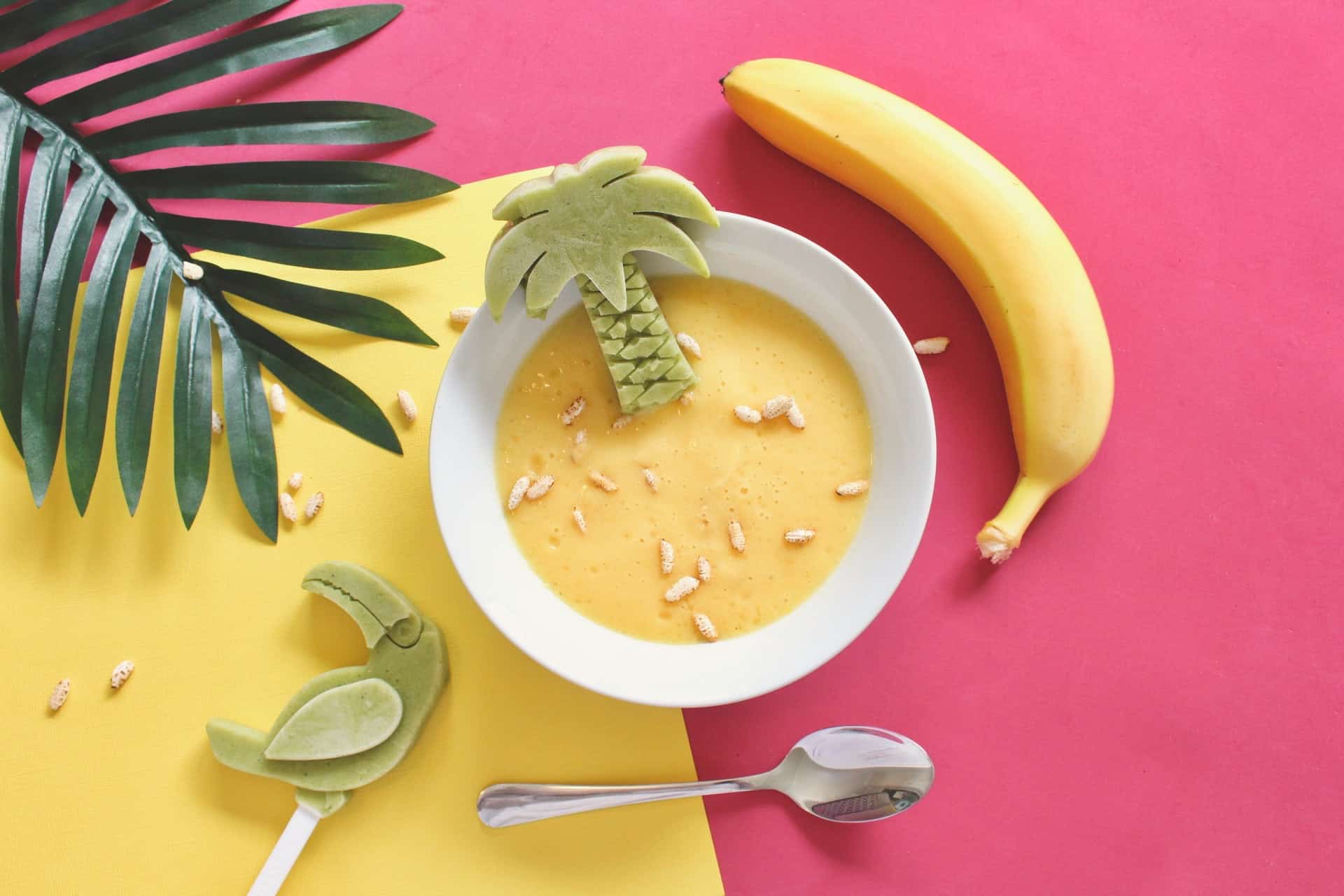 5 Ayurvedic DIY Hair Mask Recipes for Curly Hair
Here are some super easy Ayurvedic DIY hair mask recipes that incorporate fruit for hair growth, thickness, and overall health improvement. They should be prepared using the simple steps above:
Simple Moisturizing Avocado & Oil Hair Mask
1 Avocado
½ cup of Olive Oil


Banana and Honey Reviving Hair Mask
1 Banana
1 tbsp Honey
½ cup Olive Oil


Banana Yogurt Mild Strengthening Hair Mask
1 Banana
¼ cup Aloe Vera Juice
½ cup Greek Yoghurt
½ cup Coconut Oil (melted)


Avocado & Egg Light Protein Hair Mask
1 Avocado
1 Egg
½ cup Olive Oil
(Note: you should never deep condition with heat when using eggs in your hair. The egg will literally cook, solidify and leave residue all over your hair and scalp) 


Banana and Avocado Replenishing Hair Mask
½ Banana
½ Avocado
¼ cup Avocado Oil
---
Read Next: 6 Easy Ways to Steam Natural Hair at Home
---