Updated: February 21, 2022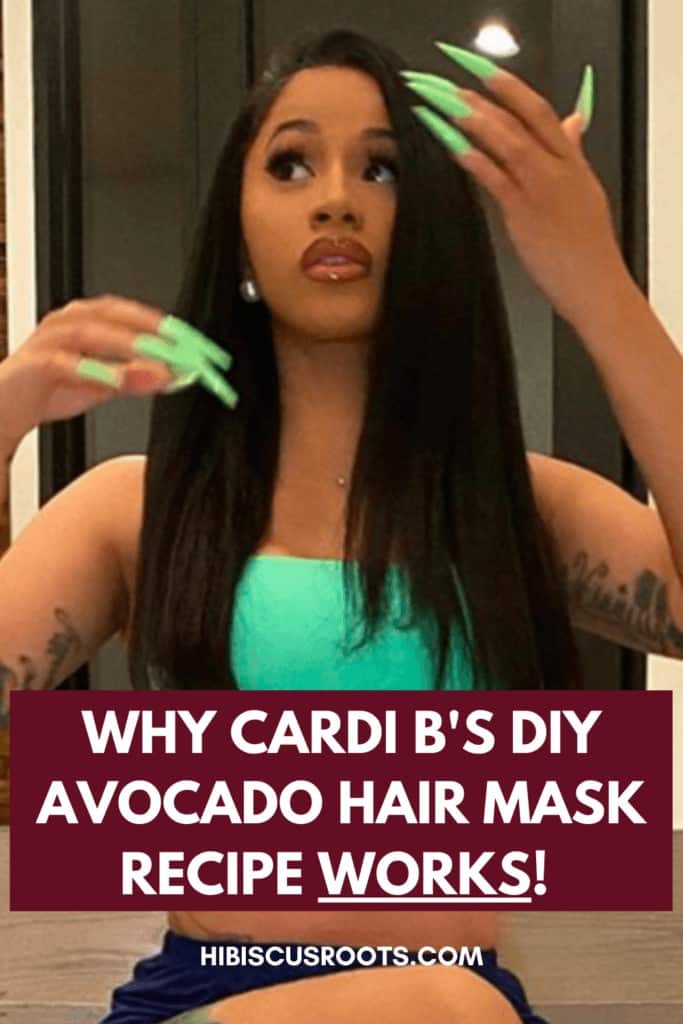 In this article, we're going to be breaking down the Cardi B DIY avocado hair mask and the Ayurvedic benefit of each ingredient.
We're also going to detail why they're incredible – especially for type 4 natural hair! I also try out the mask on myself and share the surprising results of it on my 4C hair. 
We all know and love Cardi B for her music, humor, attitude, amazing outfits, and wigs! But what you may not know is that beneath those wigs and editorial outfits, Cardi B's real hair is long, healthy, and gorgeous!
It was no surprise to us here at Hibiscus Roots that when she finally shared the secret behind her luscious locs: it was based on Ayurvedic principles and DIY! The Cardi B secret is a simple DIY avocado hair mask!
She has long afro-textured hair which she describes as "not having a curl pattern," but seems to reach about mid-back length when blow-dried.
Cardi B shared the DIY avocado hair mask on Instagram that she uses on both her hair and that of her daughter Kulture. Kulture's hair is visibly type 4, and kinkier than hers, so this let us know that her DIY hair mask is suitable for all hair types! 
The Cardi B DIY Avocado Hair Mask Recipe
Here is a video showing the original recipe for her DIY avocado hair mask on her Instagram stories:
Let's Breakdown the Ingredients in the Cardi B Avocado Hair Mask
1. Avocado:
This fruit is rich in proteins, amino acids, and vitamins that nourish the hair and scalp. It also contains biotin which is a complex B vitamin shown to promote hair growth and thickness. Avocado has anti-inflammatory properties that heal the scalp and keep it an ideal environment for hair growth. As a result, it protects, strengthens the hair, works to promote hair growth and overall health!


2. Banana:
These are rich in potassium, fructose, and vitamins which increase the manageability of the hair by softening it and improving the hair's elasticity. This is because the sugar in the fruit acts as a natural humectant that draws moisture to the hair and keeps it hydrated and shiny!


3. Mayonnaise:
If you didn't know, mayonnaise is basically made from egg yolks and oil. Eggs yolks, combine with this oil are a rich source of fats and proteins which are necessary for strengthening hair and preventing split ends and breakage.


4. Eggs:
These are a great source of protein. And as we learned in this article, protein is an essential part of keeping your hair in balance. Your hair needs to be both strong, and hydrated so you can retain the length you're growing!


5. Honey:
This is both an emollient and a humectant. As we've talked about previously, humectants draw moisture into the hair. Emollients, on the other hand, smooth the hair follicle and add moisture to the hair strand. It promotes cell regeneration and hair growth. It also contains vitamins, minerals, amino acids, and antioxidants, which keep the scalp and hair healthy!
---
Related Post: 5 DIY Hair Mask Recipes & Tips for Dry Natural Hair!
---
6. Castor Oil:
This oil contains ricinoleic acid and omega-6 fatty acids which nourish the scalp and increase blood circulation to the area. As a result, it promotes the growth of thicker, shinier, and healthier hair. It also softens the hair and makes it more manageable.


7. Argan Oil:
This precious oil is packed full of antioxidants, omega 3 and omega 6 fatty acids, and vitamin E. Each of these promotes the growth of healthier hair, increases shine, minimizes frizz, and helps combat scalp itchiness and dryness. 


8. Olive Oil:
This is a rich oil that has the ability to penetrate the hair cuticle. It is antimicrobial and antioxidant, so it is a great way to combat dandruff and any other inflammation that could cause scalp discomfort. It also improves circulation to the scalp, which makes the hair follicles stronger. As a result, the hair that grows from them comes out healthier and thicker. 
Benefits of the DIY Cardi B Avocado Hair Mask on Natural Hair
Based on the ingredients in this mask, we can summarise the benefits as follows:
1. It is antioxidant:
this simply means it contains properties that can help detoxify the hair and scalp and rid it of free radicals and harmful toxins.


2. It is antimicrobial:
This hair mask is full of minerals and nutrients that kill bacteria and fungus on the hair and scalp. These bacteria usually contribute to dandruff, inflammation, itchiness that can prevent hair growth.


3. It is anti-inflammatory:
All the ingredients in this mask work together to heal the scalp, reduce swelling or inflammation that can hinder hair growth. Whether this inflammation is caused by toxins, bacteria, or physical tension on the scalp — the ingredients in this hair mask can resolve them.


4. Supports hair growth:
All the benefits above combined mean that your hair is more likely to grow faster, thicker, and healthier since your scalp has been detoxified and soothed.


5. Promotes length retention:
The amount of protein alone in this mask means it is golden if your goal is length retention. Especially if your hair is high porosity! The other vitamins, minerals, and nutrients in the mix are an added bonus that will keep all that hair on your head from breaking off easily!


6. Definitely promotes shine:
The fruits and oils in this Cardi B hair mask will make your hair as shiny as ever.


7. Makes your hair softer and more manageable:
Your hair after using this make will be stronger, yet moisturized, and really really soft to the touch. It will also be easier to detangle and manage during the week because of the improved elasticity!
What Happened when I tried the Cardi B Avocado Hair Mask on My 4C Hair
I followed the Cardi B recipe for the DIY avocado hair mask and added each of the ingredients into my blender. Then I pulverized the mix until it was a thick smoothie consistency.

I washed my hair with a moisturizing shampoo (I had used a clay wash on my previous wash day) and applied the hair mask to my hair in sections.

After applying the mask from the roots to the ends, I twisted the sections up. Then I covered my hair up with a plastic shower cap.

I left the mask on my hair for about an hour and rinsed it off with lukewarm water. You want to avoid warm water when initially rinsing out the mixture because of the egg content of the mixture. I had to keep rinsing my hair carefully until there was no residue of the mask left.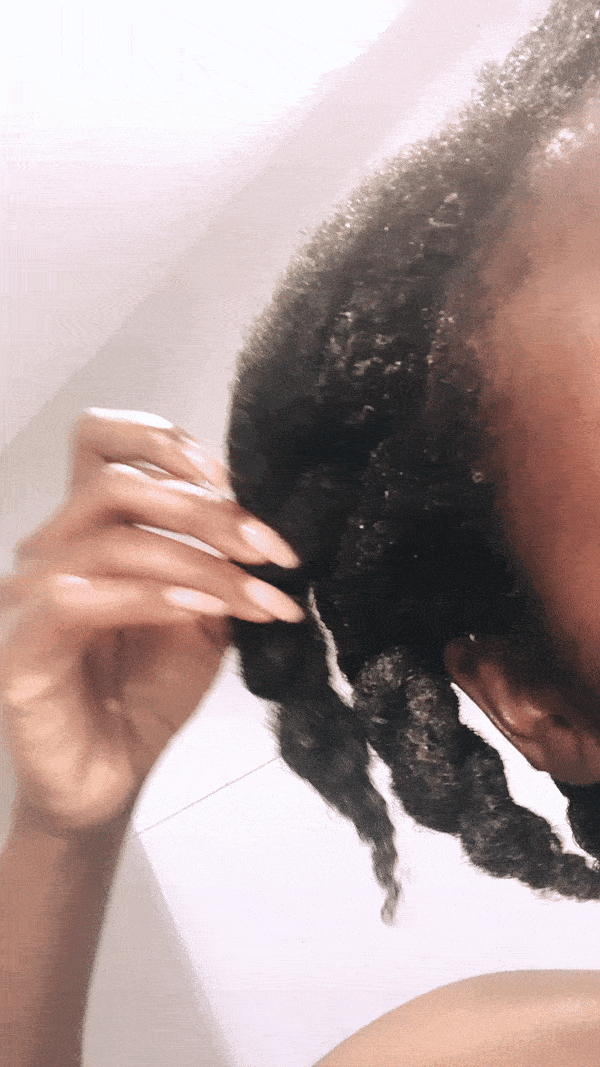 My hair was SO SOFT. It felt conditioned, smooth to the touch and hydrated.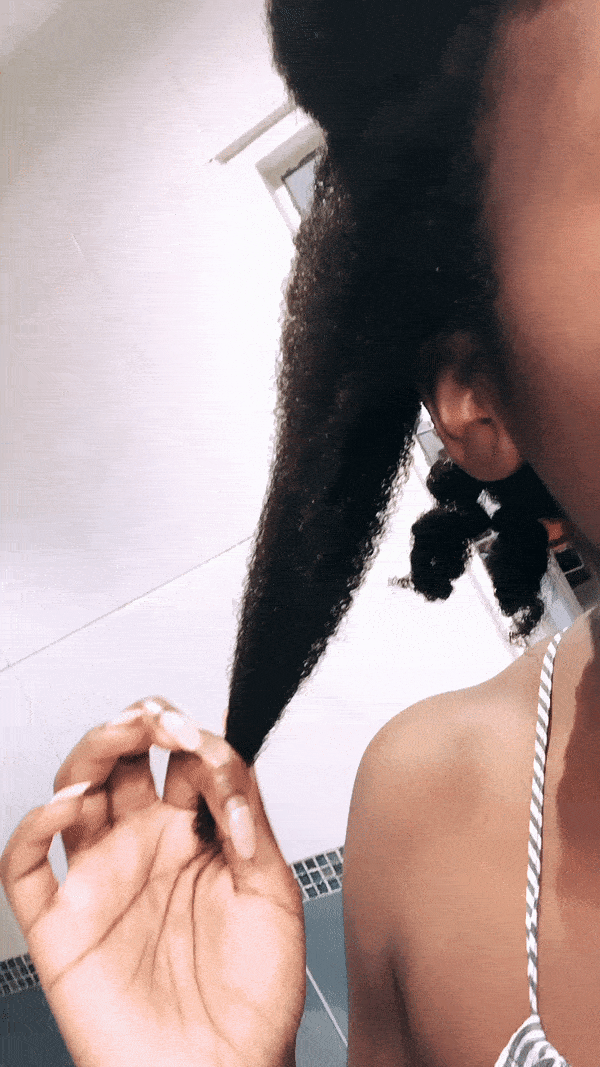 I didn't want to mess with my hair after the natural hydration I had gotten from the hair mask. So I didn't use a store-bought leave-in conditioner like I usually would on wash day. 

I let my hair dry in a t-shirt until it was no longer soaking wet. Then I sprayed it with Aloe Vera juice, coated my strands with my infused Ayurvedic oil, and then sealed with this shea butter mix (i.e. the LOC method). Finally, I put my hair in chunky twists for the week and put those twists in a bun. 

My hair was SHINY and moisturized for the entire week! Even after I took down my chunky twists and installed Marley twists! After the Cardi B avocado hair mask, I was SO sure my hair would be able to withstand a protective style! 

This mask is definitely going to become a staple in my hair routine. And of course, I wrote down how much my hair loved it in my Hibiscus Roots Hair Journal. That way, I never forget what I did that had my hair so hydrated and nourished! 
Let us know in the comments if you decide to try out this mask. We'd love to know how it worked out for you and your hair type!