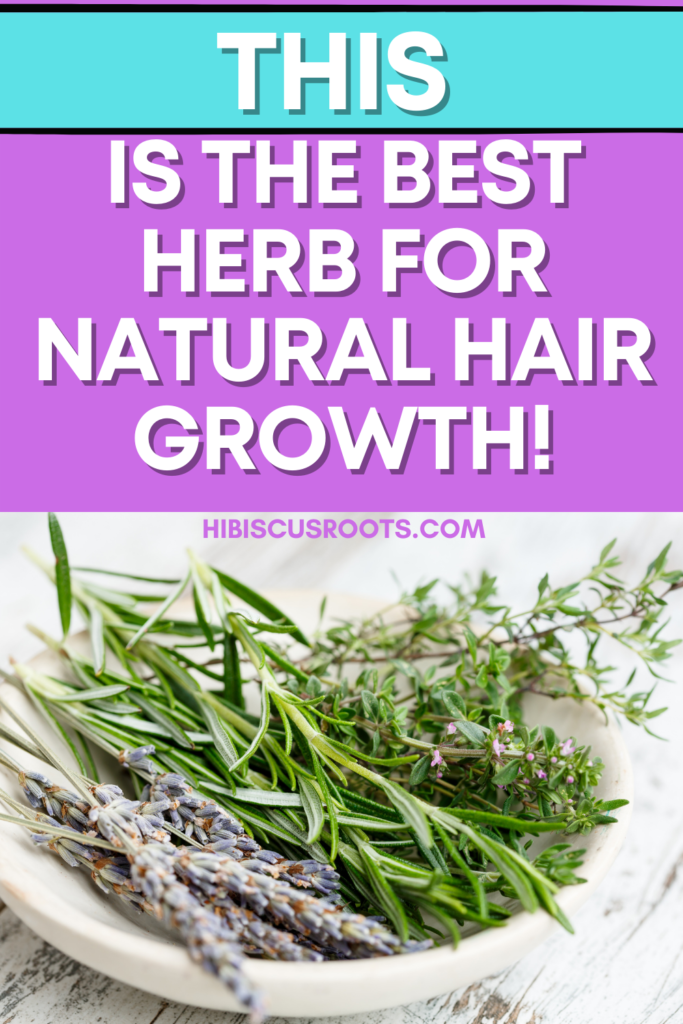 If you're looking for ways to boost your natural hair growth and thickness, look no further than rosemary. In this article, we're going to be talking about how to make and use rosemary oil and tea for hair growth.

We'll also cover the many benefits of rosemary for hair and why you need to add this ingredient to your natural hair growth routine. 
Rosemary is an herb that is native to the Mediterranean region but can be found just about anywhere in the world. It is used in cooking for its aroma and health benefits.

More importantly to us, dear reader, is that rosemary has tons of benefits for natural hair when applied directly to the hair and scalp! 
Benefits of Rosemary for Natural Hair
Here are the benefits of rosemary that make it such a powerful ingredient for natural hair:
Antioxidant and anti-inflammatory: Rosemary helps rid the hair and scalp of free radicals and toxins. It also helps get rid of inflammation caused by dandruff, or scalp irritation that can hinder hair growth.


Rich in iron and essential vitamins: Rosemary is rich in vitamins A, B6, and C as well as iron and calcium. These vitamins and minerals nourish the scalp from the inside out.


Improves blood circulation: Rosemary contains ursolic acid which improves the circulation of blood to the scalp. As such, this increased blood flow leads to increased natural hair growth.
                

Prevents premature greying: Rosemary helps darken natural hair and reduce the appearance of premature grey hairs.


Combats dandruff and itchy scalp: Rosemary promotes circulation and is astringent. It also helps fight dandruff and provides relief for an itchy scalp.


Improves the appearance of hair: Rosemary can increase natural hair growth, increase the thickness of hair, increase shine, as well as darken the hair. All these qualities contribute to an improved overall appearance of the hair.


Promotes hair growth: Rosemary promotes hair growth by improving cellular generation, blood circulation, nourishing the scalp, reducing inflammation, and eliminating toxins & bacteria. 
Does Rosemary really Help Hair Grow?
Rosemary has been clinically shown to stimulate new hair growth in people with alopecia. It is also shown to protect against hair loss because of its effectiveness in blocking DHT. Rosemary is also a great way to restore hair loss that causes baldness or thinning hair. (source, source).
How to Use Rosemary for Natural Hair Growth 
Here are the best ways to use rosemary for natural hair growth: 
1. Rosemary Oil
Using rosemary oil is a great way to reap its benefits for natural hair growth. You can benefit from rosemary oil by either:
To benefit from the hair growth effects of rosemary oil, massage it into your scalp a few times a week. Additionally, be sure to apply it to the length of your hair to ensure that you can keep the growing hair healthy.
DIY Rosemary Oil Recipe for Hair Growth
Here's an easy rosemary oil recipe that you can use for hair growth.
What you will need
2 tbsp Dried Rosemary or 2 Twigs of Fresh Rosemary
1 cup Avocado Oil (or your favorite carrier oil) 
Directions 
Pour the avocado oil into a shallow pan on low-medium heat. 


Add the rosemary to the pan stirring often. 


After 10-15 minutes, turn off the stove and let the oil cool down. 


Strain the oil through a cheesecloth to separate the herbs from the oil.


Optionally, if you used dried rosemary, store the oil with the herbs still inside it in a glass or plastic bottle until it's ready for use.
2. Rosemary Hair Tea
Using rosemary tea in your natural hair regimen is a great way to benefit from its hair growth properties. Here's an easy recipe for rosemary hair growth tea: 
Add 4 tbsp of dried rosemary to a cup of hot (not boiling) water. 


Allow the tea to steep for about 30 minutes. 


After this, separate the tea from the herbs using a strainer or a cheesecloth. 


Finally, strain the rosemary water into a spray bottle. 
You can use rosemary tea for natural hair growth in the following ways: 
Rosemary Moisturizer:
You can use rosemary tea as the Liquid step in your LCO process (learn more about LCO here). Spray your natural hair with rosemary tea and proceed with your favorite oils and butter.


Rosemary Detangler:
Make a rosemary detangler with the addition of slippery elm, marshmallow root, or ambunu to the brewing stage of the rosemary tea. Use rosemary to detangle your natural hair using the methods we describe here.


Rosemary Tea Rinse:
You can do a rosemary tea rinse between the shampoo process and the deep conditioning treatment. Spray or pour rosemary tea over your hair as a final rinse after the shampoo process, then follow with a deep conditioner.

If you're a tea drinker, look out for Rosemary (or Romarin) tea the next time you're at the grocery store! You can also benefit from this powerful herb when consumed internally! 
3. Rosemary DIY Hair Mask or Deep Conditioner
You can give your regular deep conditioner or DIY hair masks a boost by adding a few drops of your rosemary essential oil, or your DIY infused rosemary oil. For more information on how to make your own DIY Hair Masks, check out our article here.
4. Rosemary Shampoos and Natural Hair Products
To benefit from rosemary in your hair routine, you can add rosemary oils to your shampoos or any of your other natural hair products.
How long does it take for Rosemary to grow hair?
Studies show that the effects of rosemary on hair growth are significantly visible after 6 months. However, as with any advice we give on Hibiscus Roots about hair growth, what's most important is the effort to retain that length. We've written this post about the Ultimate 14-Step Guide to Ayurvedic Natural Hair Growth that you can read next!
featured image: source