Herbs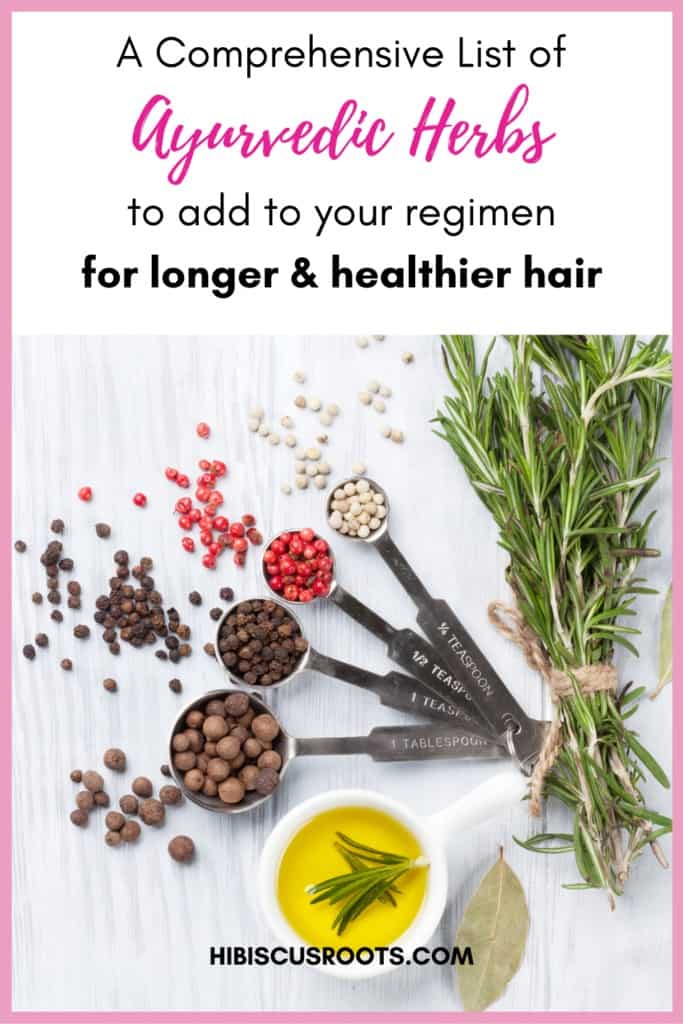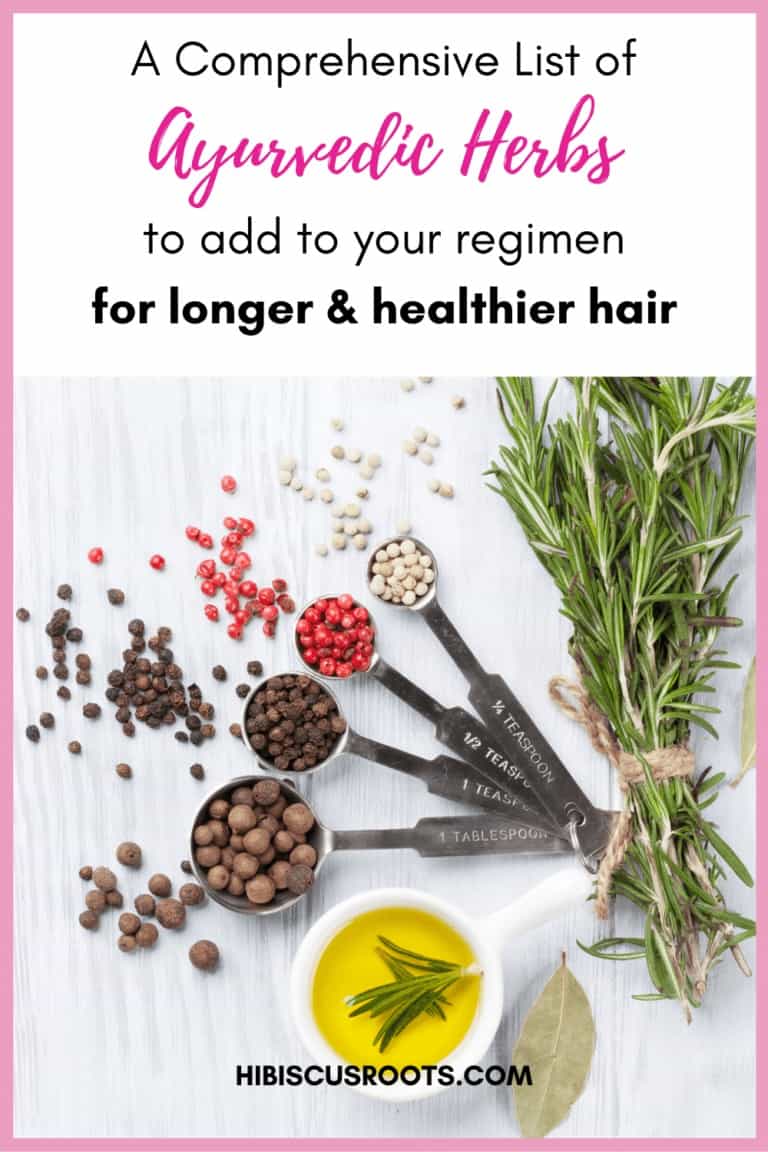 Amla (Indian Gooseberry): Rich in Vitamin C which promotes overall scalp health, thus promoting hair growth. It can also improve hair density by increasing the number of follicles on the scalp!
Ashwagandha (Indian Winter Cherry): Reduces levels of cortisol that affect hair health. It also stimulates the release of melanin that prevents hair fall
Brahmi: Promotes hair follicle growth. It coats the hair follicles so that the new growth is thicker and shinier than before.
Bhringraj (False Daisy): Effective for promoting hair growth. Bonus: relieves insomnia.
Fenugreek: Effective for hair growth. It is rich in folic acid, vitamins C, K, and A, potassium, and iron. As a result, it is effective for scalp health, fights dryness, and prevents hair thinning. We have a whole post on the benefits of fenugreek and 4 different ways to use it here.
Henna: Anti-inflammatory properties that nourish the scalp and reduce hair fall. Henna helps seal the hair cuticle, making hair less porous. This also helps prevent breakage. Read more about the benefits of henna here.
Hibiscus: Rich in amino acids and vitamin C that promote hair growth, nourish hair, and strengthen its roots. Shown to stimulate hair growth from dormant hair follicles and bald patches. Increases hair thickness and reduces hair fall, while preventing premature greying. (Can you tell it's our favorite!?)
Juniper: Strengthens hair roots and increases hair growth. It also works as an astringent that combats hair loss.
Moringa: Promotes hair growth by creating a healthy environment on the scalp. It strengthens the hair, combats dandruff, and acts as a natural cleanser! You can read more about the benefits of moringa here.
Neem: Promotes hair growth by preventing hair fall. It combats excessive sebum, scalp dryness dandruff, and skin dryness.
Ritha (Soap Nuts): Promotes hair growth, improves hair texture and volume.
Rose: Rich in vitamins A, B3, and C which nourish the scalp and promote hair growth. Rose balances the scalp and hair pH and also reduces oil production.
Rosemary: Rich in anti-inflammatory agents that balance hormones, increase follicle growth, and combat hair shedding.
Shikakai: Rich in antioxidants that restore scalp health and treat hair fall. Bonus: It also forms a lather when combined with water, and cleanses hair.
Triphala: Has antibacterial and anti-inflammatory properties. It also prevents hair thinning and dandruff.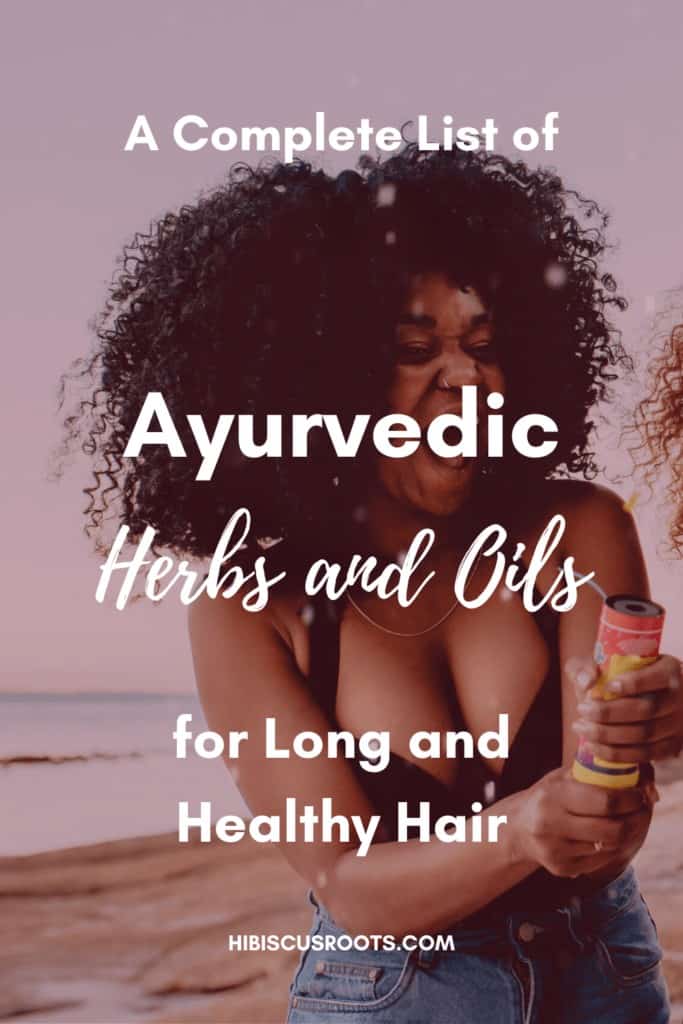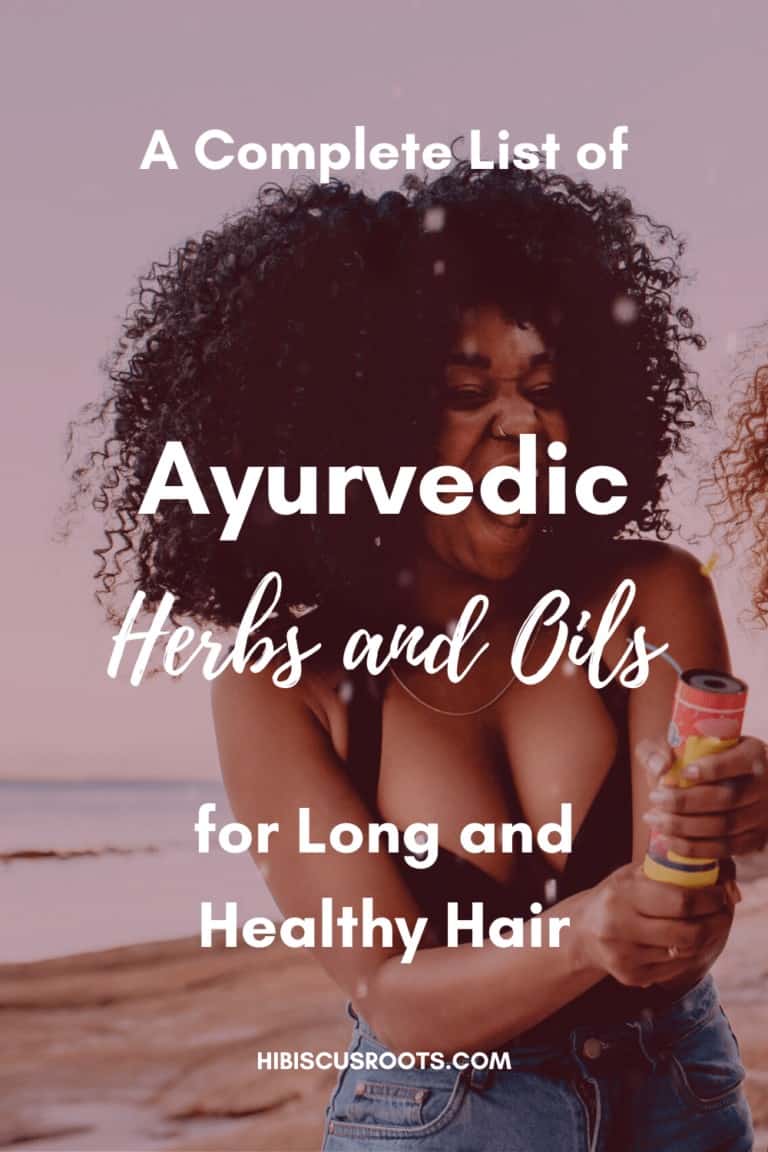 Essential Oils
Black Seed Oil: Shown to support healthy hair growth. Has anti-microbial, anti-fungal, and anti-inflammatory properties that create a healthy scalp environment. We have an extensive article about black seed oil here.
Lavender: Promotes and stimulates hair growth. It is anti-microbial, which prevents and kills head lice. It counters skin inflammation and as a bonus, smells amazing! Lavender deepens, strengthens, and stimulates hair follicles.
Lemon: Promotes shine and nourishment of hair. Smells great. Really cuts through the buttery smell if you don't like that as much as I do! 
Peppermint: Antiseptic and antimicrobial. Stimulates blood circulation and potential growth. Cools the scalp, eliminates dandruff, and fights lice.
Rosemary: Rich in anti-inflammatory agents that balance hormones, increase follicle growth, and combats hair shedding.
Tea Tree: Promotes scalp health by soothing itchiness, reducing dandruff/flaking, and preventing excess sebum production. It also increases blood circulation to the scalp which nourishes hair follicles and promotes strong, healthy hair growth.
Carrier Oils
Almond Oil: Emollient properties of almond oil smooth hair. It is rich in oleic acids that strengthen and repair hair. Promotes hair growth, and treats scalp conditions.
Avocado Oil: Lightweight oil with a variety of uses. It provides moisture by penetrating hair strands rather than coating them. Strengthens the hair shaft and prevents breakage. Treats dandruff, promotes overall scalp health, and ultimately hair growth. Read more about the benefits of avocado oil here.
Castor Oil: Adds shine, conditions hair, and improves the overall appearance of hair. Rich in ricinoleic acid that helps lock in moisture, and promotes overall scalp health and cleanliness. Very thick oil that is great as a sealant for high porosity or very coarse hair. Increases the actual rate of hair growth.*
*anecdotal, not yet scientifically proven.
Coconut Oil: Prevents protein loss, which is essential for maintaining a healthy protein-moisture balance in hair. Moisturizes hair and reduces breakage. Protects the hair from UV damage, and hygral fatigue (moisture overload). It also prevents lice, treats dandruff and prevents hair loss.
Emu Oil: Anti-inflammatory properties that improve scalp health. Rich in essential fatty acids that penetrate deep into the skin and promote healthy hair follicles. Scientifically proven to boost hair growth!
Olive Oil: Adds softness and shine, deeply conditions hair, and reduces frizz. Olive oil also strengthens hair and smooths its outer cuticle.
Gels and Juices
Aloe Vera: Effective to control hair fall, and is rich in antioxidants that boost overall scalp health. Bonus: It also prevents premature greying of hair. Read our extensive overview of Aloe Vera here.
Apple Cider Vinegar: Anti-fungal and anti-bacterial properties that help fight scalp infections, dryness, irritation, and dandruff. It helps balance scalp and hair pH. Works to add softness, shine, and smoothness to hair strands. Read about ACV in more detail here.
Flaxseed: Rich in omega-3 fatty acids which are essential for hair growth. It moisturizes hair, nourishes, and conditions the follicles and hair strands. This makes the hair stronger overall and resistant to breakage. For more information, and an easy flaxseed gel recipe, click here.
Onion: Rich in sulfur which is an essential component of keratin. It helps fight scalp infection and combat dandruff because of its antioxidant and antimicrobial properties. Scientifically proven to stimulate hair growth and regrow lost hair. Read more about onion juice here.
Clays
Bentonite Clay: Antimicrobial, and promotes scalp health by treating irritation and flakes. Rich in natural minerals that condition, moisturize, soften the hair, reduce frizz, and encourage hair growth. Read more about the benefits of bentonite clay here.
Rhassoul Clay: Full of negatively-charged molecules, which allow it to act as a magnet for positively-charged toxins on the scalp. This clay is also rich in natural silica which works as an exfoliant, makes hair shiny, conditioned, and voluminous. Read more about the benefits of clay-washing here.
This is an ever-growing list so please feel free to submit any herbs, oils, or ingredients you think are missing!
Most of these ingredients can be found at your local Indian/Asian, Hispanic, or African food market. If you don't have one near you, check Amazon!
To see everything, you would need to actually start whipping up your own Ayurvedic concoctions, see this post!