Updated: April 11, 2021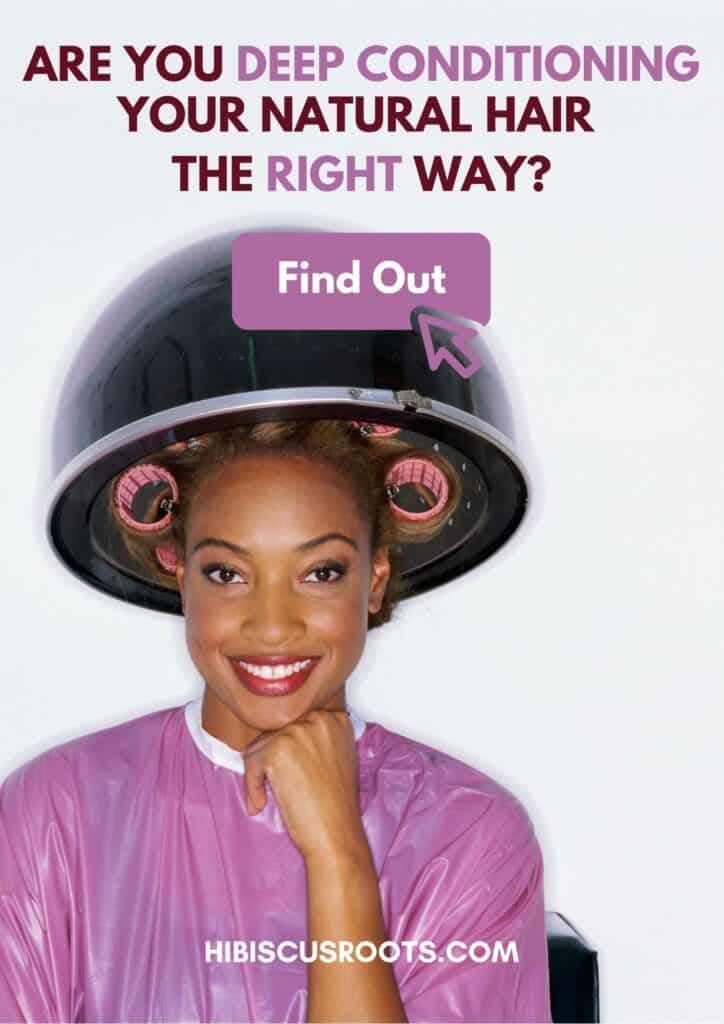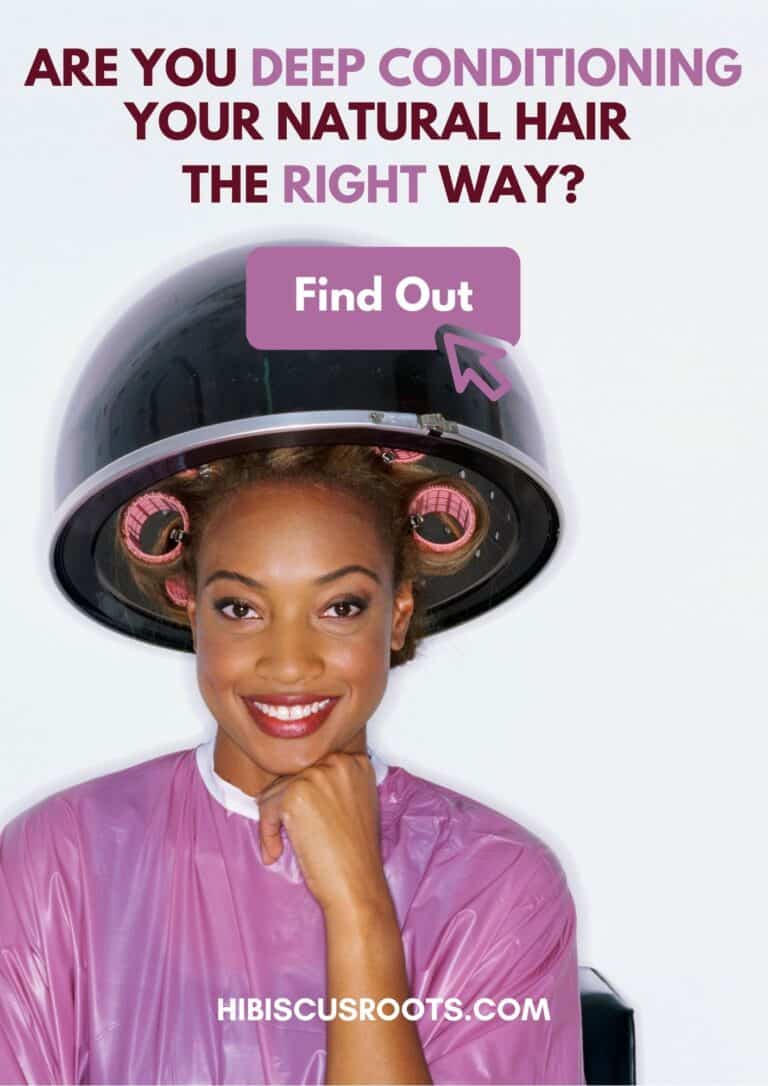 If you're at any stage along your hair journey, you have probably heard of deep conditioning. You've heard countless times that its important to deep condition natural hair. But what does deep conditioning ACTUALLY do for natural hair? Is it really that important?  

Read this post to learn about the benefits of deep conditioning natural hair. There's also information about how to deep condition hair properly, and the different kinds of deep conditioners! 
What exactly is a Deep Conditioner?
A deep conditioner is any product applied to the hair which has the capacity to penetrate the hair shaft. It has the capacity to condition the hair strand from the inside out. Conditioners serve to replenish moisture, vitamins, minerals, and nutrients that the hair strands lose over time. 

Think of your hair as a long strand with a bunch of holes along its length. There are periods during the week when these holes are more open and more closed. The holes are most open right after you wash your hair, and slowly close up over time.

This means when you apply water, lotions, and creams to your hair during the week, only some of that product actually gets deep into the hair strand.

These holes along your hair strand are your hair cuticle, and technically, they do not open and close — rather they lift up, and lay down flat.

Once the hair cuticle closes, unfortunately, it is much easier for moisture and nutrients to leave the hair, than it is to get them in. 

This is why you may have noticed that your hair feels most moisturized right after wash day. Then as your hair gets dirtier, the drier and drier it feels and the harder and harder it is to moisturize it. 

The purpose of deep conditioning is to make most out of this time right after the shampoo process when "the holes along your hair strand" (aka the cuticle) are most open. 
How to Deep Condition Natural Hair
The best way to deep condition your hair is to apply your deep conditioner to freshly washed damp-wet hair in sections.

Twist these sections up and cover your entire head with a shower cap.

Apply heat (heating cap or hooded drier) optionally, but especially if your hair is low porosity.

I like to leave my deep conditioner in for at least 1 hour, and at most 4 hours. I've learned from experience that my high porosity hair only experiences further damage from overnight deep conditioning. 
Different Kinds of Deep Conditioners for Natural Hair 
No matter what the label on the deep conditioner says using words like "healing", "strengthening", "elongating", "hydrating", etc. There are only two major classifications for deep conditioners — protein deep conditioners, and moisturizing deep conditioners. Sometimes, however, we can get products that are a hybrid of both. 
1. Protein Deep Conditioners:
This type of hair conditioner helps repair the complex protein bonds that make up the hair strand. This makes the hair stronger, and more resistant to breakage. It also helps make sure that your moisture-protein balance stays stable!

Protein deep conditioners are made up of proteins like hydrolyzed keratin, hydrolyzed oat protein, hydrolyzed silk protein, hydrolyzed soy protein, and hydrolyzed wheat protein. You may even notice natural proteins like egg or mayonnaise in the ingredients list.

If one or more of these appear towards the beginning of your ingredients list, this should let you know that you're using is a protein deep conditioner. 

You can read more about the benefits of using protein in your natural here routine here.

Examples of protein deep conditioners include henna, egg, mayonnaise, Aphogee 2 step protein treatment, Aphogee 2 minute keratin reconstructor, etc.
2. Moisturising Deep Conditioners
This type of hair conditioner imparts moisture on the hair. It ensures that the water you apply to your hair penetrates deep into your hair strand and stays inside the strand for longer. They also improve the overall elasticity of your hair and keep it from getting too hard or stiff.

Moisturising deep conditioners are made up of conditioning agents, humectants, oils, and butters. Some examples of these include aloe vera, glycerin, honey, shea butter, oils, and other "safe synthetics" like cetyl alcohol, a fatty alcohol. 

And as we said before, the closer these ingredients are to the beginning of the ingredients list, the more likely your product is to be a moisturizing deep conditioner.

Examples of moisturizing conditioners include Shea Moisture Manuka Honey and Mafura Oil, Naturall Club Fresh Avocado Deep Conditioner, Melanin Haircare Multi-Use Softening Leave-In Conditioner, Aunt Jackie's "Anti-Poof" Moisturizing & Softening Conditioner, Alikay Naturals Honey and Sage Deep Conditioner, etc.
3. Hybrid Deep Conditioners:
There are of course some deep conditioners that contain a combination of both moisturizing and strengthening ingredients.

Using them often is the best way to ensure that your hair doesn't get thrown off balance in either direction and becomes either too full of protein (protein overload) or too moisturized (moisture overload).

Examples of hybrid deep conditioners include SheaMoisture Jamaican Black Castor Oil Strengthen and Restore Treatment Masque, ORS Hair Mayonnaise, ORS Olive Oil Strengthen and Nourish Replenishing Conditioner, etc. 
The Benefits of Deep Conditioning 
1. Helps nourish the hair from the inside out:
Deep conditioners are filled with vitamins, minerals, and nutrients (especially if they're DIY) that the hair needs to thrive.

Once applied to the hair, these ingredients go deep into the hair shaft where they are most needed and help heal the hair and keep it nourished!
2. Replenishes lost moisture from the hair:
Deep conditioning is best done right after the hair has been shampooed or cleansed. This is when the hair cuticles are most lifted.

This is also when the hair is most stripped of natural oils and nourishment from the shampoo process. As a result, the primary goal of the deep conditioner is to replenish this lost moisture.

It contains moisturizing agents as well as oils that work together to help the hair retain that moisture for longer!
3. Helps strengthen the hair and prevent breakage:
When the deep conditioner contains protein, it helps repair the protein bonds that make up the hair.

These proteins are typically broken down by normal styling and manipulation, but even more so by heat-styling and chemical processing.

Once the hair has been strengthened, it is less resistant to breakage caused by manipulation.
4. Improves hair elasticity
When we try to maintain the moisture-to-protein ratio in the hair, we are really trying to manage the hair's elasticity. If the hair gets too strong, it becomes brittle and easy to snap.

On the other hand, if it is too moisturized, it becomes mushy and non-resistance to tension.

Hair needs the perfect balance of protein and moisture to maintain enough elasticity to resist breakage.
5. Improves manageability
When hair is difficult to style, hard to manage, very frizzy or dull, it may really just need good deep condition.

The moisture, elasticity, and shine imparted from a good deep conditioner has the ability to transform your hair! Even after one use! 
6. Helps prevent split ends
Deep conditioning improves the hair's overall health, resistance to tension, dryness, and friction. These are all the elements necessary to preserve the hair and prevent split ends. You can read more about split ends and more ways to prevent them in this post.
Hopefully, all of these points help clarify the reasons why deep conditioning is one of the most important aspects of any healthy hair care regimen.

And because this is Hibiscus Roots, we're going to encourage you to deep condition with ayurvedic herbs and ingredients either in the form of glosses or masks! You can find a full glossary of ayurvedic herbs and their benefits here.

You can read more about how to make your own DIY Hair Masks and deep conditioners here, and let us know in the comments which ones you decide to try!

featured image: source