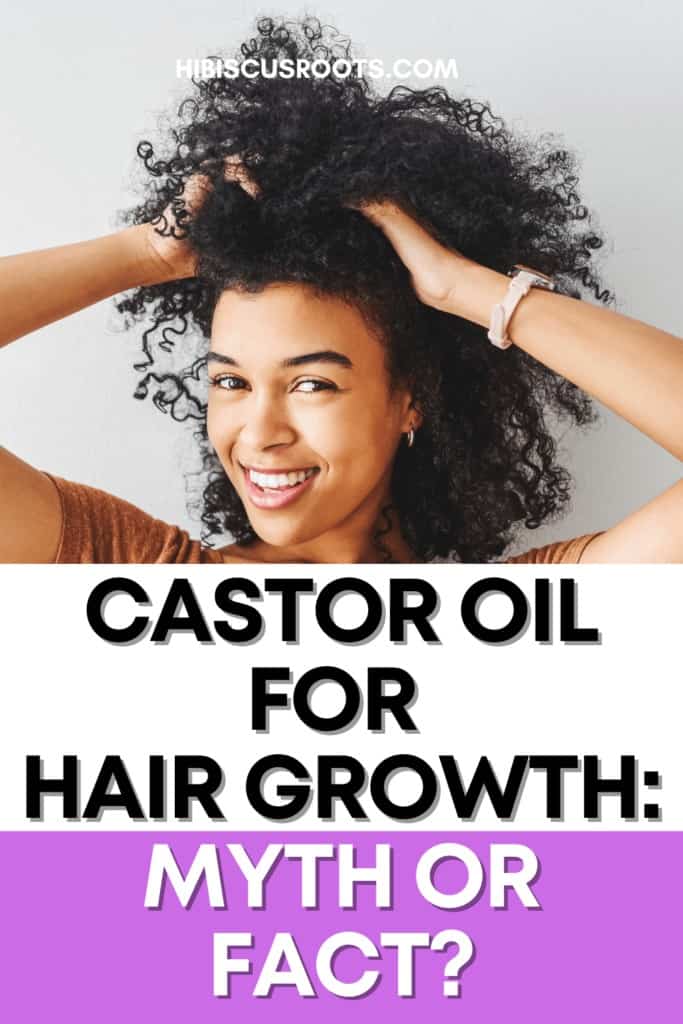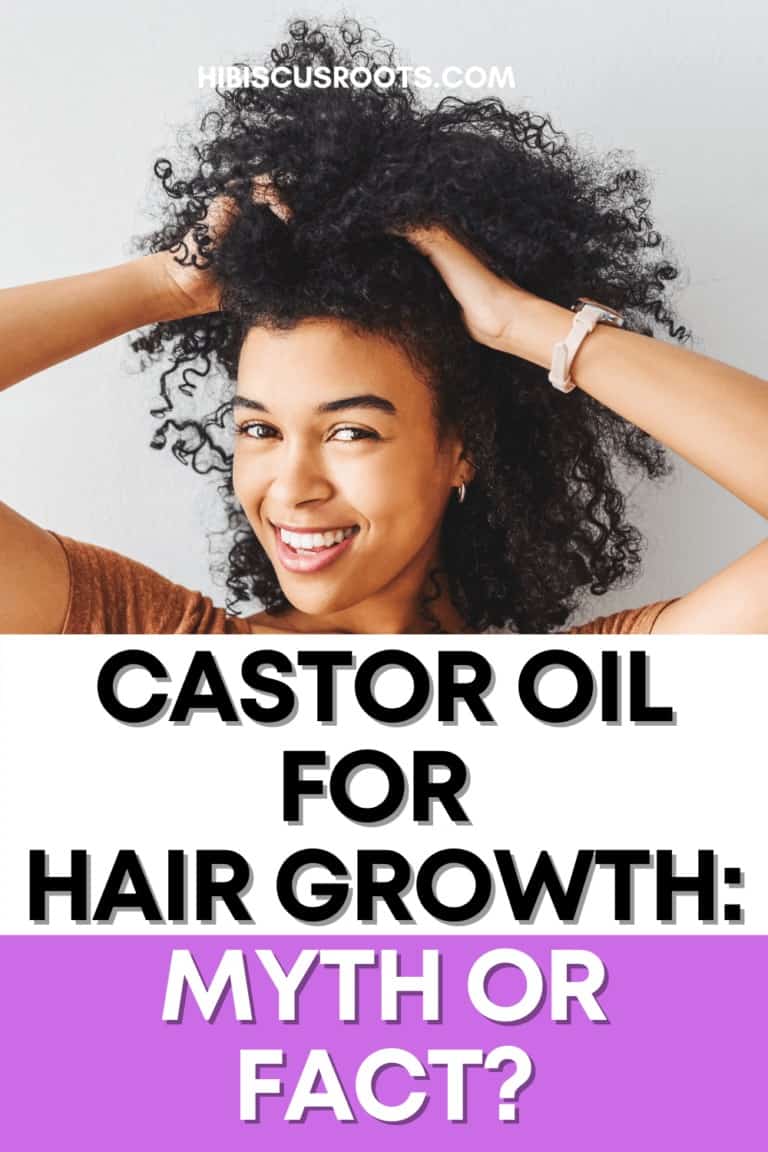 If you're reading this article you may have heard people talk about castor oil making their hair grow faster, and castor oil natural hair growth challenges. (Hairlista anyone?)

People have been using castor oil in their hair for centuries and nowadays castor oil is trending again for its use to grow edges, eyebrows, and lashes back faster!

In typical Hibiscus Roots fashion, we're gonna be breaking down the benefits of castor oil. We'll also be talking about whether or not it ACTUALLY makes natural hair grow faster! 
What is Castor Oil and How is it Made?
Castor oil is a vegetable oil that's packed full of nutrients that is pressed from castor beans. It contains fatty acids such as ricinoleic acid, oleic acid, linoleic acid, stearic acid, palmitic acid, as well as vitamin E.
So, Does Castor Oil Make Hair Grow Faster?
We're going to jump right into the question that's on everyone's mind.

And like most ingredients we spotlight here at HR, the answer is kind of. 

Castor oil doesn't make your hair grow any faster.
However, it makes your natural hair and scalp more conducive to healthy hair growth and continued length retention.

We're going to be highlighting the reasons for this when we talk about the benefits of castor oil below! 
What are the Benefits of Castor Oil for Natural Hair?
1. It is antioxidant and anti-dandruff
Castor oil is a natural antioxidant. It is also rich in vitamin E, omega-6, and omega-9 fatty acids which combats dandruff and other scalp conditions that would otherwise prevent healthy hair growth.

2. It is anti-fungal and anti-bacterial
Castor oil is a force against fungus and bacteria which makes it a great way to keep the scalp healthy. You can keep inflammation and irritation at bay by keeping castor oil in your natural hair regimen!

3. It has a high viscosity
What this means is that castor oil is THICK. If your hair is high porosity, and you have trouble retaining moisture in your natural hair, applying castor oil to your ends is a great way to seal your moisture in.

4. It can strengthen the hair strand
As mentioned, because castor oil is so thick it can act as a great way to reinforce your hair strands. This way, it becomes difficult to break and easier to retain length! Contrary to what you may have heard castor oil actually doesn't contain any proteins.

5. It increases elasticity and manageability
Castor oil is a great way to lubricate your natural hair strand and keep your strands flexible and easy to manage. This is is because friction is the enemy of natural hair — it is partly responsible for frizz.
Friction is also the reason we deal with tangling and matting in natural hair. Fortunately, because castor oil is so thick, it is one of the best ways to reduce this friction.

6. It enhances other products
What's really great about castor oil is that it has been shown to improve the efficiency of other products. It does this by increasing the absorption of other products into your hair and scalp! Keep this in mind when we talk about all the different ways you can add castor oil to your natural hair routine! 
7. It helps combat breakage
For most of the reasons we've listed above, castor oil helps prevent breakage. And as you know, if your hair isn't breaking, it's "growing." In other words, if your hair isn't breaking you are retaining length, and your hair is getting longer!

Is Castor Oil Good for Low Porosity Hair?
Knowing all of this a good question you might have is whether or not castor oil is good for low porosity hair.

The simple answer is yes, but if you have low porosity hair you may not be able to use castor oil very often.
If you constantly seal your natural hair with castor oil, it will form a heavy barrier over your already flat hair cuticles.
As such, after using it once, it would be impossible to get water past this barrier when you need to re-moisturize before washday.

So with this in mind, if you have low porosity hair, try to only use castor oil sparingly.

You can add it to your DIY hair masks, use it as a hot oil treatment and wash it out, and add a tablespoon of it to your sealing oil.

As usual, try out different levels of castor oil in your regimen from using it all the time to using it only once in a while. Find out what works for YOUR HAIR and keep doing it! 
How to Use Castor Oil in your Natural Hair Routine
In your Deep Conditioner: A great way to start using castor oil is to add a teaspoon of it to your deep conditioner. It's a great way to boost the properties of your product, and make it richer!


In your Hair Oil Mixes: Every time you infuse your own Ayurvedic hair growth oils you can't afford to leave castor oil out. It's a powerful ingredient that would only enhance your other oils and Ayurvedic herbs!


In your Whipped Shea Butter Creams: Whipping your shea butter with castor oil is a great way to enhance the benefits of the shea. The castor oil will make sure the cream is rich and moisturizing for your hair. 
Light vs. Black Castor Oil vs. JBCO vs. HBCO 
Another question we get often is whether or not there is perfect castor oil for natural hair.

Does the castor oil have to be black? Extra dark? Jamaican? Haitian?

Black castor oil is derived from castor beans that have been roasted, ground, boiled and heat extracted. The roasting process is what gives black castor oil its dark color. 

Jamaican Black Castor Oil (JBCO) seems to contain more ash than Haitian Black Castor Oil (HBCO). Additionally, HBCO seems to contain slightly more ricinoleic acid, and iodine more than JBCO.

Clear castor oil on the other hand is light is refined castor oil, and is usually cheaper. However, clear castor oil is often extracted with hexane, then stripped of its color and scent. This refining process means that the castor oil loses 85% of its ricinoleic acid! Meaning it essentially loses 85% of its benefits. 

To reap the most benefits from your castor oil, opt for one that's dark, unrefined, and undiluted — no matter its origin! 😉