Updated: September 18, 2022
If you're curious about the benefits of Ayurvedic herbs or practices for natural hair growth, then you may have already heard about fenugreek.

Fenugreek is a small herb from the southern parts of Asia and the Mediterranean. The seeds of this fenugreek plant are used in Ayurvedic medicine for many purposes. Some of these purposes include improving digestion, soothing skin irritation, and promoting overall health. 
Fenugreek has been found to also have a bunch of benefits for natural hair and hair growth.
In this article, we're going to be talking about the benefits of fenugreek for hair, as well as the different ways you can use fenugreek in your hair care regimen.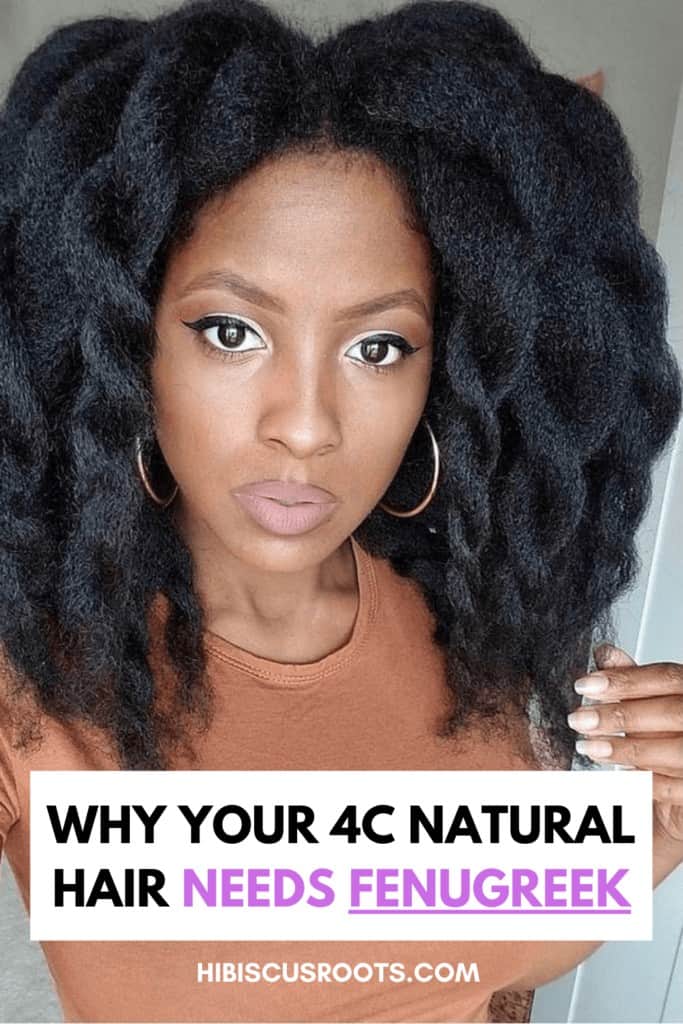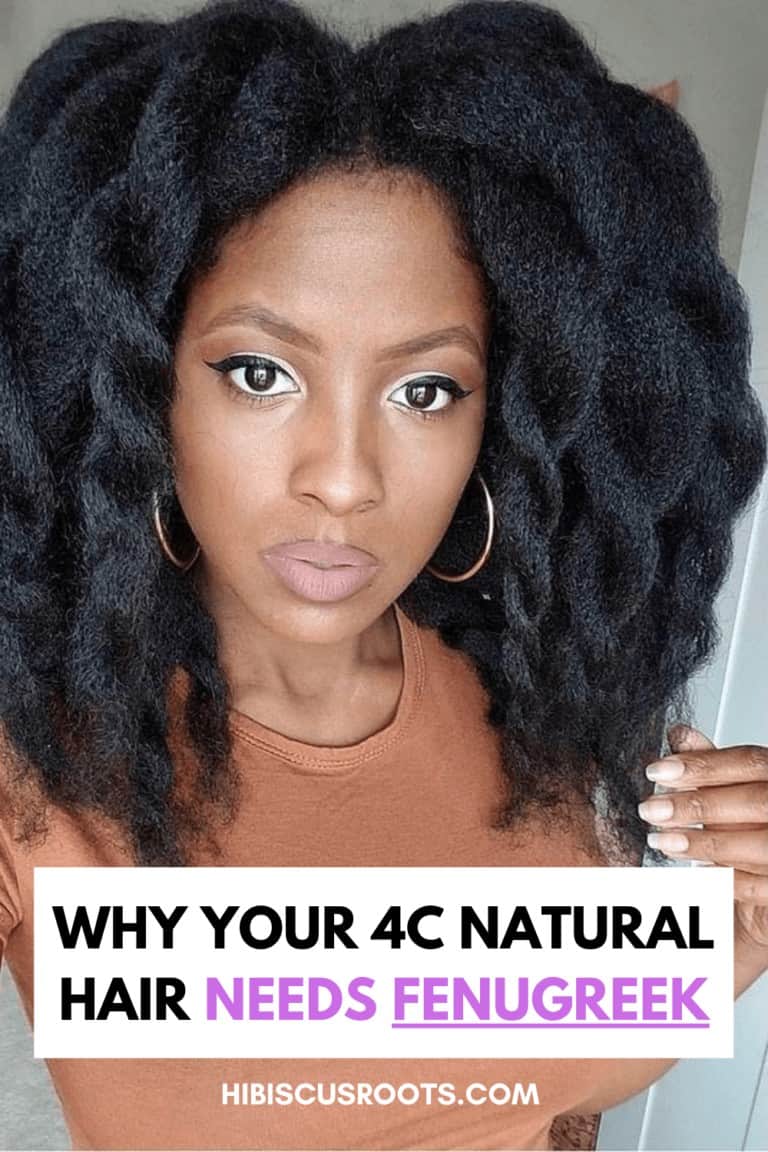 What are the Benefits of Fenugreek for 4C Natural Hair?
Fenugreek is a rich source of protein and iron. And as we know, protein and iron are both essential for healthy hair and hair growth. You can read more about the benefits of protein in this article.


It is anti-inflammatory and anti-fungal. This is because fenugreek contains flavonoids and saponins which make the scalp an ideal and conducive environment for healthy hair.


Fenugreek promotes hair growth. This is because it helps combat dandruff, and controls sebum production and dryness on the scalp.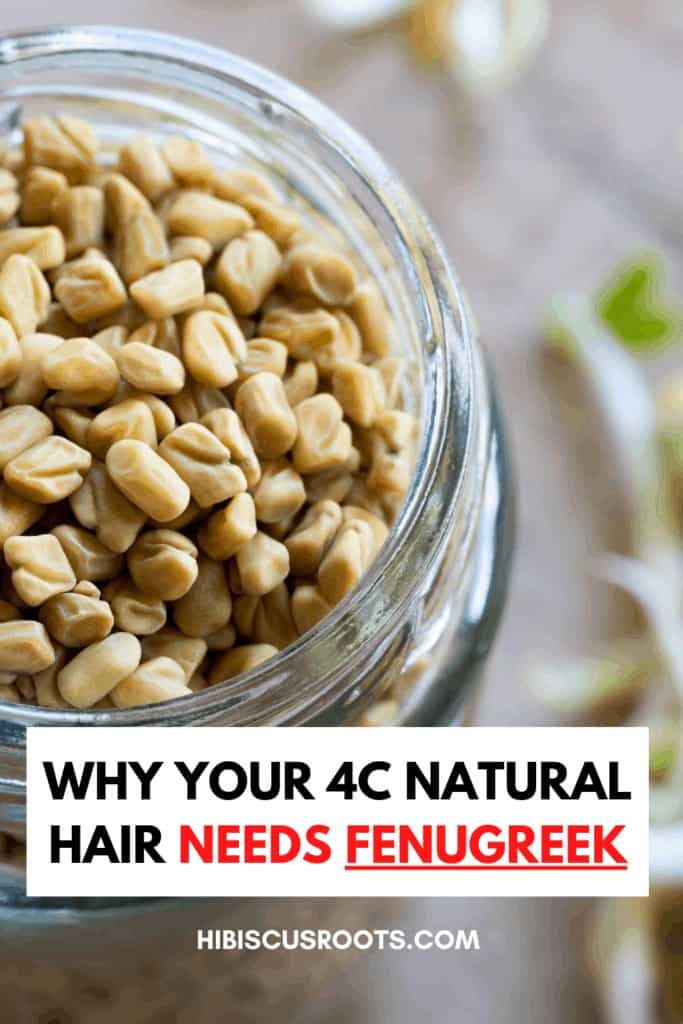 How to Use Fenugreek for 4C Natural Hair Growth
1. As a Tea Rinse
To use fenugreek as a tea rinse, you can steep 3 tablespoons of fenugreek seeds in 1 cup of boiling water for 10 minutes.

Then, filter out the liquid, and pour it into a spray bottle.

After washing your hair, spray your scalp and the length of your hair with the fenugreek tea rinse, and let it sit for 5 minutes.

Then rinse the fenugreek water out of your hair and continue your deep conditioning and wash day as usual.
2. As a Leave-in Spray
To use fenugreek as a leave-in, you can steep 3 tablespoons of fenugreek in a mixture of ¼ cup water + ¼ aloe vera juice + 1 tablespoon of vegetable glycerin (optional). Leave the mixture in the refrigerator for 8-24 hours, then filter out the fenugreek seeds.

You can then pour the fenugreek water into a spray bottle and use it as the L step of your LOC or LCO method.
3. As a hair gloss
To use fenugreek as a gloss, you can use either fenugreek powder, or the fenugreek seeds you strained out of the previous step and crushing/blending it into a paste. Then, mix 2 tablespoons of this powder or paste into your deep conditioner and use that on washday as usual.
4. As a Mask/Hair Treatment
To get the most intense dose of a fenugreek treatment you can use it as a mask. You can mix 3 tablespoons of fenugreek into the gel/juice of a strained aloe vera leaf, apply it to your hair, and let it sit in your hair for 30-45 minutes. Then, rinse the treatment out and style your hair as usual. 
5. In a Hair Oil
To get even more benefits of fenugreek, you can infuse it in your favorite hair oils for your scalp or as the "Oil" step of your LOC or LCO method. We like the ratio of 3 tablespoons of fenugreek seeds to 2 cups (total) of oil.
How Often Can I Use Fenugreek on my 4C Hair?
Fenugreek, like most other Ayurvedic herbs, is strengthening by nature. As a result, I would recommend experimenting to find your own hair's tolerance for each of these herbs.

We can say, however, it's never a good idea to start from never using an Ayurvedic herb, to using an herb like fenugreek every single day.

You can start out by using the fenugreek tea rinse every other wash day, or the leave-in spray every other time you moisturize your hair.
As usual, always write down your experience with an herb or treatment every time you use it. You'll be glad you did so you can track your hair's progress and responses over time.

You'll also be better able to tell if your hair likes something or not when you get used to evaluating your hair like this.

You can use our free Hibiscus Roots journal that you can download here!