Updated: March 30, 2021
In this article, we're going to be exploring the 5 best ways to make and use DIY aloe vera gel for your natural hair regimen, as well as 5 major benefits of aloe vera for hair growth!
This may or may not be the first time you've heard about using Aloe Vera in natural hair care. However, this article is going to show you just how amazing aloe is, and why you can no longer ignore it.
Aloe vera is a succulent plant that has been used throughout for its healing properties. Its use in medicine dates back to ancient Egypt and research into its benefits continues today. 
Aloe vera not only makes a pretty house plant, but the gel from its thick leaves has been shown to relieve heartburn, prevent the growth of bacteria, pain relief, improve skin, natural hair, and so much more.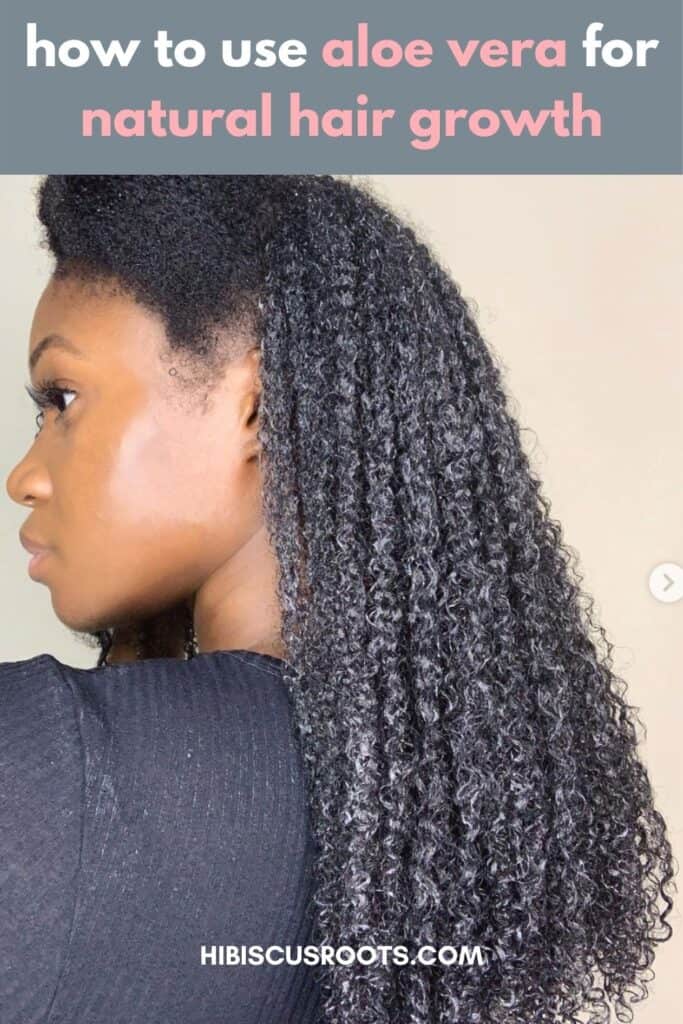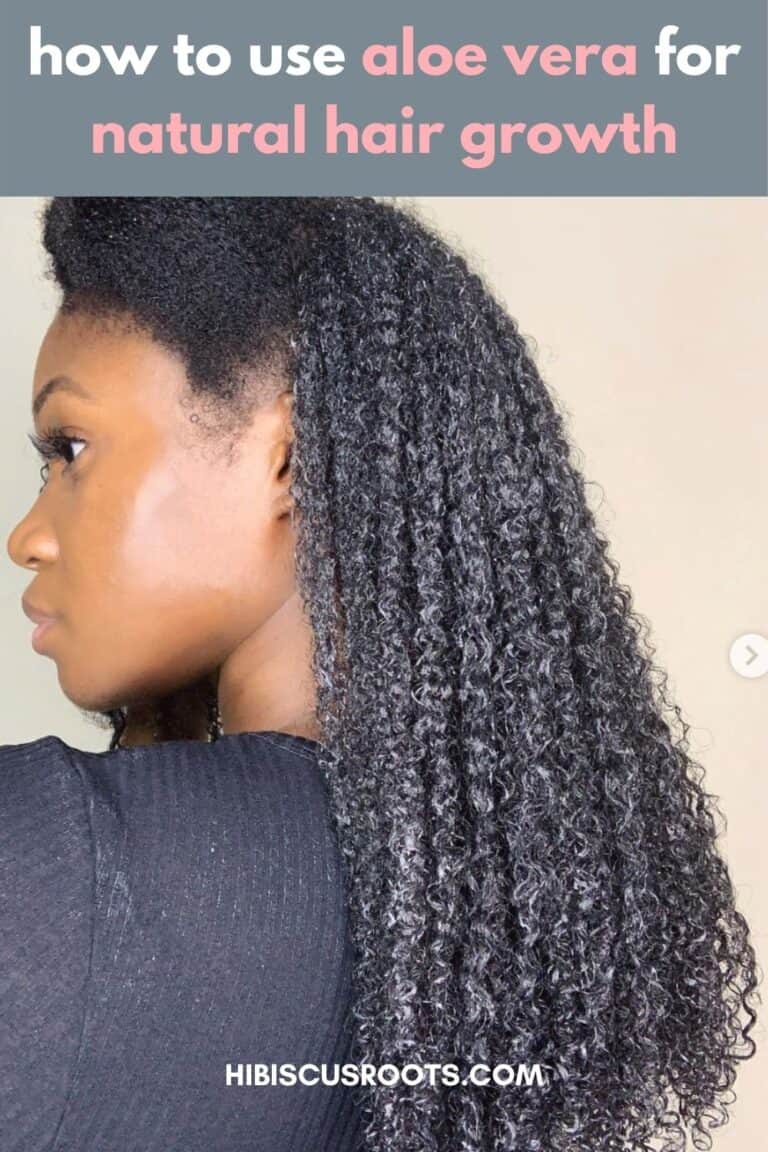 How to Use Aloe Vera Gel for Natural Hair!
1. As a pre-poo
In either its gel or juice form, you can Aloe vera as a pre-poo. The simplest way to do this is to cut an aloe vera leaf open and apply its gel directly to your hair and scalp. Another way is to spritz your hair and scalp with aloe vera juice from a spray bottle. After either of these application processes, cover your hair with a shower cap for a few minutes, then proceed with your washday as usual.

You will notice that your hair will be softer, easier to detangle, and easier to cleanse because of the conditioning properties of aloe vera.
2. As a cleanser 
Depending on the level of product buildup on your scalp, you can choose to skip shampoo or clay altogether and use aloe vera juice alone to clean your hair and scalp when necessary.

Aloe vera is great at ridding the hair of excess oil. So if your hair and scalp are clogged up with more than just oil, you may need something a little stronger. Torri from Indigenous Strandz is a YouTuber we love who has managed to grow 34-inch type 4 hair. Aloe vera is one of her secrets and she prefers cleansing her hair with aloe vera juice and apple cider vinegar instead of shampoo.

3. In / As your deep conditioner
Aloe vera gel, especially when it's DIY, makes a great addition to a deep conditioner to make it more moisturizing. You can make an average deep conditioner so much more powerful by adding a tablespoon of aloe vera juice to it.

You can also choose to coat your hair with DIY aloe vera gel after a wash and let that work moisture into your hair for at least 30 minutes before rinsing it out. It makes a great deep conditioner on its own as well. 
4. As a moisturizer 
In your LOC or LCO method, you can use aloe vera juice as a great liquid for maximum hydration. You can spray aloe vera juice on your hair, either at full strength or diluted with water. Then you would seal this moisture in with either a butter (C) or an oil (O).

Aloe vera is a humectant so it draws moisture into the hair and the oil and butter seal it in. Aloe is amazing because it not only imparts moisture like water does, but it also nourishes the hair and scalp with its vitamins and enzymes.
5. As a curl refresher
Aloe vera also makes a great refreshing spritz for wash and gos and other curly styles. This is because it is moisturizing, provides slip for easy manipulation, and also helps to seal the hair's cuticles. Sealed cuticles mean less frizz and an overall smoother style! 
5 Benefits of Aloe Vera for Natural Hair!
1. It makes a great moisturizer 
DIY aloe vera gel has also been proven to have tremendous benefits for skin and hair. Because aloe is a succulent plant, it naturally stores water in its leaves. These water-filled leaves combined with their complex carbohydrates make it a great moisturizer when applied to the hair and scalp.
2. It strengthens and repairs
Aloe is a healing substance and has actually been shown to increase both the strength of hair strands and the skin of the scalp. It is rich in vitamins A, C, E, and collagen which contribute to cell regeneration. In other words, it promotes the regrowth of health and shiny hair. This vitamin and collagen composition is why Aloe is often used to treat sunburn; cell regeneration is the principle behind wound healing.
3. It treats scalp conditions
Aloe vera has been shown to combat scalp inflammation and fight seborrheic dermatitis (aka dandruff). The fatty acids found in aloe vera also make it highly anti-inflammatory. This property of aloe vera makes it a great option for stopping and preventing scalp itchiness and irritation.  
4. It is a mild cleanser
Aloe vera can rid the hair of excess sebum/oil without stripping strands of essential moisture and nutrients. This is often why we recommend using it in clay washes. It can contribute to hair cleanliness without the need for shampoo.
5. It may promote hair growth
Aloe vera has been proven to increase blood circulation to an area when applied topically. And as we know, increased blood circulation to the scalp promotes healthy hair growth. This is the basis for the use of scalp massages to promote hair growth. 
How to Make DIY Aloe Vera Gel for Natural Hair
Aloe vera is super easy to prepare at home! To make DIY aloe vera gel:
Wash a whole aloe vera leaf, paying attention not to cut yourself.


Cut the aloe vera leaf into smaller, more manageable pieces. You can work with these pieces one at a time.


Cut off the two spiky sides of the aloe vera leaf.


Now, cut the thin green sides of the aloe vera gel away from the clear sticky gel!


You now have a whole block of pure aloe vera gel.


You can rub the gel block directly on your hair and scalp, or put it in a small cup of a blender, pulverize it without water!


If you blend the aloe vera gel, make sure to strain it through a cheesecloth, clean pantyhose, or clean wig cap to make sure you don't get stuck with bits and flakes in your hair!


Optional: To get aloe vera juice from aloe vera gel, you would simply add water to the blending process!
DIY aloe vera juice or gel can be stored in the fridge for up to 10 days.

Here's a video we love that shows the process:

However, you can also choose to use store-bought aloe vera juice for convenience! For best results, we recommend opting for organic options with only one other ingredient (a citric-acid preservative).
Disclaimer
Aloe vera is safe for most people but you should perform a patch test to be sure you do not have any allergies to it. The advice in this article is on the preparation of aloe vera gel and juice for topical use. We don't recommend ingesting homemade Aloe vera juice.
Are you going to try using Aloe vera in your hair regimen? How are you going to incorporate it into your regimen? Are you still skeptical about its benefits? We'd love to know!