Updated: March 11, 2021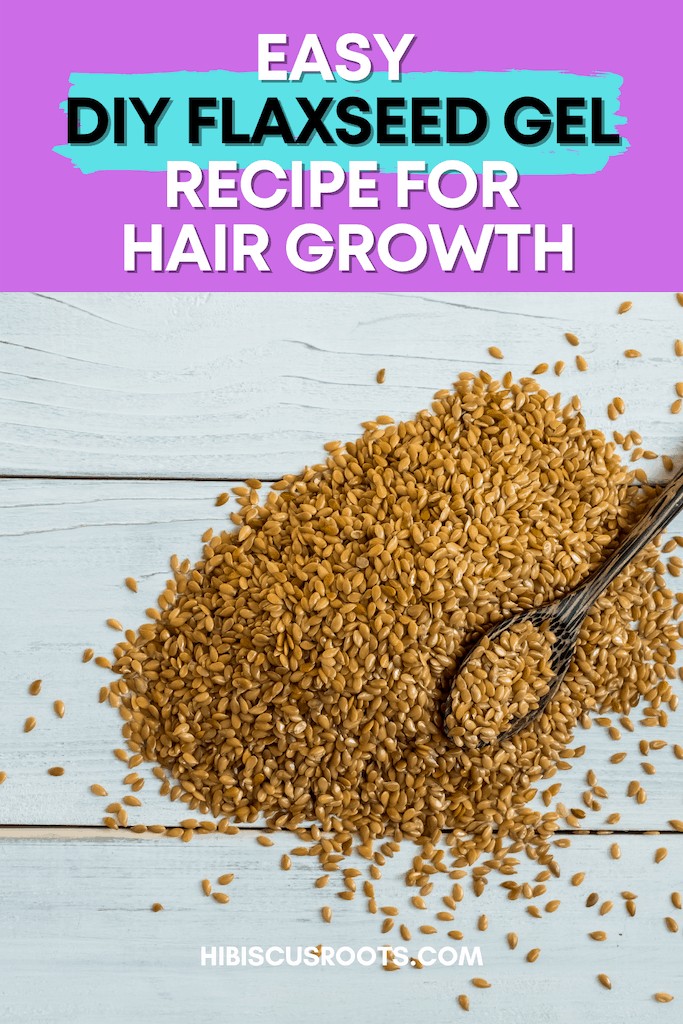 The biggest staple in most curly girl routines is a hair gel. This is especially true for naturals who love their twist outs, braids outs, and wash and gos. I was so glad when I finally found flaxseed gel, learned about all its benefits for natural hair and got to work on a recipe for it! 

This is because unfortunately, most gels on the market today are full of harsh chemicals and alcohols that dry out your hair.

Now, what if I told you you didn't have to sacrifice styling in order to achieve healthy hair? 

When I first started my hair journey, I would skip gels altogether because I heard they were bad. What that meant was that there were A LOT of natural hairstyles I wasn't able to properly achieve!

I can finally wear sleek buns and have defined curls with a gel that is actually nourishing my hair! 

In this article, I'm going to be highlighting the benefits of flaxseed gel for natural hair, and showing you an easy flaxseed gel recipe you can make in under 10 minutes! 
How is Flaxseed Gel Made?
Flaxseed comes from the flax or linseed plant. It is considered a "super-food." This is because it contains protein, omega-3 fatty acids, vitamin B1, B6, calcium, iron, magnesium, phosphorus, and potassium. These nutrients are both essential for the survival of your body, and beneficial for your hair!

Random fun fact you didn't know about flaxseeds? It's what linen is made from!

Flaxseed oil is also obtained from cold-pressing flaxseed. This is a rich oil that you can use to seal in moisture in your hair strand. It cal so be applied directly to your scalp for nourishment.

After its been cold-pressed, flaxseed oil has been found to contain more omega 3 fatty acids than whole flaxseeds! This is great news because of how beneficial omega3s are to hair growth and hair health!

Flaxseed gel on the other hand is the convenient by-product we get from boiling flaxseeds, which carries all the same benefits of flaxseed for natural hair!

It is one of many ways to obtain a gel-like substance from nature that works well in any natural hair regimen! 

Using flaxseed gel in your natural hair routine will improve the overall health of your hair, impart shine, and strengthen your strands. It can also lead to length retention, and may even prevent graying!
Easy Hibiscus Flaxseed Gel Recipe for Natural Hair
This recipe will take about 5 – 10 minutes to make a small mason jar's worth of hibiscus flaxseed gel which you can store in the fridge for 3 weeks.

Flaxseed gel must be stored in the fridge to delay it from spoiling. 
What You Will Need
Instructions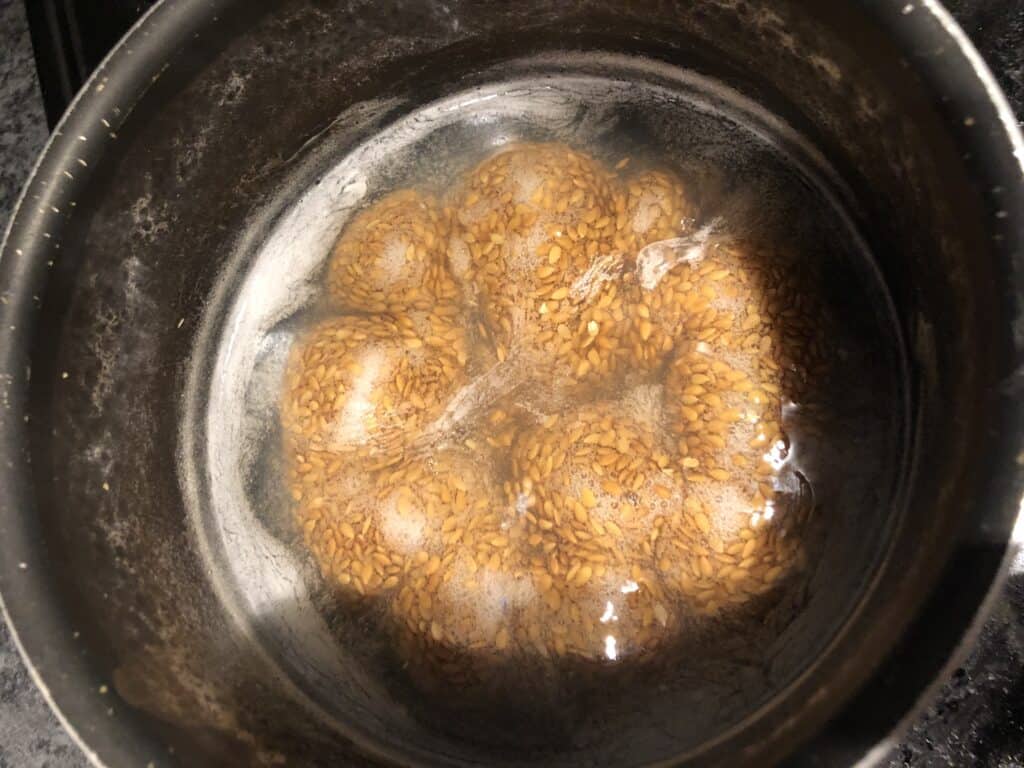 Pour the water into the pan and set it on the stove.


Pour the flaxseed into the water in the pan, and bring it to a boil on medium to low heat.


Stir the flaxseeds often to make sure the mixture doesn't stick to the bottom of the pan.


You should let it simmer like this until you notice a thick white film on the surface of the water (up to 10 minutes).


The mixture should be a sticky consistency, not too runny but not super thick either.


Once this happens, turn off the heat and add your hibiscus leaves to the mixture and let it cool for about 45 minutes.
This is important because the gel is really difficult to strain when its hot, and the gel will thicken even more as it cools.


Next, place your cheesecloth (or cheesecloth alternative) over the top of your mason jar and pour the mixture from the pan into it.


Once it's all in there, gently squeeze the cheesecloth to strain all the gel out, separating it from the whole flaxseeds and hibiscus leaves.


Now that you have strained out your flaxseed gel, add 3 drops of each essential oil, or your favorite alternatives.
The essential oils provide fragrance, mild preservative, and added nutritional benefits to your hair. 


Cover and store the flaxseed gel in the fridge until you're ready to use them! 
Please let us know in the comments below if you try the flaxseed gel recipe and how it works for your natural hair!
How To Use Flaxseed Gel in Natural Hair
1. Twist Outs and Braid Outs
I usually use flaxseed gel as a styler when I want really defined twist outs and braid outs. What's great about this gel is that it never flakes! This is a godsend especially if you have 4c hair and have a hard time finding good gels!

Confession time. I've never done a wash and go that isn't just washing my hair and letting it dry in its shrunken state! I know.
I'm always just so nervous about the fragility of my hair in that state. Even when I wear my hair in puffs I experience so many single-strand knots that I can't even imagine the damage a wash and go would do!

However, if you're a wash and go girl and are used to using Eco Styler gel, this is a substitution I would gladly recommend! 

2. Wash and Gos
3. Sealing Your Twists
This is a method one of our favorite Ayurvedic YouTubers, Indigenous Strandz, swears by! And if there's anyone you should believe about the many benefits of flaxseed gel for natural hair, it's her!

She's managed to grow knee-length type 4 natural hair with an Ayurvedic regimen. KNEE LENGTH!

She recommends keeping hair in mini-twists and sealing the very tips of your hair with flaxseed gel to make sure they curl properly and don't get tangled! 

4. Taming Flyaways
Flaxseed gel is also great if you're doing a sleek style, simply want to freshen up your edges, or tame your flyways for a smoother look!

It provides a good hold without being too hard or stiff! 

Other Common Questions about Flaxseed Gel
How to Preserve Flaxseed Gel
You can preserve flaxseed gel by adding 0.6% of its volume of a mild preservative like CosGard. Simply, if you make a batch of flaxseed gel that is 100ml in volume, you can add about 10-13 drops (0.6ml) of cosgard to it as a preservative.
How to Thicken Flaxseed Gel
Make sure your flaxseed gel is actually COOL before you judge how watery it is. This is because flaxseed gel thickens as it cools. After it has cooled and it is still too watery, let it simmer on the stove for a little bit longer OR add another tablespoon of flaxseeds to the gel while it's on the stove.