Updated: October 3, 2021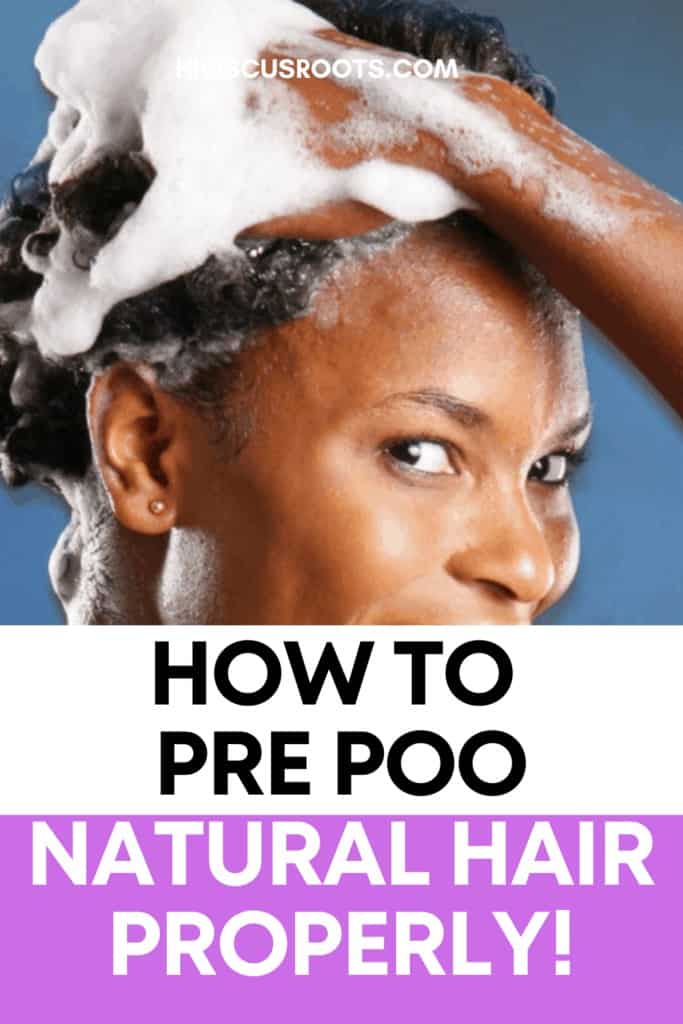 If you've started taking more interest in your natural hair care and building a natural hair routine, a solid pre-poo is just what you need!

In this article, we're going to be talking about what a good pre-poo is.  We'll also detail what you should use to pre-poo your hair, and how often you should be doing it! 
Why should you have a Pre-Poo Routine?
A pre-poo is short for pre-shampoo. It is a treatment that is applied to the hair that serves the following benefits: 
Protects your natural hair from hygral fatigue and water damage.
You can also read more about the risks of hygral fatigue here.


Prevents excess moisture-loss.
A pre-poo can also prevent the excess dryness that comes from using a harsh shampoo. 


Makes your hair more manageable for the wash day process.
Once you've parted your hair and applied your product, it makes your hair much more organized for washday.


Minimizes tangling and breakage during the detangling process.
Depending on what you use in your routine, a pre-poo can greatly improve detangling. You can read more about how to detangle natural hair properly here. 
What do you use to Pre-Poo Natural Hair?
To pre-poo natural hair, you should opt for natural, penetrating products for best results! You can try any of the following products and see how your hair responds:
1. Olive Oil
Olive oil is a penetrating oil that can nourish your hair from the inside out. Using olive oil can also reduce the risk of shampoo leaving your hair too stripped and dry. We also have an entire article on the benefits of olive oil for natural oil here. (moisturizing)

2. Coconut Oil
Using coconut oil as a pre-poo can both penetrate the hair strand and strengthen it from the inside out. Coconut oil also has a high affinity for the proteins in the hair, and as a result, prevents protein-loss. So, the more you can protect your hair from protein loss, the more you can protect your hair from damage. (strengthening)

3. Pumpkin Seed Oil
Pumpkin seed oil has amazing benefits for natural hair. It is touted to have hair growth benefits that one can experience from consistently using it as a prepoo treatment. The only way to be sure that it will work for your natural hair is to try it out consistently. You can read more about the benefits of pumpkin seed oil in our article here.

4. Aloe Vera
Aloe vera is a great pre-poo treatment because it can both help in the detangling process, and nourish the hair from the inside out. The plant's rich mucilage can increase the manageability of the hair and deeply hydrate it before washday. We also go over the full benefits of aloe vera in this post. (moisturizing & detangling)

5. Okra or Okro gel
Okro gel is similar to aloe vera and can be used to pre-poo natural hair. It is also rich in mucilage with is very hydrating for natural hair, and can drastically reduce detangling time! We have a recipe for DIY Okra gel and its benefits here! (moisturizing & detangling)

6. DIY Treatments
A lot of DIY hair masks and treatments which contain food can be used as pre-poo treatments. This is because you can condition the hair right before shampooing to ensure you wash all the food out. You can find 5 great DIY hair mask recipes here. (conditioning, strengthening, or moisturizing depending on the recipe)
How to Pre-Poo Natural Hair 
The best way to pre-poo natural hair is as follows:
Gently part your hair into sections, and apply the product from root to tip.
You can choose to do this on either dry hair or damp hair (lightly misted).


Once your hair is coated in the pre-poo product, cover it with a plastic cap and let it sit for about 15-20 minutes. 


After this, proceed with washday and cleanse your natural hair. 
Technically, you can pre-poo your hair for as long as you want. Some people find it convenient to pre-poo overnight, in preparation for a full washday the next day. Some other people may prefer pre-pooing for a few hours depending on their schedule. 
Whats important is that your hair gets the benefits of the prepoo before you wash the treatment out of your hair. 
How Often Should you Pre-Poo?
Every time you shampoo your natural hair, you can benefit from applying a different pre-poo treatment. As a result, you can choose to pre-poo your natural hair every single washday, or every other washday. You can do the treatments as often or as little as you want.

For example, you can try the following pre-poo routine:

1st Washday: Olive oil pre-poo + moisturizing shampoo + moisturizing deep conditioner. 
2nd Washday: Aloe Vera gel pre-poo + rhassoul clay wash + moisturizing deep conditioner.
3rd Washday: Coconut oil pre-poo + moisturizing shampoo + henna gloss.
etc. 

Finally, you can easily make your pre-poo treatments a normal part of your hair routine to prepare your hair for the potential stress of the washday process!


featured image: source