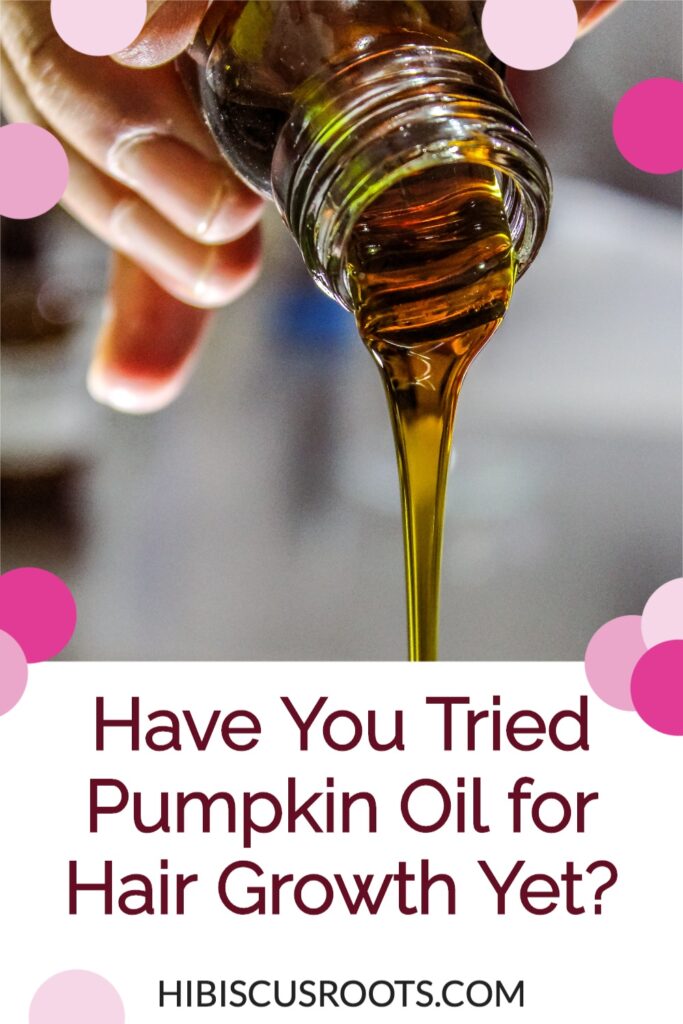 In this article, we're going to be covering the benefits of pumpkin seed oil and whether or not it's the miracle hair growth remedy it's touted to be!

This is because throughout the course of our natural hair journeys a lot of us are in pursuit of longer, thicker, healthier hair. 

However, before jumping on any new hair growth trend, it's important to thoroughly evaluate its pros and cons. It's also important to know exactly what the benefits are of the oil in order to manage our expectations. 
Is there a Scientific Basis for Pumpkin Seed Oil and Hair Growth? 
The theory that led to the belief that pumpkin seed oil works for hair growth is because of its phytosterol content. 

Phytosterols are like cholesterols that are found in the cell membranes of plants and mostly show positive health benefits. One of such benefits is that phytosterols block enzymes and hormones in the scalp that cause hair loss. 

In 2014, Cho et al. published this study of the effects of pumpkin seed oil on men with androgenic alopecia. It showed that the participants who took pumpkin seed supplements saw 30% more hair growth than those who received a placebo.

However, this study was limited to male participants and there was no way to tell whether other elements in the study could've explained the hair growth. 

Simply put, there is a scientific hypotheses that led scientists to test the possibility. However, the conclusions are not strong enough for us to take them as fact. Pumpkin seed oil may cause hair growth, but that's enough for me to want to try it out!
How is Pumpkin Seed Oil Used for Hair Growth
The only way to be sure of the benefits of pumpkin seed oil for hair growth is to try it for yourself! Here are 3 different ways you can incorporate it into your natural hair regimen:
1. Hot Oil Treatment
Here at Hibiscus Roots, we've talked about the many benefits of hot oil treatments and how to do them. You can read more about hot oil treatments here.

They're a great way to fully reap the benefits of oil topically. This is because when the oil is heated, it is easier to penetrate the scalp and the hair shaft. To do a pumpkin seed hot oil treatment:

a. Firstly, warm some pumpkin seed using the double-boiler method

b. Shampoo your hair with an African black soap shampoo or Rhassoul clay

c. Pat the hair dry, then apply the warm (not hot!) oil to the scalp and along the hair shaft

d. Cover the head with a plastic cap and let it sit for 10-20 minutes

e. Rinse out the oil and follow up with a deep conditioner
2. Hair Growth Oil
To reap the benefits of pumpkin seed as a hair growth oil, apply the pumpkin seed oil directly to the scalp 2-3 times a week.

Then, massage the oil into your scalp using your fingers or a vibrating scalp massager like this one for best results! 

3. Deep Conditioner or Herbal Gloss
Deep conditioning is one of the most important aspects of a healthy hair growth routine. To experience the benefits of pumpkin oil during this treatment, add a tablespoon of pumpkin seed oil to your deep conditioner or herbal hair gloss.

This will give your hair treatment an overall boost. 

Here are some herbal gloss recipes you can add pumpkin seed oil to for best results! Henna, Amla and Fenugreek Gloss Recipes.
4. Prepoo Treatment
Similar to a hot oil treatment, to get the benefits of pumpkin seed oil for hair growth, you can use it as a prepoo treatment before shampooing your hair.

To do this, apply a generous amount of pumpkin seed oil to the scalp and hair and cover it with a plastic bag for 10 to 20 minutes. After this time, continue with your wash day by shampooing and conditioning the hair as usual.

You can read more about the benefits of prepoo treatment for natural hair here.
Where Can I Get Pumpkin Seed Oil for my Hair?
The best pumpkin seed oil to use for hair should be organic and cold-pressed to ensure that it contains the most nutrients possible.

You can either buy pumpkin seed oil for your hair online on Amazon here, or make it yourself.

Here's a video that shows how to make pumpkin seed oil step-by-step from crushed pumpkin seeds. 
Conclusion 
There is no definitive proof that using pumpkin seed oil will regrow your natural hair, or that it will increase your hair growth rate.

As with most Ayurvedic or all-natural herbs and oils, the best way to find out if an ingredient will work for your hair is by testing it. 
Try out pumpkin seed oil for a few weeks to a few months while noting your hair growth results. To note your results, you can use our free hair growth journal here! If you notice any growth difference, amazing!

However, if it doesn't show any difference in terms of hair growth, you will surely reap the conditioning benefits of it because it is a natural oil.