Updated: January 22, 2023
The most important part of any hair care regimen is moisturizing your hair and keeping it in there.
If you are experiencing any difficulty with your natural hair like excessive dryness, difficulty with styling, or excessive breakage – learning how to moisturize your natural hair properly should usually be your first attempt at combating these issues. 
After making sure your curls are properly moisturized, if you still experience difficulty with your hair, you can attempt other remedies. 
Especially if your hair is natural, kinky, and 4C.
The first thing to consider is the porosity of your hair. Once you determine this, you can decide which path to more moisture is right for you. 
In this article, we'll talk about tips for moisturizing hair, and we'll emphasize certain steps that may differ depending on your hair's porosity.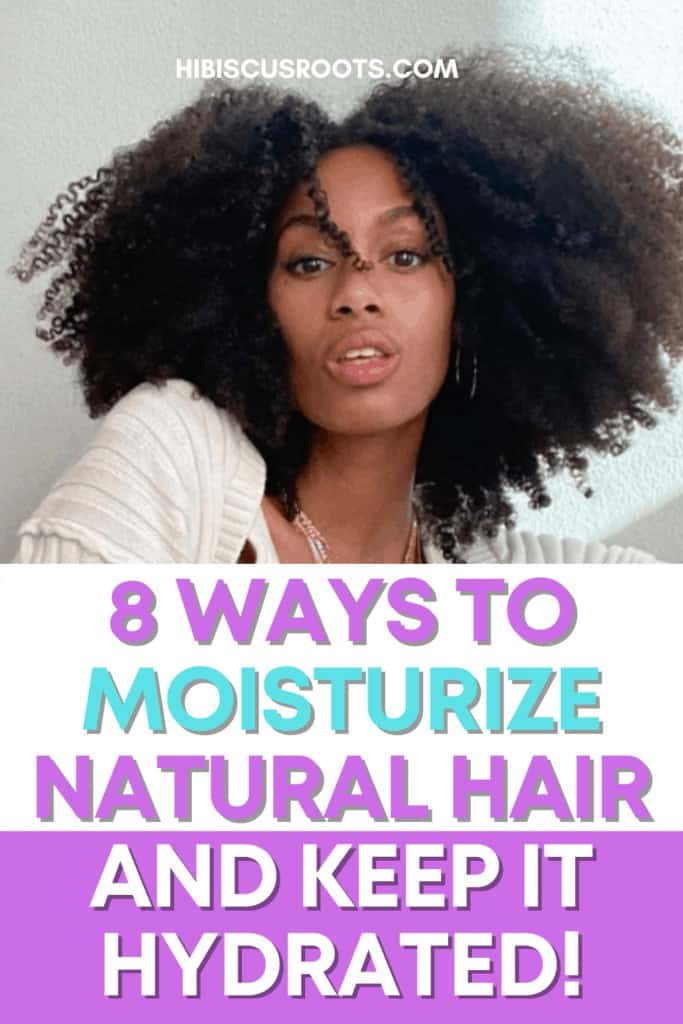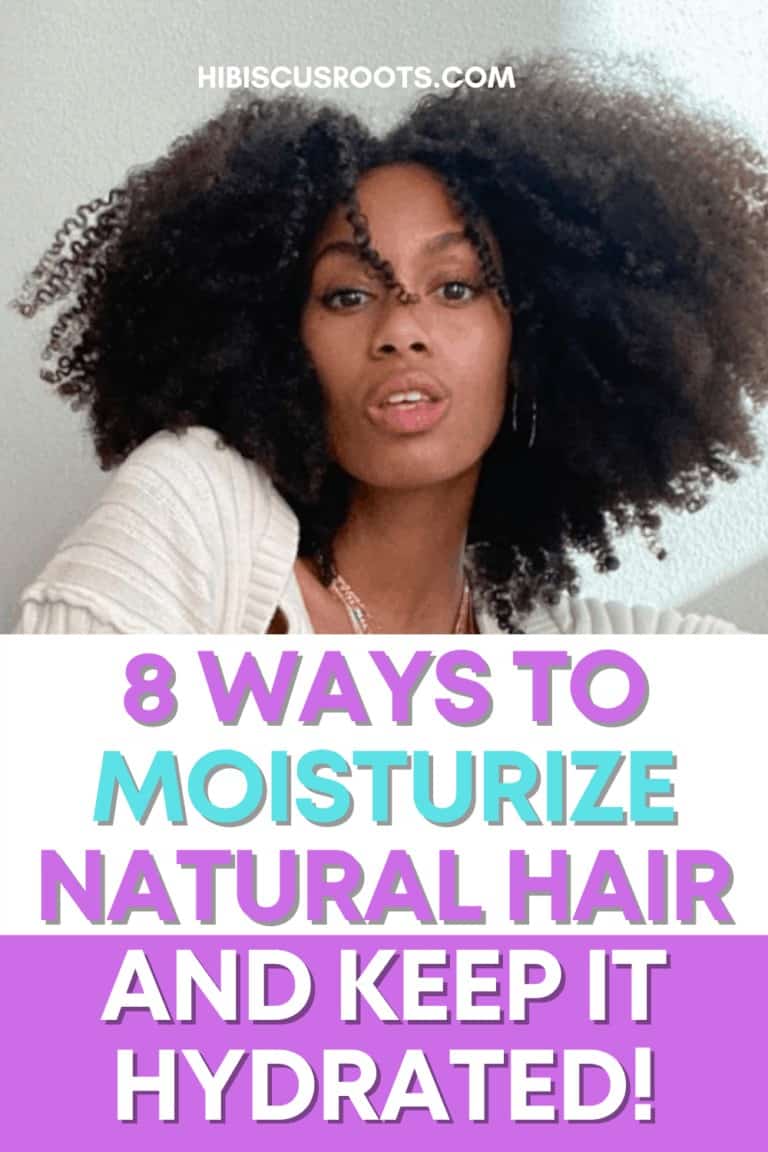 How to Moisturize Natural Hair
1. Pre-poo
We've talked about pre-pooing a few times here at Hibiscus Roots. Its a process we cannot celebrate enough. This is the easiest way to incorporate healing herbs, juices, and oils into your regimen. It also ensures that your strands are protected before you shampoo. When you wash your hair, you get rid of dirt and product build-up.

However, with a pre-poo treatment, you ensure that you do not strip-off essential moisture within the strand. It is also a way to prevent hygral fatigue. This is when too much water gets into the hair strands, makes them overswell, and leads to eventual damage.

2. Deep Condition
This is another essential way to moisturize your natural hair. Most deep conditioners are water-based and contain ingredients that ensure that the water penetrates the strand properly and stays in.

Some of these important ingredients of great deep conditioners include:
Glycerin,
Cetyl Alcohol (a conditioning agent),
Behentrimonium Methosulfate (which sounds scary, but is a safe sulfate used for detangling because it smooths the hair follicles),
Caprylyl Glycol (a moisturizing emollient),
Essential oil blends,
Rich oils like avocado oil, olive oil, or castor oil
You should also feel free to add your favorite herbs, oils, and essential oils to your deep conditioners depending on your hair's needs.
Notes for High Porosity Hair
You should always look for deep conditioners that have a little bit of protein in them to keep your hair balanced. Otherwise, you should incorporate light protein treatments into your routine often or heavy protein treatments less often. For more details on high porosity hair, read here.
Notes for Low Porosity Hair
You should take care to avoid deep conditioners with protein. This may make your natural hair even more difficult to moisturize. Protein treatments are still necessary for low porosity hair but should be done sparingly. For more details on low porosity hair, read here.

3. Moisturize and Seal
This is the act of physically spraying water, applying a leave-in conditioner onto the hair, and then sealing it with an oil and a butter. It is important to state that water is the only thing that can actually moisturize or hydrate hair. Oils and butters do not moisturize, instead, they form a protective barrier over whatever surface they are applied to.

To moisturize and seal natural hair, there are two different methods you can follow:

Either the LOC method or the LCO method.

This specifies the order in which you apply the Liquids – L, Oils – O, and Creams – C. The choice of LCO or LOC will depend on your hair porosity and your hair's particular reaction to the combinations.

Here's a video that clearly explains the two methods:
The best liquids to use as your "L" to moisturize your natural hair are:
Plain water,
Leave-in conditioner,
Diluted aloe vera juice, or
Water-based Ayurvedic spritz
The best oils to use will depend on your needs. You can see our detailed list of oils on this glossary.

The best creams to use will depend on your hair's tolerance. You can also whip your own butters from mango, avocado, or shea butter to use as a cream. Here's a recipe to guide you through the process.

4. Use the Baggy / Greenhouse Method
This involves spritzing your hair with water, applying a good leave-in conditioner to your hair (or just the ends of your hair), wrapping it in a plastic bag or shower cap, and leaving it in overnight. This method works because your body heat will ensure thorough conditioning of your hair overnight.

Notes for High Porosity Hair
Be careful not to do this too often. Because the cuticles on high porosity hair are already a bit too open. An intense conditioning treatment like this may put too much moisture into the hair and create moisture overload.

Notes for Low Porosity Hair
This might become a new favorite, especially if you don't own a hair steamer. This is a great way to help moisture penetrate strands that are already tough to moisturize.

5. Try the Maximum Hydration Method
This is a drastic step for people who experience constantly and excessively dry hair. It is supposed to hydrate natural hair and ensure that moisture stays locked-in to the strands. This makes them more resistant to breakage, tangles, frizz, and shrinkage. The steps are to be performed every day for a week, and then every three days after that. This is a process that requires commitment so it's definitely not for the faint-hearted.

Here are the steps involved:
Wash and section your hair
Mix apple cider vinegar with melted coconut oil and spray it through your hair
Cover with a shower cap and let it sit for 10-30 minutes
Rinse it out
Co-wash, then detangle your hair
Finger detangle your hair again in sections with a sulfate-free conditioner
Cover with a shower cap for 20 minutes then rinse
Mix 1 cup of Bentonite Clay, 2-3 cups of water, Honey, and Coconut Oil
Apply this mix to the strands of your hair
Cover with a shower cap for 10-20 minutes and rinse thoroughly
Apply leave-in conditioner while your hair is still soaking wet
Finally, coat the hair with hair gel and rake it through gently
Finish it up by coating the strands with coconut oil (optional)
Here's a video that details the process at length:
As you can see, we weren't kidding about the process!

Now, imagine doing it every day for a week. If you can bear it, there are tons of people who have achieved great results from this method.

I'm personally what people call a lazy natural, so this step would definitely be the last resort for someone like me 😉

We've gone through steps to actually get moisture into the hair. That's great! Your 4C hair is shimmering in the light with all the moisture you've been able to get into the strands. Finally, here's how you can make sure your hard work doesn't go to waste.
How to Keep Your Hair Moisturized
1. Keep your hair and ends protected
The best way to keep your hair and ends protected is to have it in mini-twists with the ends tucked away. We swear by this method, and can honestly say it works! This can either be by doing buns or crown braids while your hair is in these twists. You want the hair off your shoulders, and away from any material that it could get caught on.
The best part about mini-twists is that they can be worn as is or with a wig or drawstring ponytail thrown over them! They're the easiest, most versatile hairstyle. As a result, they're great for retaining moisture and ultimately growing long 4c hair.

2. Protect your hair at night
The time when your hair is most fragile is at night. This is because you roll around in your sleep, and you are putting weight on your head against a surface. If this surface isn't adapted to your hair, it could do a lot of damage. This is why we recommend using silk or satin scarves and pillowcases at night.

This reduces the amount of friction your hair is objected to at night because the materials glide off one another. It also does not draw water out as cotton does. Sleeping on cotton sucks the moisture from your hair (and skin!) like nothing else.
3. Wear satin-lined caps and hoodies
You should also protect your hair with satin and silk but not just while you sleep. When you wear hats or hoodies, your hair is still under there. The concept of cotton being drying also still applies here. You can sew the material into your caps and hoodies yourself, or get them from brands like Grace Eleyae and Kin Apparel from one of our favorite YouTubers, Naturally Philo.
With all of these tips, we're sure you'll never have to deal with dry natural hair again!
Let us know in the comments what the current state of your hair is!