Updated: November 3, 2022
Get ready to pack your bags, because more countries are now open to foreign tourists!
However, you don't need to compromise your beauty routine when you travel because all you need are the following essentials.
Especially now that luggage items like vaccination documents, test results, and face masks have become essential.
CNN medical analyst Dr. Leana Wen points out that people can now make travel plans, especially if they take note of the medical precautions necessary for their safety.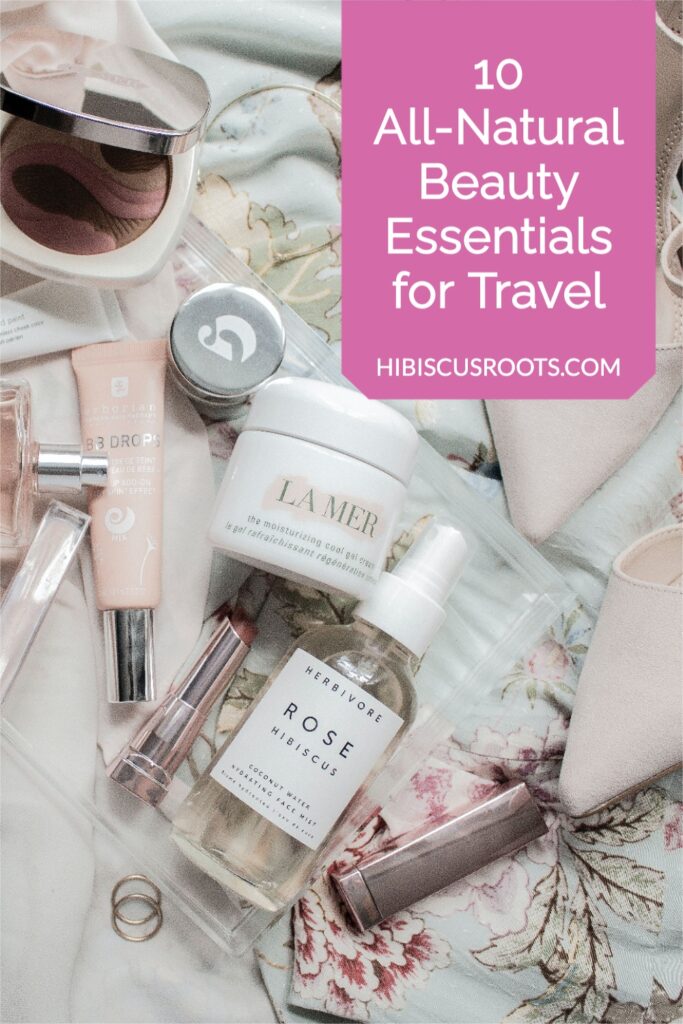 10 Beauty Essentials For Your Next Travel Destination!
1. Honey Facial Cleanser
If you're going out all day, your face could be exposed to tons of pore-clogging dirt and pollution. To avoid acne and other skin issues, you can purify your skin with a DIY honey facial cleanser.
Take half a teaspoon of honey and massage it onto your face to remove any dirt. Then, wash off the product with warm water.
2. Hydrating Moisturizer
Moisturizer is such a beauty essential, especially when you travel! Especially because it provides the right amount of hydration to prevent your skin from becoming too oily or too dry.
Individuals with oily skin will benefit from a gel moisturizer like aloe vera, while those with dry skin may use natural oils or creams like shea butter to soothe their skin.
3. Natural Sunscreen
Whether you're going to the beach or simply strolling around the city, you'll need to apply sunscreen. Verywell Health points out that using mineral-based and non-toxic sunscreens can protect your skin since they reduce your exposure to synthetic chemicals and potential irritants.
When looking for natural sunscreens, look for products with FDA-approved active ingredients titanium dioxide and zinc oxide.
4. Beetroot Lip Balm
You can have luscious and smooth lips throughout your trip by using a natural beetroot lip balm. Beetroot can moisturize and nourish your lips while leaving a lovely rosy pink stain.
While there are many brands offering beetroot lip balm out there, you can make your own. Do this by combining 6 spoons of beetroot extract with a teaspoon of coconut oil. Combine the formula and refrigerate it, so it's solid and ready for whenever you need it.
5. Concealer
Travel can make you look pretty drained, but not when you've got a good concealer in your beauty kit!
You can brighten up your eyes or cover up your dark circles by using a full-coverage liquid concealer, like the Too Faced Born This Way Super Coverage Concealer.
6. Lip and Cheek Tint
Lip and cheek tints are a great option for looking vibrant on your trip even when you're pressed for time. You can even make your own DIY product by following skincare-pro Adina Grigore's DIY lip stain recipe.
Simply combine a teaspoon of cocoa butter, coconut oil, beeswax, and add a tinted herbal powder. This will create a vivid and moisturizing product!
7. Rosewater Setting Spray
Your makeup can look fresh the whole day with the help of a setting spray. While most setting sprays are solely used for holding makeup in place, the Pixi by Petra Fixing Mist serves as skincare and a makeup product in one.
Its main ingredient, rosewater, hydrates the skin while the willow bark extract within the product reduces excess oil and minimizes pores.
8. Olive Oil
No one can afford a bad hair day during vacations. To prevent hair moisture loss, damage, and breakage when washing your hair after a swim, you can follow the pre-poo routine recommended here at Hibiscus Roots.
Simply part your hair into sections, then apply olive oil from the root of your hair to the tips. Cover your hair with a plastic cap and let it settle for twenty minutes, before proceeding with the rest of your hair care routine.
You can read our full article about the benefits of Olive Oil here.
9. Aritha Powder
Once you're ready to wash off your pre-poo product, you can wash your hair with aritha shampoo. This product conditions your hair, while also removing any irritants that can potentially harm your hair.
Aritha powder for an easy DIY shampoo will come in handy during your trip, so be sure to follow our DIY Rejuvenating Aritha Shampoo Recipe for 4C Natural Hair. This tried and tested formula will keep your hair soft and healthy during your travels.
10. Aloe Vera Gel
This multi-functional product can keep your skin and your hair beautiful throughout your vacation. Our article on How to Detangle 4C Hair recommends aloe vera gel as a natural detangler.
Simply let the moisturizing gel sit on your hair for 5-10 minutes so that you can tease apart those knots apart with ease.
You don't have to worry about your travel look since these beauty essentials got you covered throughout your trip. Make room for these products in your luggage, so that you can keep your face, skin, and hair fresh during your vacation.
This article was specially written for www.hibiscusroots.com by Amira Conner