Updated: September 4, 2022
In this article, we're going to be talking about Ambunu powder or leaves and its amazing benefits and uses for natural hair.
The ambunu or Bungu leaf (Ceratotheca Sesamoides) is a traditional flower that is native to the northern parts of Western Africa but can now be found all over the continent.
It has recently gained popularity around the world, and as usual, we're going to be explaining whether or not this herb is worthy of the hype. 
Keep reading for details on what ambunu leaves or powder can contribute to your hair care regimen that other herbs can't.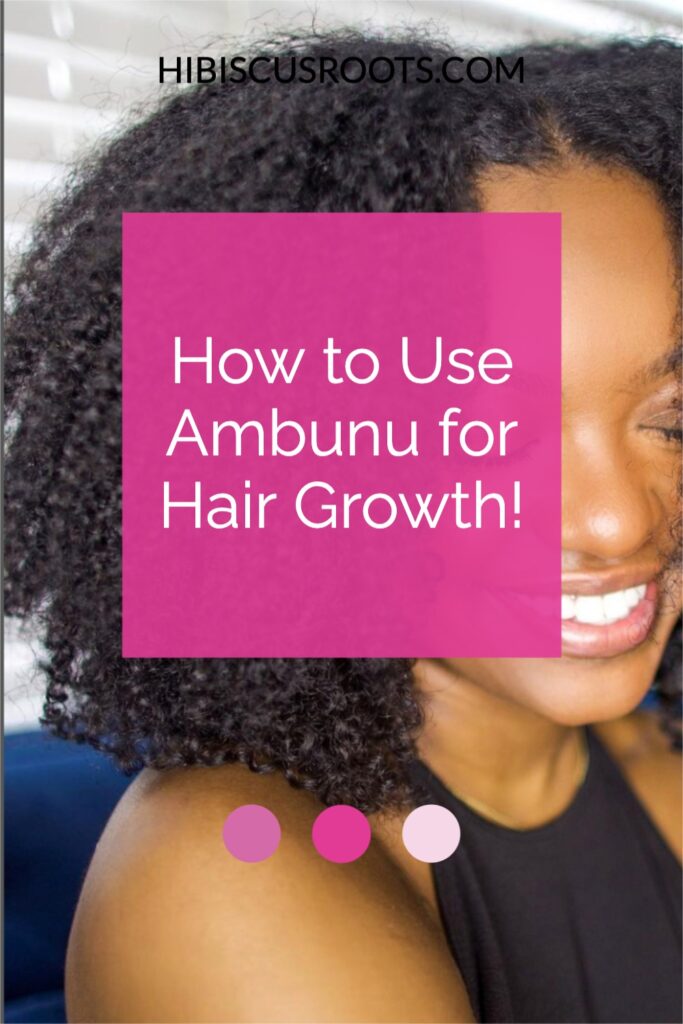 Benefits of Ambunu for Hair
1. Strengthens and nourishes
Ambunu leaves are rich in nutrients like calcium, phosphorus as well as protein, and fat (source). These are all essential nutrients for improving and maintaining the health of natural hair.

2. Simplifies the detangling process
Ambunu leaves, when soaked in water, produce a thick gel (mucilage) that is slippery. This slippery gel when applied to the hair can simplify the detangling process, and reduce detangling time significantly.

3. Gently cleanses natural hair
Ambunu leaves contain saponins, a primary ingredient in soap-making. This ingredient gives it the ability to foam when agitated in water. It is also both water and fat-soluble. Thus, the saponin content of ambunu makes it a great natural cleanser for hair.

4. Increases manageability of hair
Ambunu's thick mucilage encourages the curls in the hair to naturally clump together. When curls in the hair clump together, they reinforce one another. As a result, we experience less breakage, knots, and tangling.

5. Keeps hair moisturised for longer
When we use a plant-based gel such as ambunu as a final step when we moisturize our hair, we lock that moisture in for longer. This is because the gel forms a protective barrier against the weather or wind that could strip that moisture out.

6. Draws moisture into the hair
Ambunu gel, like other plant-based gels, acts like a humectant that draws moisture into the hair. This makes it such a powerhouse for keeping the moisture levels of the hair at optimal levels. You can read our articles about other plant-based gels like Aloe Vera Gel, Okra Gel, or Sea Moss Gel.
How to Make Ambunu for Hair
What you will need
Instructions 
Pour the ambunu leaves into a small bowl.


Pour the boiling water over the leaves. 


Whisk the leaves and water with a fork or whisk until well combined.


Let the mixture sit for about 1 hour, agitating the mixture from time to time by massaging the leaves with a spoon or your fingers as it cools down.


Once the mixture is cool and the gel is as thick as you want, strain the leaves out of the gel using a J-cloth or strainer.


Store the gel in an air-tight container in the fridge for up to 7 days.
How to Use Ambunu Leaves in your Hair
1. Pre-poo treatment 
To use ambunu as a pre-poo treatment:
Prepare the ambunu gel using the steps detailed above, then add 1 tbsp of avocado oil to it.


Coat your hair strands from root to tip with the ambunu gel and cover with a shower cap.


After 20 minutes, rinse the mixture out and continue with your wash-day process as usual.
For our article on the benefits of pre-poo treatments for hair growth, click here.
---
Related Post: Why You Need a Solid Pre-Poo Routine for your Hair!
---
2. Detangler 
To use ambunu as a detangler:
Prepare your ambunu gel as described above, then add 1 tbsp of castor oil to it.


Section your hair into smaller manageable sections and apply your ambunu detangler to your hair strands.


It should facilitate the detangling process, making your fingers or comb glide easily through the tangles or knots in your hair.
For full instructions on how to properly detangle your natural hair see our article here.
3. Shampoo or Cleanser
To use ambunu as a shampoo:
Prepare your ambunu gel as usual then add 1 tbsp of shikakai powder to it. Get shikakai powder on Amazon here.


You can wash your hair with ambunu by applying it directly to your scalp and massaging it in a circular motion to lift oil and dirt off.


Rinse it out and repeat until your scalp feels clean!
We have a complete article on how to properly wash your hair here.
4. Styling Gel
The most straightforward way to use ambunu gel is as a styler. To do this:
Prepare your ambunu gel as usual and apply it to your hair strands directly.


You can use it as a substitute for gel in your wash and gos, twist-outs, or even to seal the ends of your mini-twists.


When leaving ambunu gel in your hair, we suggest avoiding the scalp to reduce the risk of build-up or irritation.


Ambunu gel should be used after a leave-in conditioner and oil if you do the LOC (liquid-oil-cream) or LOG (liquid-oil-gel) method.


However, if you're an oil-free natural you can use ambunu gel instead of your regular gel after washday.
5. Slippery agent
Another way I love to use ambunu gel is as a slippery agent in my other Ayurvedic DIY hair masks and recipes. To use ambunu as a slippery agent:
Make your ambunu gel, as usual.


Add it to your DIY recipes. Whenever I make a henna hair mask (recipe here), or amla hair mask (recipe here). I like to add ambunu gel to make the recipe slippery and easier to apply.
You can use it in DIY black soap shampoos (recipe here), as well as all your favorite deep conditioning hair masks.
How to Use Ambunu with Caution on your Hair
As with any natural ingredient, before using ambunu powder or gel all over your hair, be sure to do a patch test to make sure you're not allergic. For this, apply some ambunu gel to the inside of your elbow and watch for irritation. 
Conclusion: Does Ambunu Grow Hair?
Ambunu is not a magical powder that will grow hair overnight. However, ambunu can lead to hair growth by improving the manageability and strength of the hair. These as well as the many other benefits of ambunu make it a worthwhile herb to add to your hair growth regimen.