Updated: November 27, 2022
If you recently transitioned from relaxed hair and have done a big chop, here are a few options for cute hairstyles for short natural hair so you can switch up your look as often as you need to!
I have gone through the awkward stage length of hair and have found these hairstyles that are gorgeous to get you through it! We consider this stage from ear length to shoulder or collar bone length hair.
Most of these hairstyles are protective since this is a website that strives to help you on your hair care journey, while you achieve your hair length goals after all!
Most of these are natural hairstyles you can do at home, without the need to go to the hair salon (especially given the times we currently live in). These easy-to-achieve styles work for all hair types!
We have a soft spot for type 4, and 4C girls here at Hibiscus Roots so you can rest assured you CAN pull all of these styles off.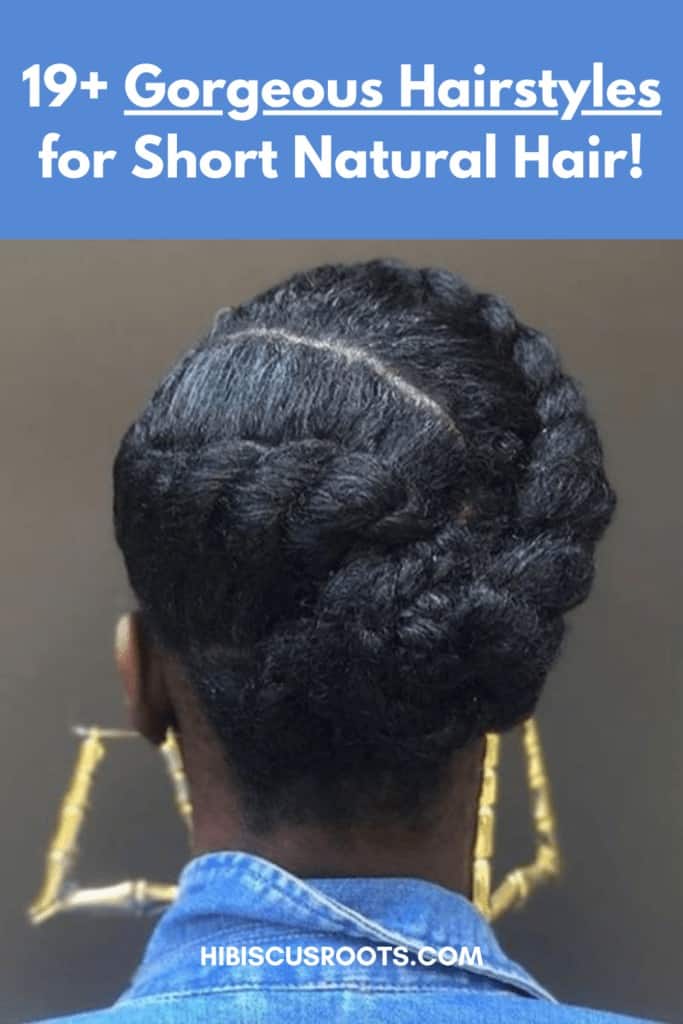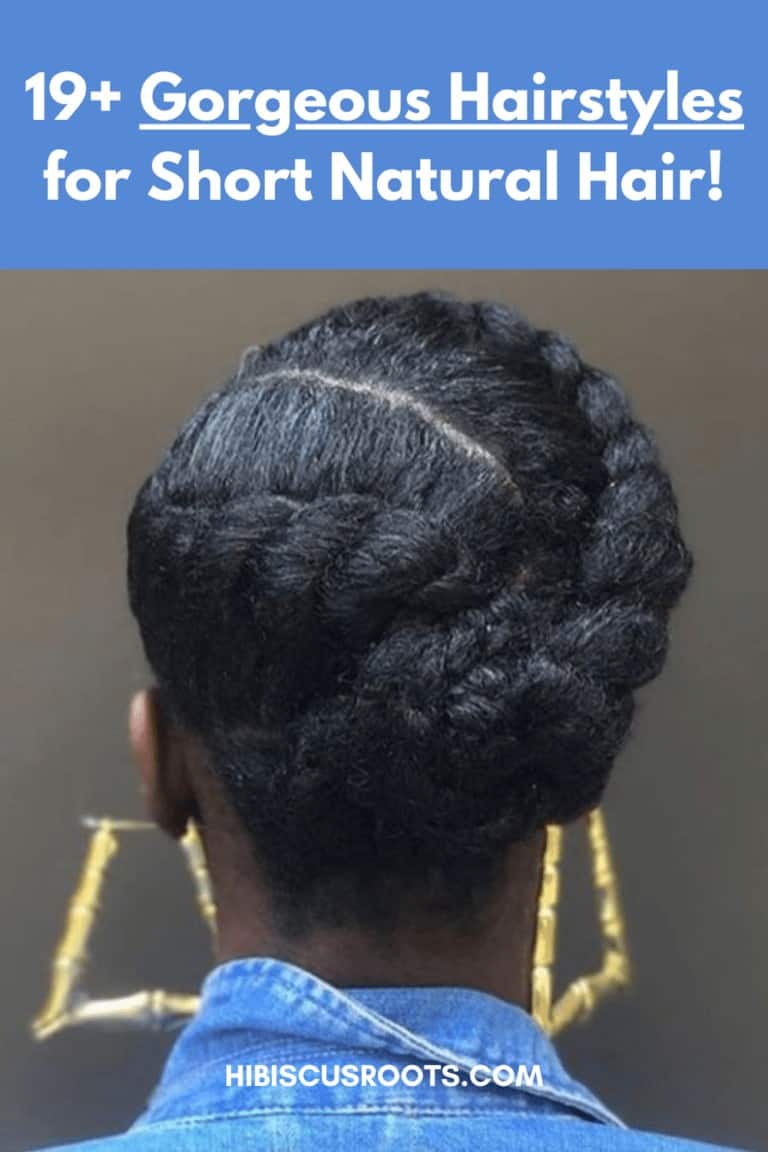 19+ Cute Simple Hairstyles You Can Do At Home For Short – Medium Length Natural Hair
Here are 19 different ways you can wear your natural hair while it's short or in its "awkward stage!"
1. As – Is / Lazy Wash n Go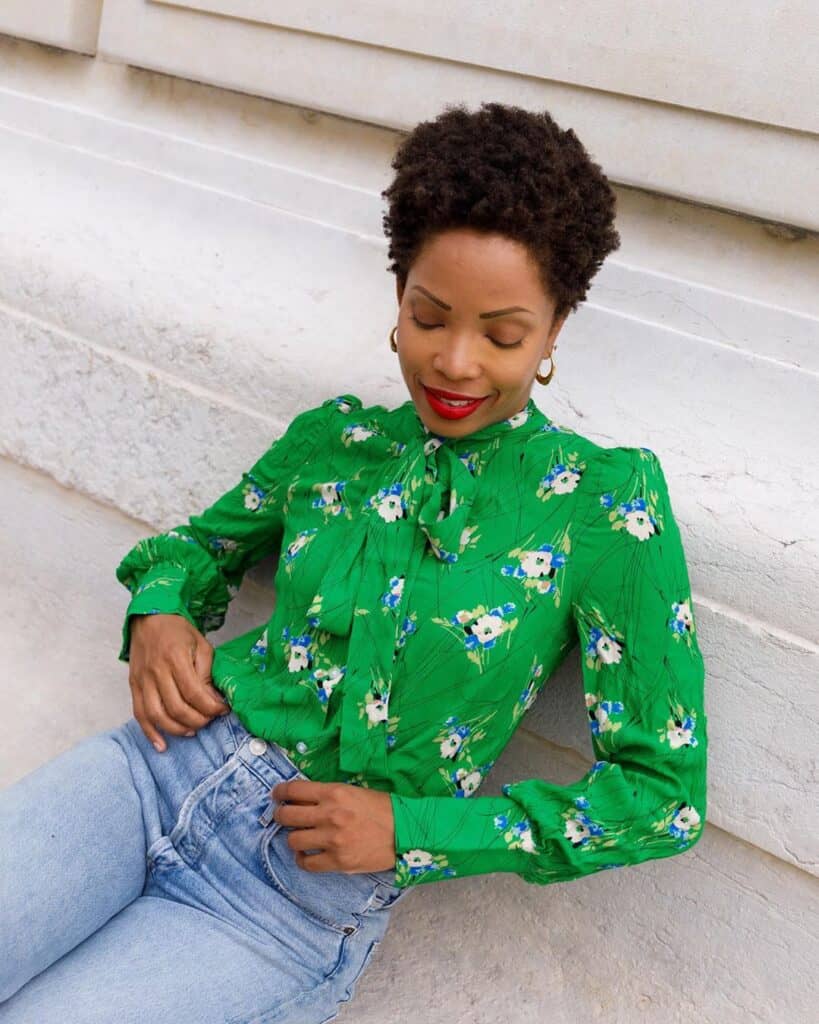 Here at Hibiscus Roots, we love these cute hairstyles for short natural hair because of how little manipulation is involved. Especially when your hair is really short (a TWA or Teeny Weeny Afro) this style helps you embrace your curls and get up close and personal with your hair. 
2. Wash n Go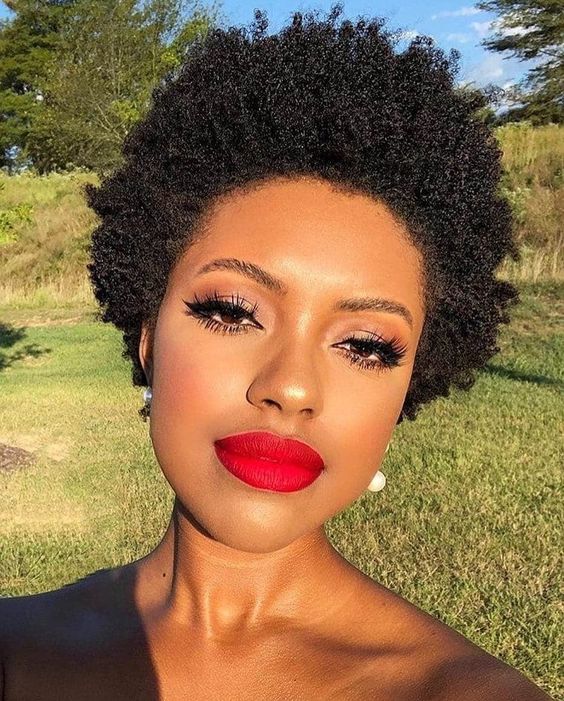 Wash n Gos are great for showing off your curls or coils! They're also a great way to hydrate your hair and keep it looking shiny! However, the only con with these styles is that they do tend to cause a lot of single strand knots and split ends in kinkier textured hair. 
3. Half Up, Half Down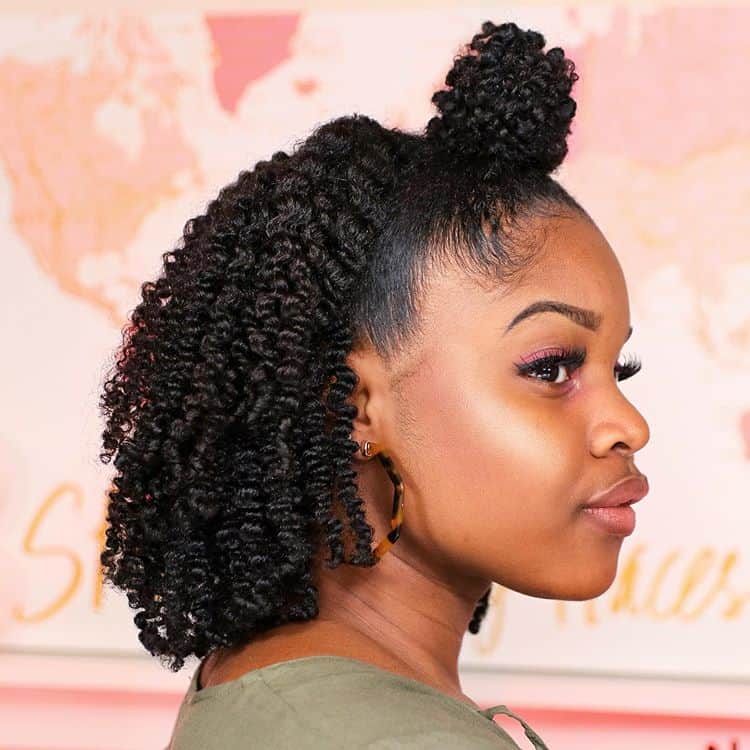 This hairstyle is the definition of versatility in natural afro-textured hair! You get to put your hair in a bun and protect it, but then also have a hair out so you can show off your wild curls! 
4. Twist Out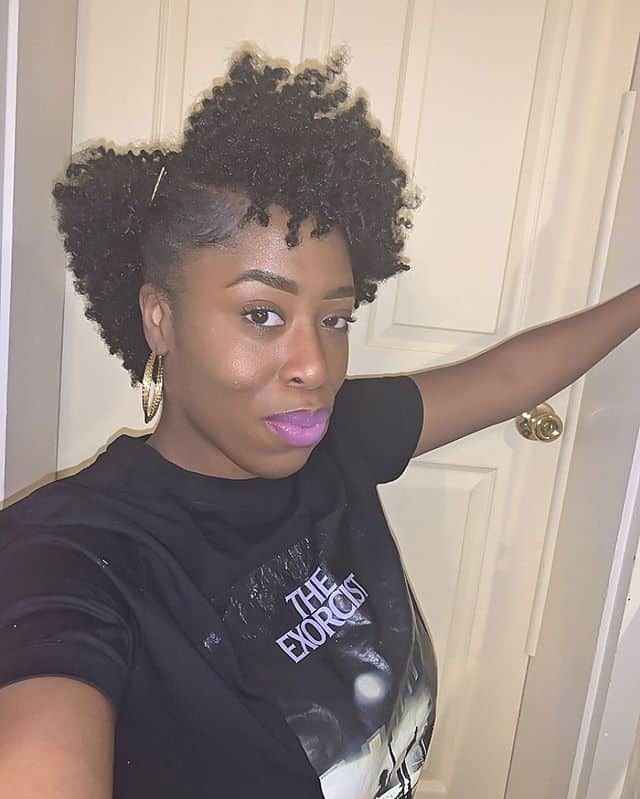 When you have afro-textured natural hair, one of the best ways to ensure it stays healthy is by keeping it stretched! A twist out is a great way to keep your hair both protected (while they're in the twists) and elongated (after you've unraveled them). 
5. Bantu Knot Out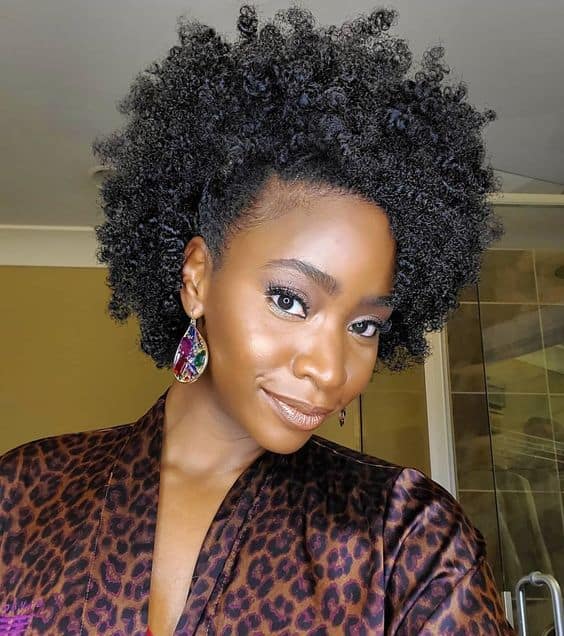 Similar to twist outs, this natural hairstyle is both protective (while they're in the knots) and elongating after it's been unraveled. This hairstyle produced big bouncy curls that you can style any way you like! Even while it's short!
6. Fro Hawk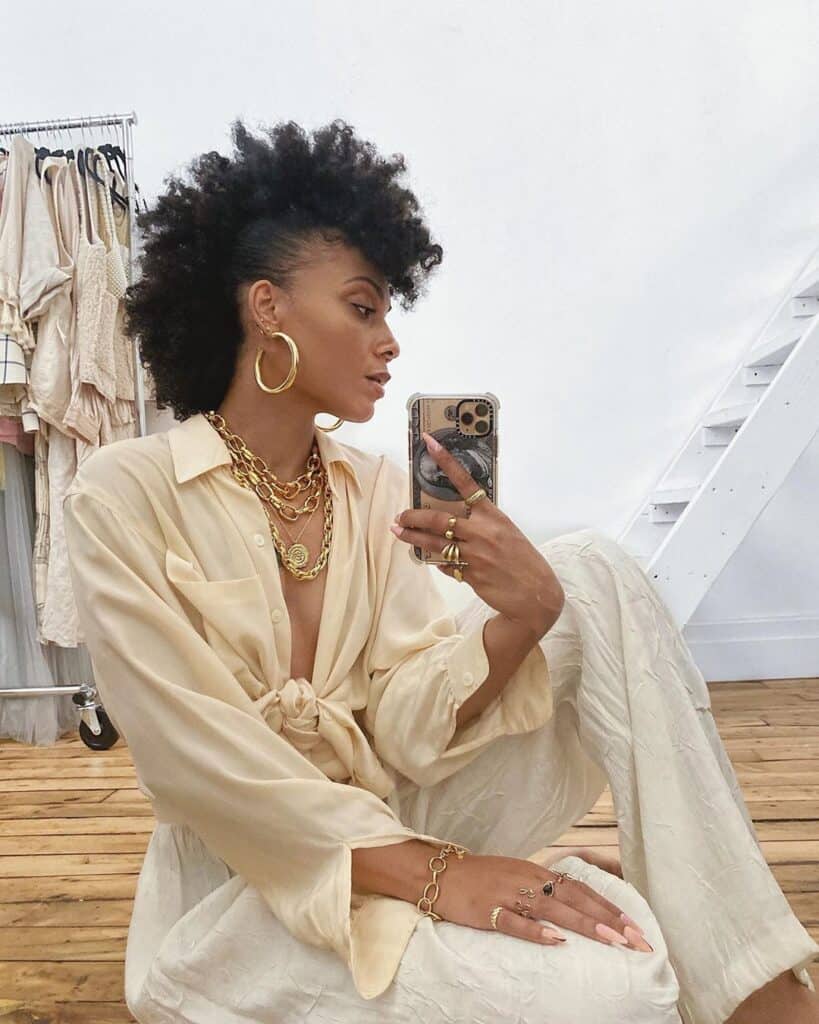 This is a really cool way to rock your Bantu knot out, twist out, or wash n go after a few days! You can rock your natural hair proudly, keep it off your shoulders, and look badass all at the same time! 
---
Related Post: 14 Gorgeous Natural Hairstyles You Can Do At Home!
---
7. High Afro Puff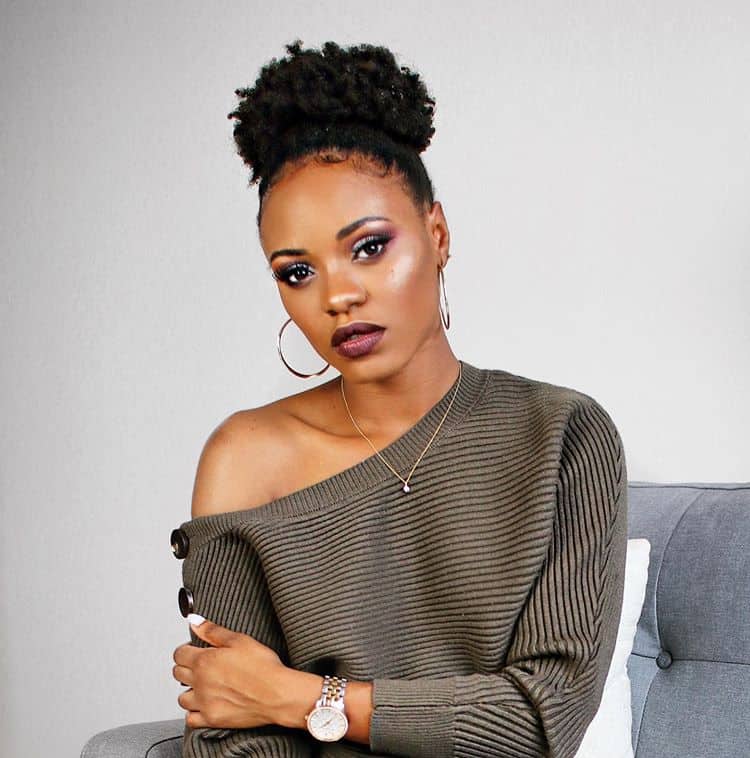 This is as classic as it gets. You can pull your hair into a puff as soon as its longer than ear length, and even up until its mid-back length! One of our favorite YouTubers Whitney (aka Naptural85) has an easy tutorial you can follow to keep your puff high no matter how long it gets!
Still, we'd just be careful about tying the puff too tight or doing this style too often. It's an easy way to pull your edges out over time without even noticing! You can also try the puff cuff as a styling tool with less tension! 
8. Twin Puffs or Buns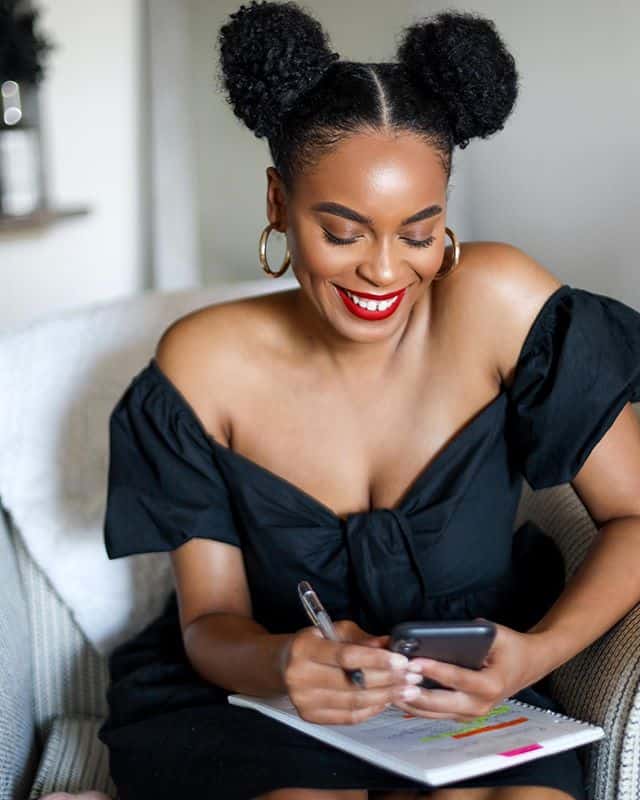 This is a great way to switch it up if you're already used to doing high puffs. This way you get to spread the tension over the surface of your head and not keep your hair too long in one place. In addition, its a super versatile look that's flattering on anyone!
9. High Sock Bun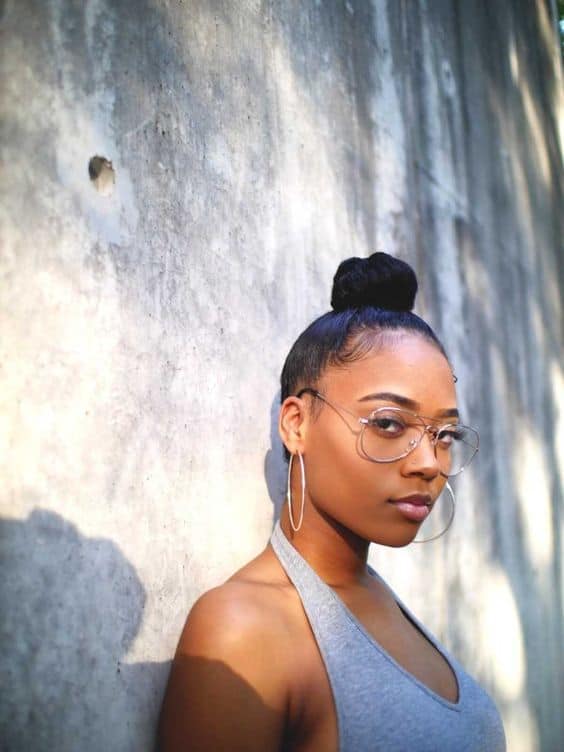 Like an afro puff, this cute hairstyle keeps your natural hair off your face and neck. It also protects the hair from fabric and other things that could snag and break it. However, unlike a puff, a bun goes the extra mile to protect your ends as well. Finally, just be sure you don't tie your hair up too tight, or wear the bun in the same spot too often!
10. Low Bun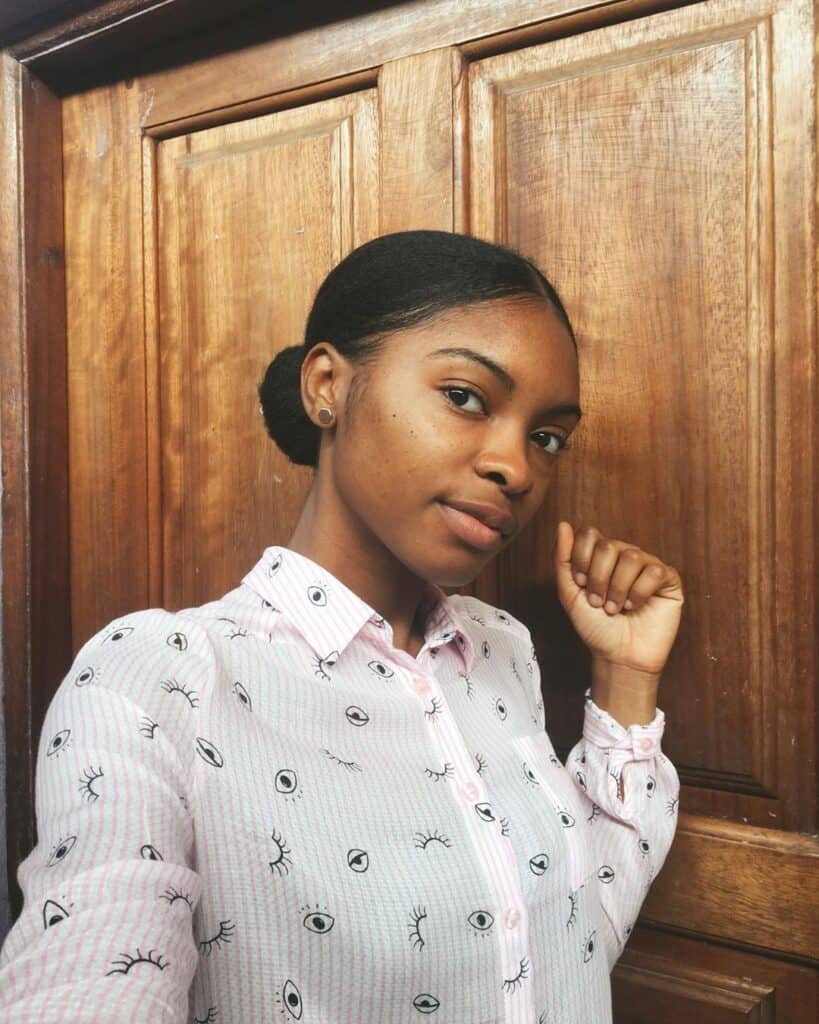 Buns are protective hairstyles. They keep the ends of your hair tucked away from friction and the risk of breakage. Just make sure when you do this style to not tie the hair too tight to avoid unintentionally breaking your hair! As a bonus, this style is also really classy and goes with any personal style and a nice set of hoops! 
11. Two Low Buns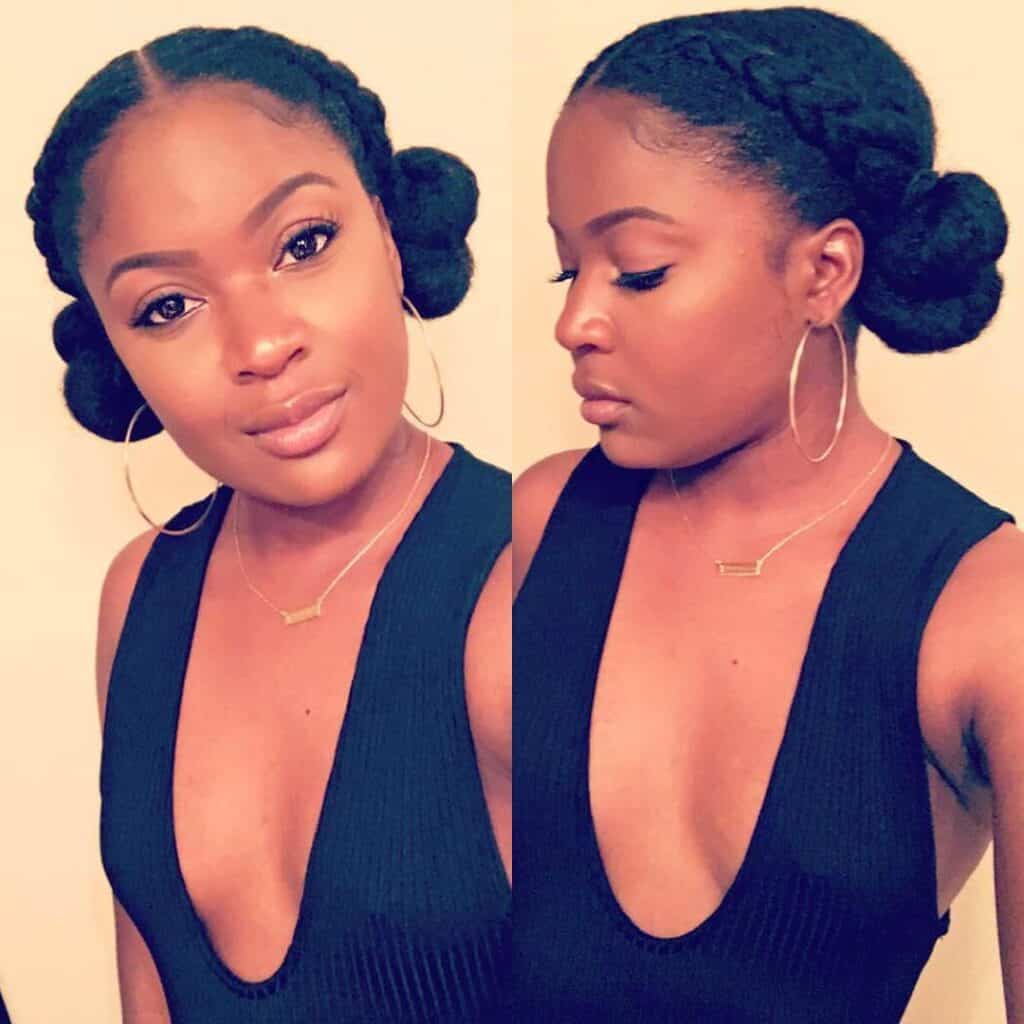 This Is another great way to reduce the excess tension from one low bun or wearing one hairstyle all the time. It's a fun, cool look that you can definitely dress up or down! You can also braid your hair down to get it into the bun if you want to avoid using gel!
12. Half Down, Half Bantu Knot
This another fun way to rock your Bantu knots and Bantu knot outs at the same time! It's the best way to get the most out of your hairstyle! And honestly, you won't be able to ward off all the compliments you'll get with this look!
13. Mini Twists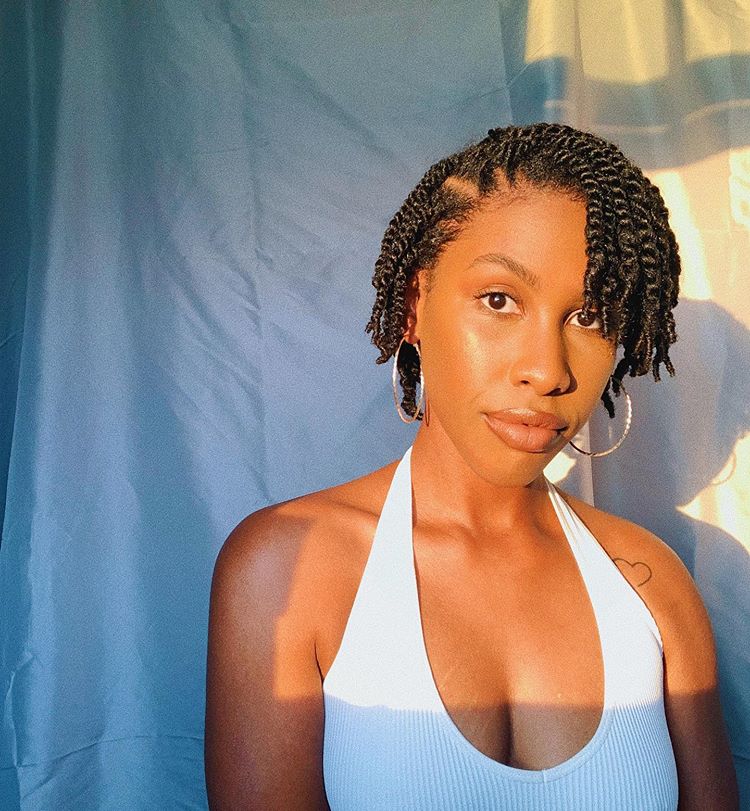 As we've said in this post and countless of times, twists are a great way to keep your hair organized and protected. Also, the larger the twist, the more protective it is. This is a versatile hairstyle you can rock any way you want to! BONUS: you can unravel them ahead of wash day to rock a twist out for a few days. 
14. Mini Braids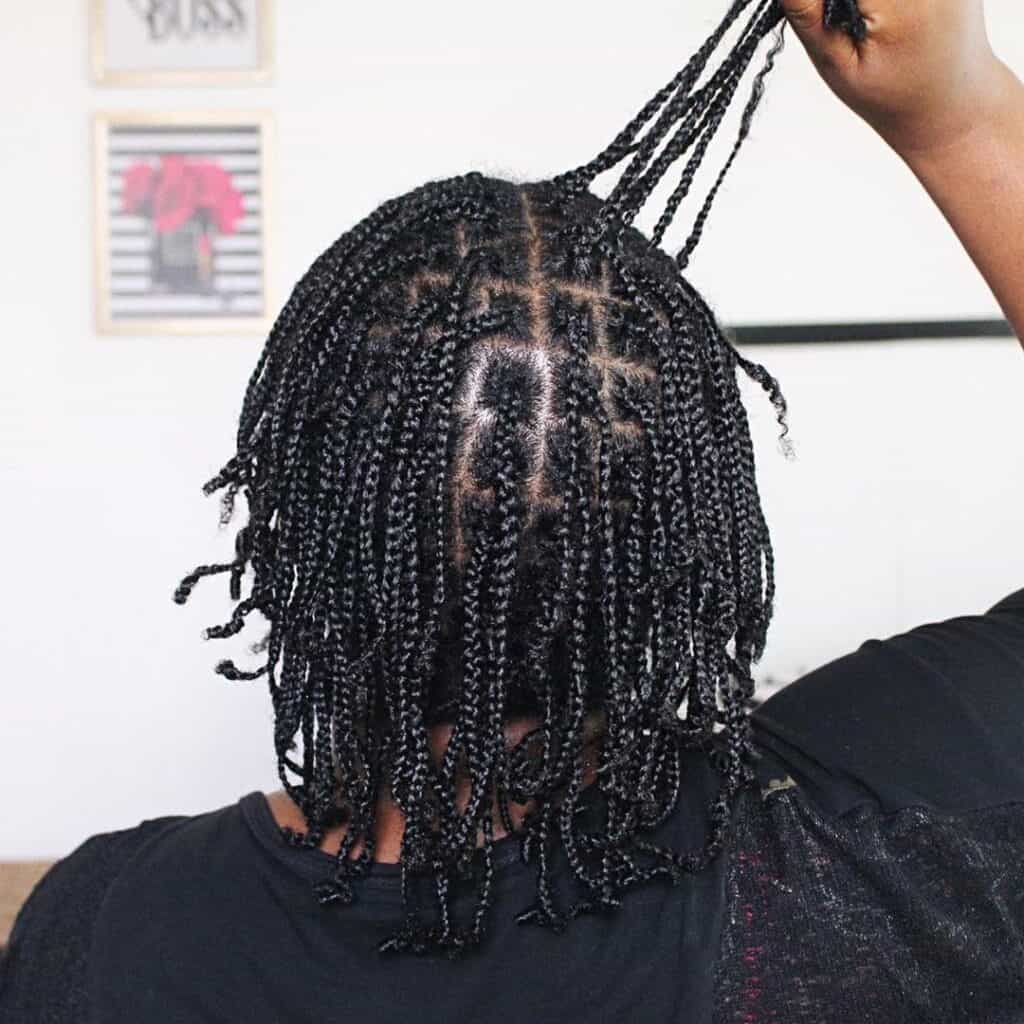 These are similar to mini twists, only that mini braids last longer, and keep your hair more stretched. BONUS: unravel this hairstyle after a few days for a popping braid out you can style a number of ways. 
15. Elegant Updo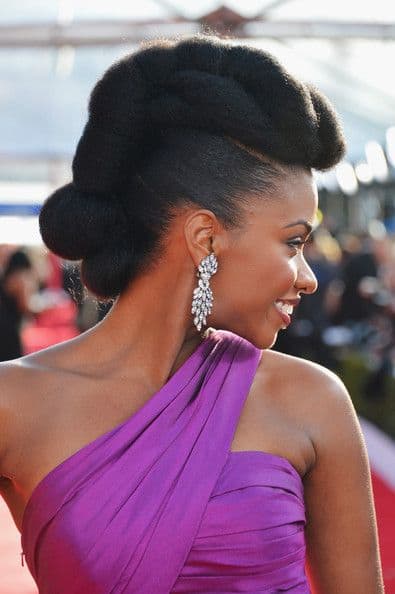 I love a classy, feminine natural hairstyle like this any time of the year. Like a bun, it keeps the ends of your hair tucked away. In its own way, it brings elegance to any look! Finally. for workplaces and settings who have not enforced The Crown Act, this is a "professional" hairstyle that will STILL turn heads! 
16. Asymmetrical Crown Twists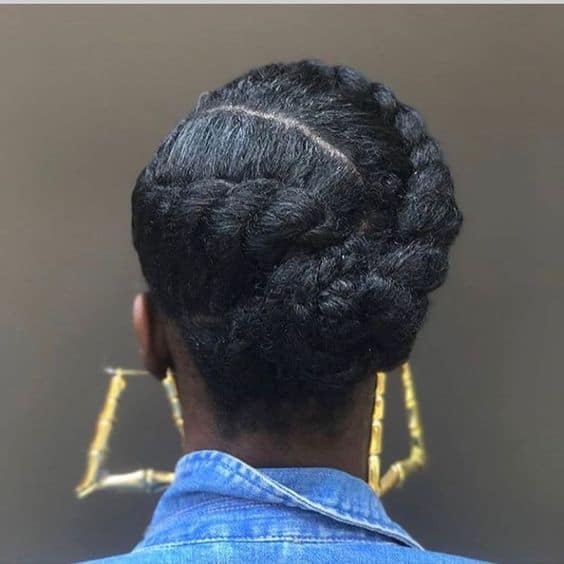 I personally rocked my hair like this to work every single day for the first year I was natural. I loved that you could never really tell how long my hair was, it also looked neat and slick no matter what! 
17. Crown Braids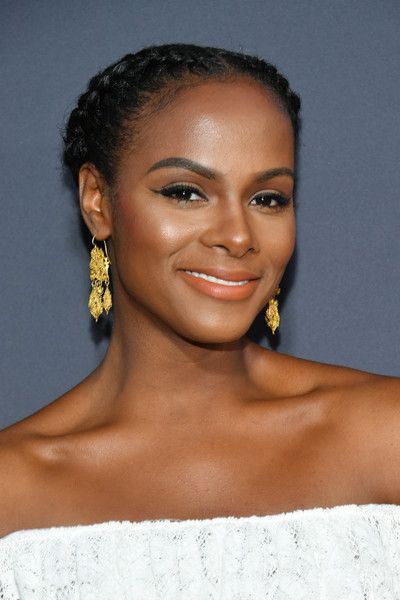 This hairstyle is a great way to rock a sleek, elegant hairstyle that's easy to wear and accessorize. Like the crown twist, this natural hairstyle can also be dressed up or down for any occasion! 
18. Cornrows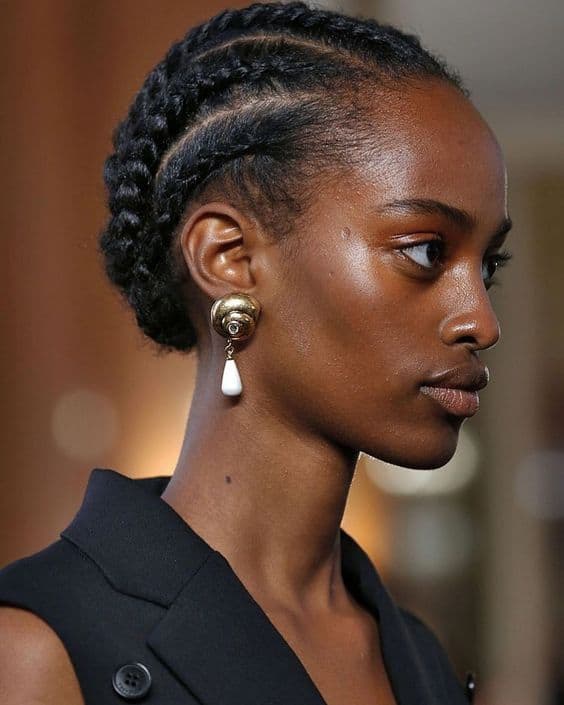 I KNOW we're not used to being able to walk out the house in just cornrows or dookie braids — but hear me out! When styled, it's a cool, edgy look that's super versatile. It's a great way to keep your hair protected, while styles beautifully, and naturally. 
19. Flat Twists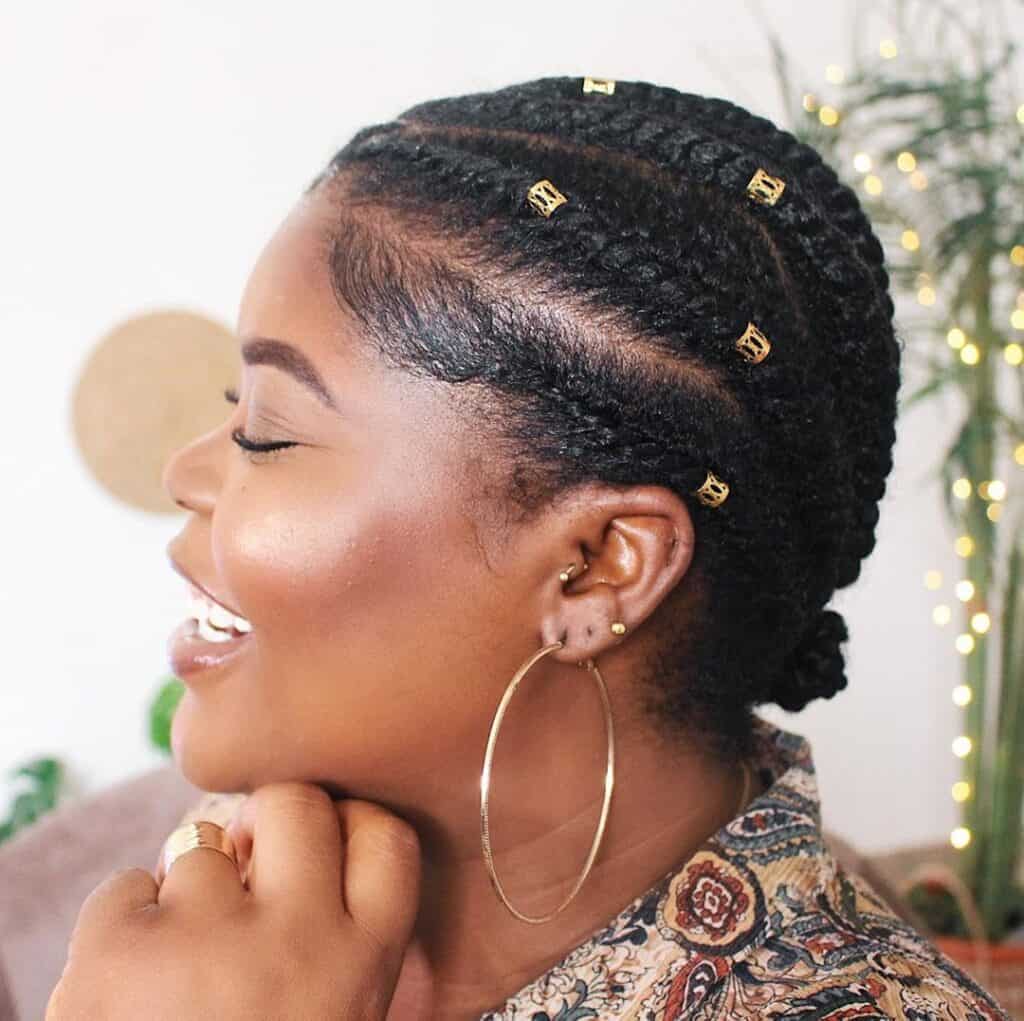 This is a great natural hairstyle especially if you don't know how to cornrow short hair. It prevents tension on the scalp and keeps the hair neat and organized. The reason we emphasize "neatness" and the hair being "organized" is that these are things that help prevent unnecessary breakage and damage to the hair. It also ensures that the hair requires only minimal detangling even after unraveling and easy washing, moisturizing and re-styling! Bonus points if you reuse old parts too! 
BONUS: Finger Coils
This hairstyle is one we don't usually recommend unless you're literally only doing it with your fingers. The amount of brushing, combing involved, as well as the use of a fine-tooth comb makes it really stressful for your hair strands. Also greatly increasing the risk of damage.
There you have it! A really extensive list of cute hairstyles for short natural hair that you don't need extensions or hair salons to achieve!

Don't forget to let us know in the comments if you decide to try any one of them!