Updated: October 8, 2021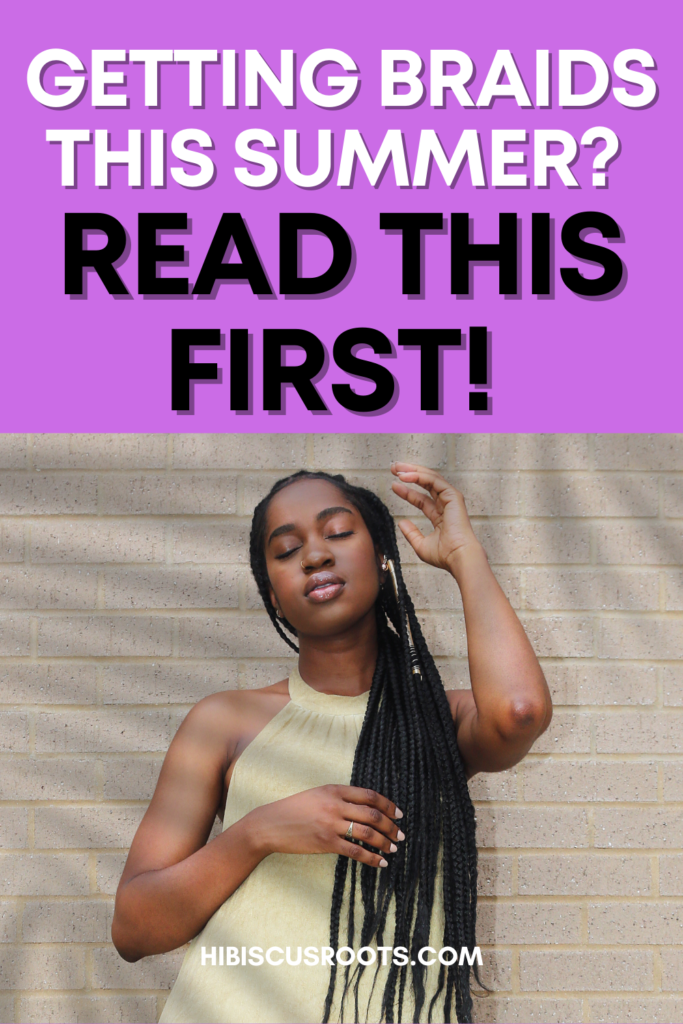 Here at Hibiscus Roots, we always talk about the benefits of protecting 4c natural hair and doing protective styles. Today, we're going to be explaining how you should care for natural hair while it is in these braids or any other long-term protective style. 

Caring for natural hair even while it is in braids is the secret to seeing hair growth after protective styling. This is especially true if you usually feel like your hair "doesn't grow in braids." 

The truth is, your hair is definitely growing: this is why your braids start to look old. However, you aren't retaining hair length because your hair is either breaking during the installation, the duration of the hairstyle, or the take-down process. 

Keep reading to finally start growing your natural hair long with the help of braids and other protective styles! We've listed out everything you need to know before, during, and after your braids are installed. 
How to Care for Natural Hair Before Installing Braids
1. Clean your hair thoroughly
Before you install braids, especially if you're going to have them for longer than a week – you should make sure that your natural hair is clean. Wash your scalp with a powerful cleanser to make sure that it is free of product and oil buildup. This is what it takes to ensure your hair and scalp are healthy before you attach braids to them. 
---
Read Also: How to Wash 4C Natural Hair Properly
---
2. Maintain your moisture-protein balance
After properly washing your hair, you should ensure that your hair is sufficiently moisturized and strengthened. This is because if your hair is too moisturized or too brittle, it will probably be too fragile for the braids. In this case, both the braiding process and the weight of the braids are likely to break your hair off. To care for your natural hair and avoid this breakage, you should strengthen your hair with a protein or henna treatment and moisturize your hair.
3. Detangle your natural hair properly
Once you wash and deep condition your natural hair, you must detangle it properly. We have a detailed article on the best ways to detangle natural hair here. This will definitely simplify both your life and that of the braider. Detangle your natural hair in sections and keep it stretched! You can also do this either by blow-drying your hair or doing a braid out.
How to Care for Your Hair While You Have Braids In 
1. Dont keep your braids in for too long 
While keeping your hair in protective styles is great for length retention, keeping them in for too long can actually have the opposite effect. If your braids are intended as a protective style, you should keep them in for a minimum of 3 weeks and a maximum of 8 weeks. 

This is because, after 8 weeks, your natural hair underneath the braids may begin to dry out and break off. And before 3 weeks, you will not have reaped enough of the benefits of the protective style.
2. Keep your scalp healthy
Hair grows from the scalp. As a result, you should ensure you have the optimal scalp environment to sustain healthy hair growth. This includes making sure that your scalp isn't dry, oily, full of product build-up, or flaky. To prevent any of these scalp conditions for the duration of your protective style:
Spray your scalp regularly with water or aloe vera juice,
Apply oil lightly. 
Don't oil your scalp too often to avoid product buildup, but you shouldn't neglect it either. You should work on keeping the balance between hydration and oiliness on the scalp. 
3. Wash your braids when they are dirty 
If you are dealing with an itchy scalp or braids that feel excessively dry, you should try washing your braids. To wash your braids you can either: 
Wash your scalp using diluted shampoo (1 part shampoo to 1 part water), and follow up with a conditioner to tame any frizz or flyaways. 
Clean your scalp with a gentle cleanser like micellar cleansing water on a cotton pad to lift dirt and oil from your scalp
4. Moisturize and seal your braids
Even though your natural hair is in braids, you have to keep moisturizing and sealing them! Spray your braids regularly with water or aloe vera juice, then seal that moisture in with an oil. You can check out some of our recipes for DIY leave-in conditioners to use here.

The benefit of moisturizing your braids is that you reduce the friction between your hair strands and the extensions. This friction and resulting dryness typically lead to breakage and the constant feeling that your natural hair doesn't grow in braids. 
5. Protect your natural hair while you sleep
Even when you have braids, it's important to cover your hair with a silk or satin scarf while you sleep. This prevents the moisture loss that comes when your hair is exposed to cotton. It also helps keep the braids from moving around too much while you sleep. Covering your hair with a silk or satin scarf is also the best way to preserve the hairstyle and help it last longer! 
How to Care for Your Hair After Installing Braids
1. Remove the braids gently 
Once you've decided that you're done with the hairstyle, you should take your braids down very carefully. Take your time, and be patient while you're taking down each braid to avoid snagging and unnecessary breakage. 
2. Detangle properly before washing 
Once you've removed your braids, you must detangle your hair thoroughly before you move on to the shampoo process. You can choose to either: 
detangle each section of hair once you remove it, or 
detangle your hair once all the braids have been removed. 
For best results, you can use okro gel, aloe vera gel, flaxseed gel, or sea moss gel to detangle. You can find our recipes for these detanglers linked! 
3. Wash your hair well 
You need to wash your natural hair properly after braids. Your hair has been tucked away for 3-8 weeks and if you haven't washed your hair during that time — your hair is probably really dirty. You want to wash your scalp and hair thoroughly to remove all that buildup. 
4. Restore moisture and protein balance
Once you've thoroughly washed your hair, you want to follow up with a deep conditioner that restores both moisture and protein to your natural hair. This is because, after weeks of being tucked away, your hair is definitely craving nutrients and may be off-balance. As a result, your deep conditioning product should be both moisturizing and strengthening. You can achieve this by mixing strengthening herbs like Amla into your moisturizing deep conditioner (read more about the benefits of amla here). You can also add castor oil and honey into the mix to give it an extra boost of moisture. 
5. Give your hair a break before your next install
Before your next protective style, you want to give your natural hair at least a 2-week break. The purpose of this is to give your hair enough time to adjust to "normal". You also want to use this time to watch for any changes in your natural hair balance.

In other words, to check that it is neither too brittle (protein overload), nor too mushy (moisture overload). If you notice either of these tendencies, then you can work on fixing it before your next install. You also want to give your scalp time to recover from the tension and pulling. 
Frequently Asked Questions about Braid Care
What Oil is Good for Braids
The best oils to use for natural hair care in braids are avocado oil, olive oil, argan oil, amla oil, fenugreek oil, or carrot oil. These oils are light enough to deeply penetrate the hair strand and nourish it from the inside out. These oils can also provide moisture, lubrication as well as strength to keep your hair in balance throughout your protective hairstyle.