Updated: June 16, 2021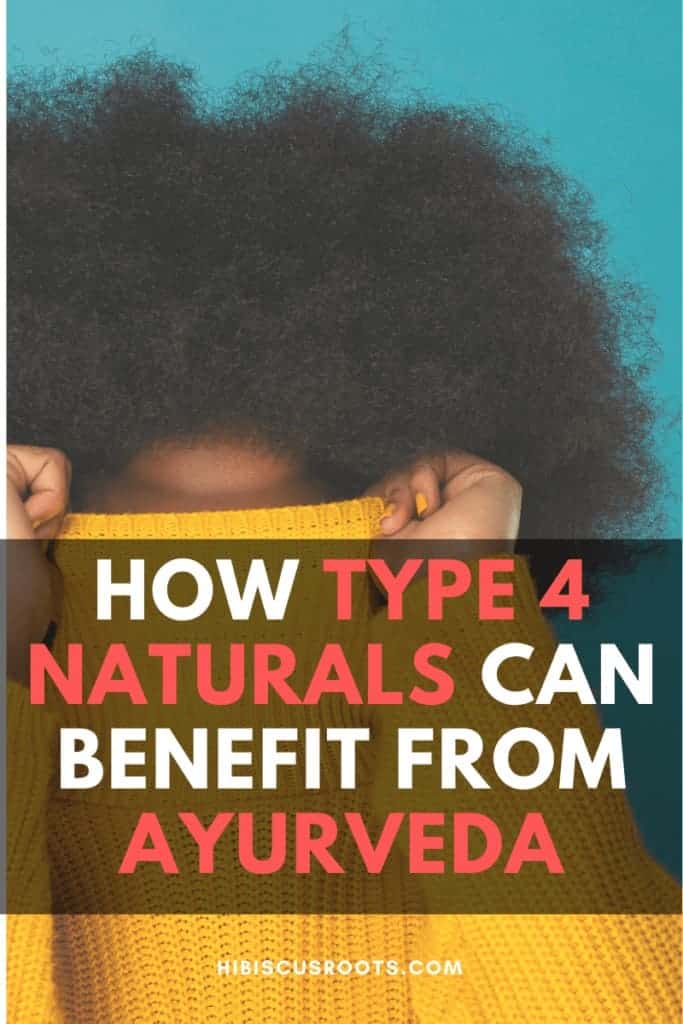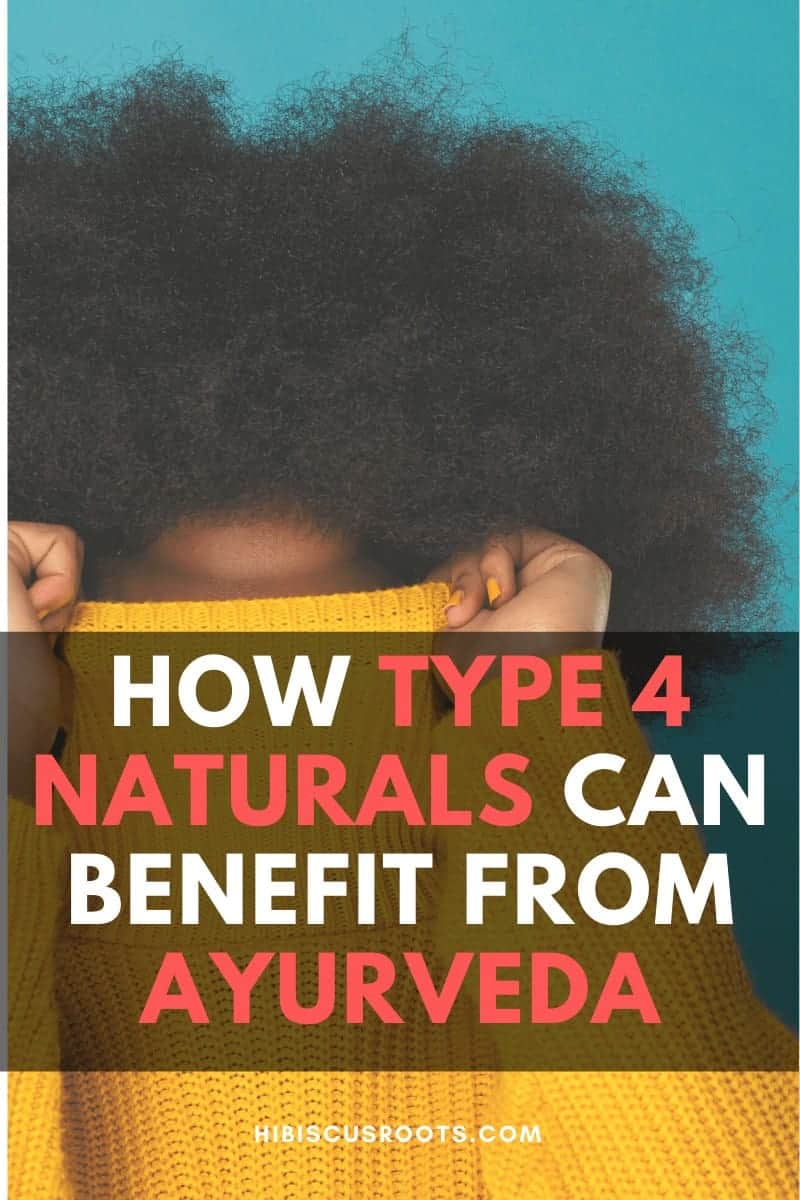 We finally get to the reason this platform was created in the first place. That is, what Ayurveda is, what and Ayurvedic herbs are, and how all this can help 4c natural hair. Ayurveda is considered to be the "oldest heading science." It is a Sanskrit word that translates to "the science of life." The practice has its origins in India dating back 5,000 years and has inspired many natural healing methods we now know as homeopathy.

Ayurveda emphasizes prevention and encourages the sustenance of health by paying close attention to balance in life.

This can either be via one's diet, positive thinking, lifestyle, and/or the use of herbs. Knowledge of Ayurveda empowers you to understand how to create this balance within yourself. Once you understand the factors that contribute to this balance, you can begin to manipulate them to suit your individual needs. 

The focus of this article is not to learn everything there is to know about Ayurveda. So here's a really great article about that and its applications to general medicine.

What we know is that Indian and middle eastern women have benefited from these practices in their skin and hair care regimens for centuries. Therefore, in this article, we'll learn about how YOUR 4c natural hair can benefit from ayurvedic herbs and practices.
Best Ayurvedic Herbs to Meet your Natural Hair Goals
If you've seen endless lists of Ayurvedic herbs and Ayurvedic hair oils, and gotten overwhelmed by the options – we get it.

To help you out, we're giving you this list of the best herbs you can infuse to make your own Ayurvedic hair oil recipes or your DIY hair masks. These herbs sorted by function, and you will find some herbs are multipurpose!
Goal 1: Best Ayurvedic Herbs for Natural Hair Growth
Goal 2: Best Ayurvedic Herbs to Prevent Hair Shedding and Hair Loss
Ashwagandha (Indian Winter Cherry): Reduces levels of cortisol that affect hair health. It also stimulates the release of melanin that prevents hair fall.

Neem: Promotes hair growth by preventing hair fall. We have a detailed article about the benefits of neem here.

Aloe Vera: Effective to control hair fall. Bonus: It also prevents premature greying of hair.
We have a detailed article about aloe vera and how to use it in your natural hair regimen here.

Rosemary: Combats hair shedding.

Juniper: Works as an astringent that combats hair loss.

Shikakai: Rich in antioxidants that restore scalp health and treat hair fall. Bonus: It also forms a lather when combined with water, cleanses hair.

Hibiscus: Prevents female and male pattern baldness. Bonus: It also prevents premature greying.

Henna: Anti-inflammatory properties that nourish the scalp and reduce hair fall.
We have a detailed article about henna and some recipes for henna glosses here.
Goal 3: Best Ayurvedic Herbs to Thicken your Hair and Increase Volume
Brahmi: Coats the hair follicles so that the new growth is thicker and shinier than before.

Ritha (Soap Nuts): Improves hair texture and volume.

Henna: Helps seal the hair cuticle, making hair less porous. This also helps prevent breakage.
Goal 4: Best Ayurvedic Herbs to Strengthen your Strands
Brahmi 

Fenugreek: Prevents hair thinning.

Triphala: Antibacterial and anti-inflammatory properties. It also prevents hair thinning.

Lavender: Deepens, strengthens, and stimulates hair follicles.

Hibiscus: Conditions hair and helps seal moisture in strands.

Henna: Helps seal the hair cuticle, making hair less porous, which also helps prevent breakage.
Goal 5: Ayurvedic Herbs to Fight Dandruff and Promote Scalp Health
Amla (Indian Gooseberry): Rich in Vitamin C which promotes overall scalp health.

Neem: Combats excessive sebum, scalp dryness dandruff, and skin dryness.

Fenugreek (Methi Dana): Rich in folic acid, vitamins C, K, and A, potassium, and iron. As a result, it is effective for scalp health and fights dryness.

Triphala: Prevents dandruff.

Aloe Vera: Rich in antioxidants that boost overall scalp health.

Shikakai

Hibiscus: Acts as an astringent and reduces oil-secretion of the sebaceous glands on the scalp. It also maintains pH balance of the scalp and provides a soothing effect, while fighting dandruff.

Rose: Balances scalp and hair pH. It also reduces oil production.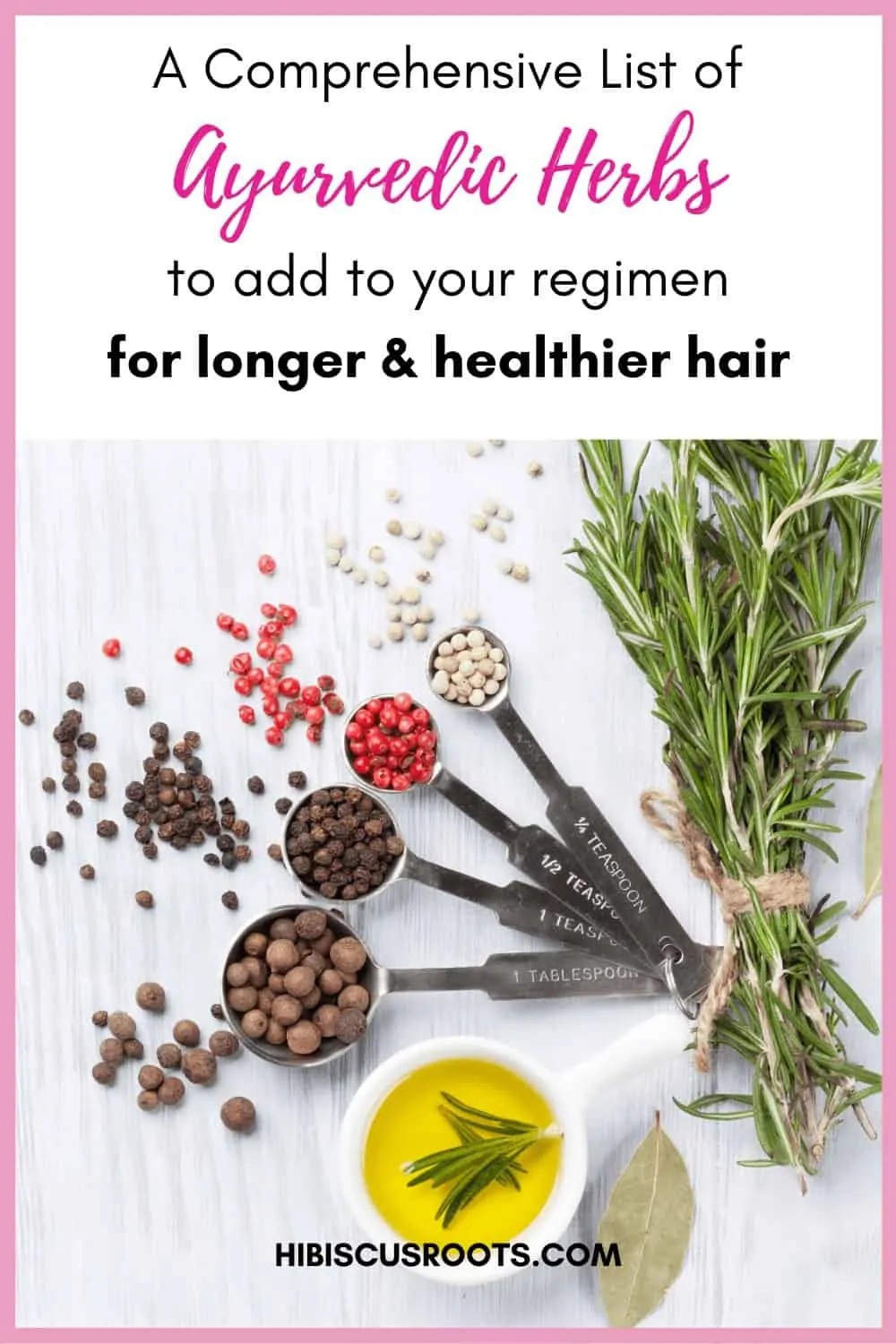 How to Use Ayurvedic Herbs in Your Natural Hair
Step 1: Understand Balance for your Hair
In order to figure out if Ayurveda can work for you, the first step is to figure out what "balance" means to your own natural hair. Hopefully, you already know your natural hair type, hair porosity, hair density, and the size of your strands. If you don't that's totally fine — here's an easy chart to find out all of these characteristics. You can also read our post that goes into balance for natural hair in detail.
Step 2: Evaluate the Current Status of your Hair
Secondly, you should take a moment to think about your hair in its current state. Ask yourself these questions and write the answers down in your Notes app:
What are your biggest hair goals — length, thickness, volume? 
Is your hair typically dry or difficult to detangle? 
Is your scalp typically inflamed, itchy, or dry? 
Do you find your rate of hair growth to be slow, or do your ends seem to break off at the same rate?
Is your hair falling out or thinning and leading to bald patches and sparse edges? 
Do you have signs of traction alopecia (previous damage from too-tight hairstyles)?
The answers to these questions will point you in the direction of balance, bringing you closer to intimately understanding your hair's needs. When that happens, it becomes way easier to spot ingredients, herb, and oil characteristics that can feed those needs. In other words, finding a balance for your natural hair starts with defining your hair goals.

This saves you lots of time and money in the long run because you never need to pass through the product junkie phase we're all familiar with.
Similarly, you will learn to read a product's ingredients list or make any average product you have better for your 4C hair by adding your own Ayurvedic herbs to it!
Conclusion
Using an herb, or a combination of Ayurvedic herbs based on your hair goals will change your natural hair drastically! The great news is that these herbs are usually relatively cheap and accessible.

As you can see, these herbs aren't native to the hair care needs of any specific hair type. Our 4c hair can benefit immensely from incorporating all of these herbs into our hair regimens. Basically, you no longer need to buy expensive products to have healthy, voluminous natural hair.

You can simply add the herbs you need to the products you have to take them from average to amazing!

With this guide, you can simply infuse your own Ayurvedic oils for hair growth, remedies for dandruff or scalp irritation, conditioners, and moisturizers!

Don't forget to Download your Hair Journal here and write down every herb you try and how it works for you!